LeShay's Paradisus Wedding Review Part 3 of 3
SATURDAY – 4/26/08 – WEDDING DAY
When I went to Paradisus for my site visit, Perla & Elisa showed us
The Ambassador Suite,
which is the Paradisus's equivalent of the presidential suite. And when I tell you all I could imagine was my 9 Bridesmaids & I getting ready in there…I could see it Crystal Clear, and when Elisa finally confirmed it would be available for us for the entire wedding day to Sunday - I was ecstatic, this was an additional charge, but I figured I could make a little room in the budget since I didn't spend anything on the Welcome.
FI & I decided to sleep apart the night before the wedding, so the most challenging part of Saturday was avoiding him. Everywhere I turned there he was, but we would just act as if we didn't see each other.
On Saturday morning I went back to the Spa to get a polish change, and a pedicure, and then sat in the steam room. Brides, if you have an opportunity, to get ANY type of spa treatment before your wedding – DO IT! My nerves were completely calmed and I was ready to take on whatever I had to do for the day. I don't remember the name of the woman who did my nails, but she was very good. I had a friend doing my hair and make-up, so I didn't need to get that done.
Since the ambassador suite has a 1 bedroom, living area, & 2 bathrooms, it was great to have all the space to get ready.
It was also beautiful to have all my bridesmaids, and my mother there and not feel overly congested.
Citlalli (Claudia Photo) was there promptly at 3:30pm to start the getting ready photos of the guys, and then she came over us. Citlalli has the sweetest disposition. She and her assistant were never in our way, and I barely knew she was there. I can't wait to see her photos, they should be here any day now.
My bridesmaid carried silk flowers, that we made in L.A., and I carried the bouquet provided by the resort.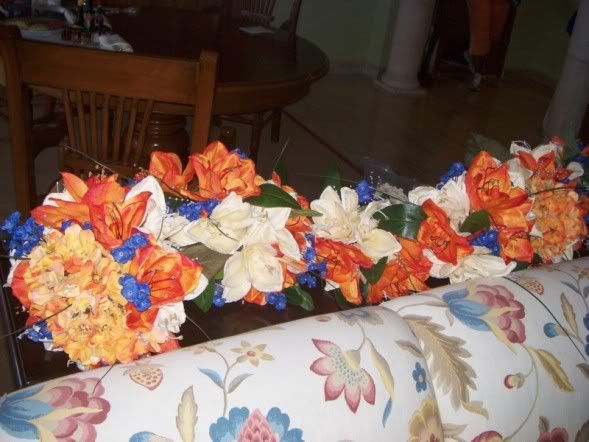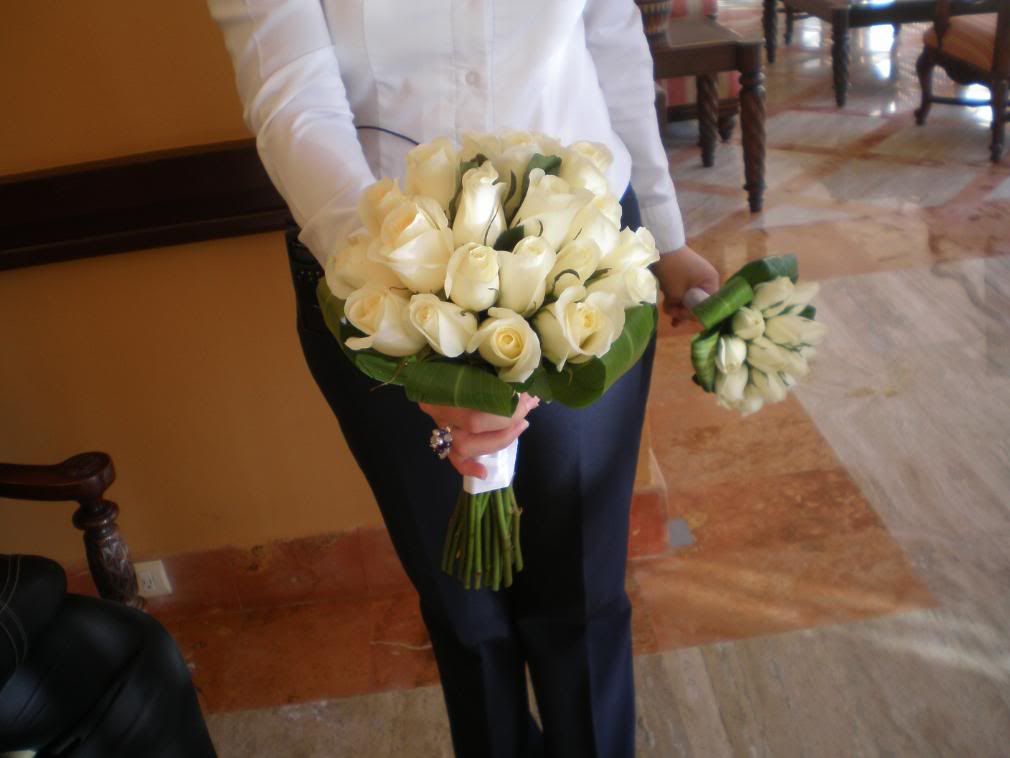 I did forget to order a tossing bouquet, so make sure you order one if you plan on doing this.
What I love about the Paradisus is there's 1 wedding per day, so when we came out of the suite it was like the whole resort stood still. At first I was going to have a problem with wedding gapers, but I literally felt like a rock star. The whole freakin' resort was cheering us on! I couldn't believe it.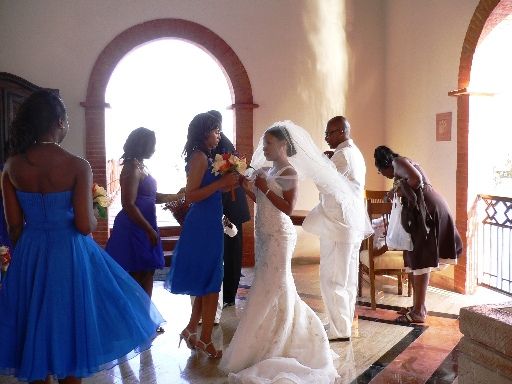 The ceremony was beautiful, my Uncle officiated, and there wasn't a dry eye in sight, including myself & Ro. The programs for the ceremony were the paper fans, this worked out really nice, you can go to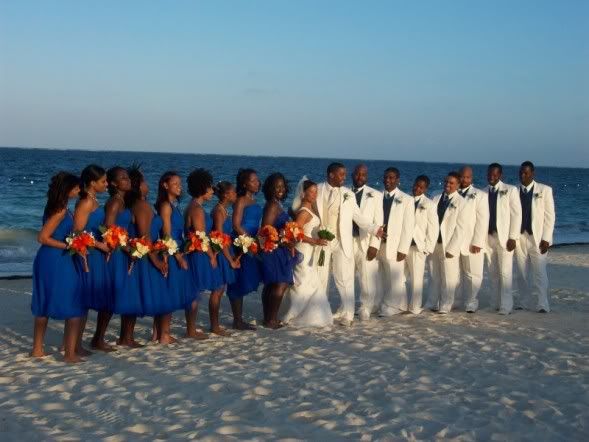 We had Jozef playing the steal drum at the end of the ceremony, and also during the cocktail hour, which was really nice. And it was great with just the one steal drum. The steal drum service was the only outside vendor fee, the Paradisus charged us for. He's local in Cancun/Playa, and you can contact him directly – Steel Drums: Jozef -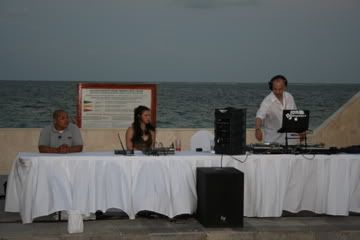 Our dinner was served Buffet style, and the menu was (all Delicious):
-Shrimp Cocktail
-Mixed Green Salad
- Cajun Grouper
-RibEye Steak
-Honey Chicken
-Red Beans & Rice
-Grilled Vegetable
-DESERT: TIRAMISU, ALMOND CAKE
We ordered a Butter Cream strawberry cake from the Paradisus, that was DELICIOUS. My only regret about the cake was that I couldn't freeze it and take it home. It was that good!!!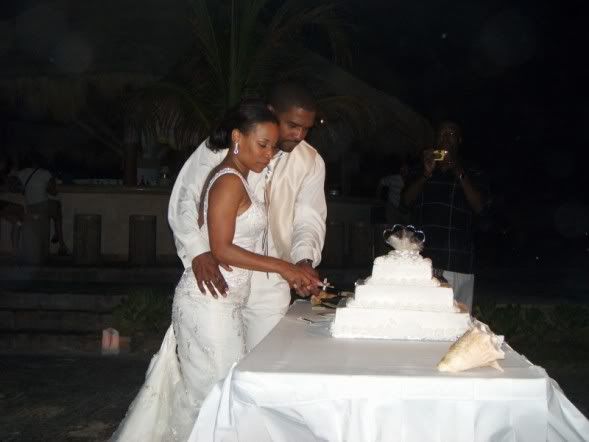 We had planned to have the after party in the Fun Pub, but invited everyone back to the Ambassador Suite for an after party, which was AWESOME, we ordered room service for 30 people, everyone went back to their rooms to get all of the alcohol they had in their fridge, and with the help of my Aunt's Bose system and the DJ's IPOD we turned it into a full private after party. This was so fun and impromptu, it was the best all you can eat, all you can drink unplanned party we'd ever had.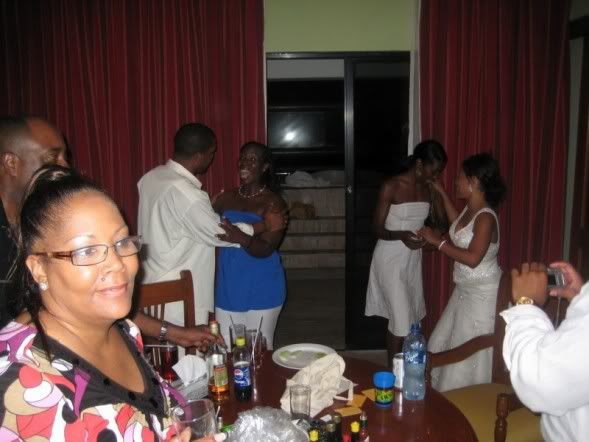 We did manage to kick everyone out, to still enjoy the 1st night of our Honeymoon to ourselves!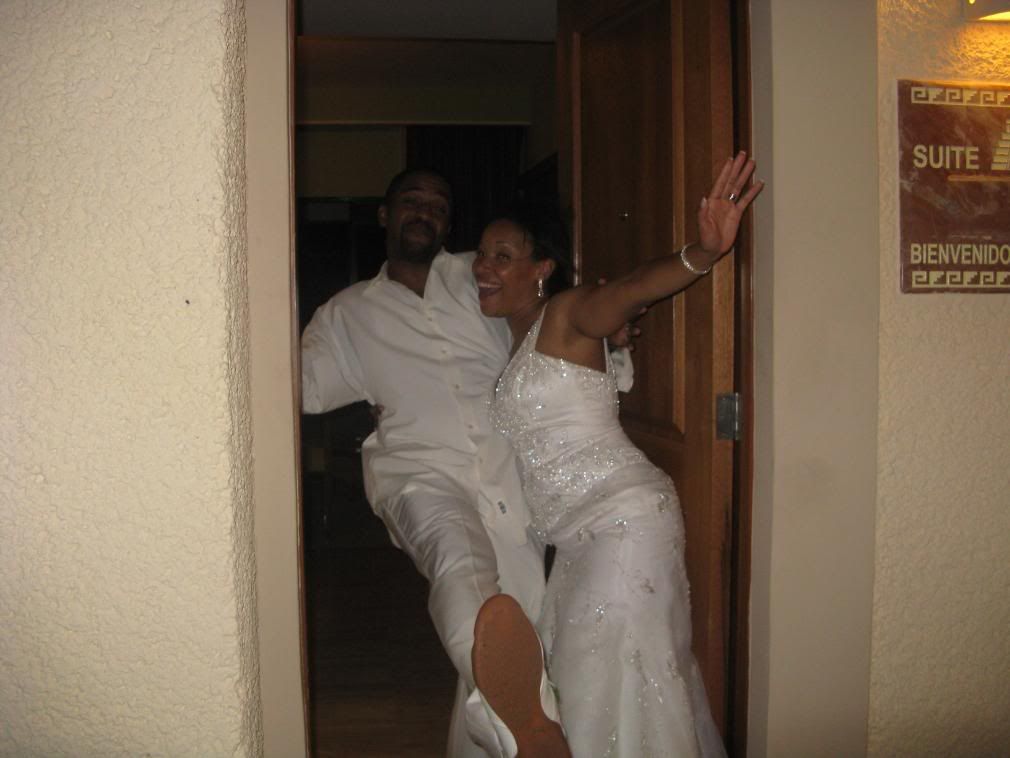 A Perfect Day!
SUNDAY 4/27/08
Sunday was our Farewell Brunch in the Carribbean Market Place. Perla & Elisa set up 3 tables in the far back corner closest to the Mexican restaurant. The food was of course, delicious, and it was a really nice way to say good bye to everyone.
Citlalli came back for our post wedding shoot, I saw the ocean and thought about the dress, and agreed to do a TTD session! It was so freeing! To get in that dress and get in the water with it was so much fun! I initially thought the whole idea was crazy, but when it's you and your new hubby laying in the water the clothes are secondary! The photo session lasted a little under 2 hours, and we were finally ready to relax on our Honey Moon.
I forgot to add this note about
tipping
:
Although it's definitely not mandatory, I definitely encourage you to tip as you go – I believe this was a huge factor in our stress free weekend.
And one last thing forgot to add I also loved the Paradisus's walking Zoo.
That's it for the wedding review (Finally).
Stay Tuned for LeShay's Secret's Capri HoneyMoon Review.
Thanks for reading, and HAPPY PLANNING!