Well I'm finally back from the wedding & honeymoon at EDR! I wasn't able to pop in to say goodbye before leaving as I was insanely busy! I finished my last law school exam and then had 5 days to finish all the last minute wedding details and pack to start moving down to Calgary. The day after the honeymoon, we drove back up to Edmonton to finish packing up our house! But we are finally moved and are starting to settle in! So, without delay, here is my wedding review:
We had the most amazing wedding experience ever!! I will have to join all the past brides in saying that we are soo soo happy for doing the destination wedding! All of our critics had a blast and were raving about it! In particular, my HB's parents who were definitely uncertain about this whole going to Mexico to get married were blown away! They had never been to an AI – but they had an awesome time and are thinking of going back for 2 weeks next year!
Photography: A++Rob and Lauren Photography (robandlauren.ca)
Choosing our photographers was the first decision we made about the wedding, and I have to say it was by far the best decision we made out of all of the decisions for the wedding! Lauren had made a post on BDW, and I noticed that she lived in the same city as me (Edmonton) so I thought I would take a shot in the dark and contact her. Lauren's response was full of excitement and ideas! Reilly & I both got hooked on their vibe! And looking at their portfolio, we immediately knew we wanted them to photograph our wedding!
Rob & Lauren are young & fun and bring a lot of hip and different ideas to the table. Also, although they are young professional photographers, they both have oddles of talent & professionalism. They have only just started their 2nd season of wedding photography – but you would never know in a million years! I would imagine that in any career, your work develops with experience – but I don't know where Rob & Lauren are supposed to grow too – their work is already AMAZING! They had their laptop set up at the reception to show some pics from earlier in the week, and I was told by several of our guests that they were just blown away with the pictures! Everyone kept talking about them for the last couple of days we were there!!
Rob & Lauren were both awesome to work with – so laid back and accommodating. Lauren has a way of making everyone around her relaxed and easily picks up on the mood of others. She was always ready with a funny story to make us laugh and she also knew when we were getting tired and needed a break. While Lauren worked at keeping us relaxed, Rob was always working hard to get that perfect shot!
They both traveled down to Mexico with us for the week. It was awesome to have them there for the whole time. We got to relax and hang out with them a bit. We were also able to have them there to take pictures of all the events throughout the week (including a random poker game 1 afternoon! I think my HB loves these pictures almost as much as the wedding pictures!). They photographed the welcome reception, another e-session in Playa, the rehearsal, the wedding day, and a TTD.
Anyways, I could probably ramble on and on about how much I loved our pictures (& Rob & Lauren!), but instead – I'll just shutup and show some of the pictures! I've added just some of my favourites here, but if you want to see more, check out the gallery (where there are TONNES of pictures!!):
Gallery:
Rob & Lauren Photographers
Password: jennette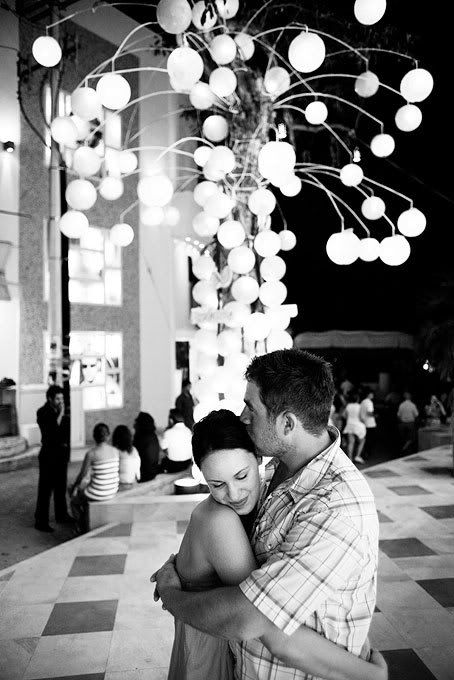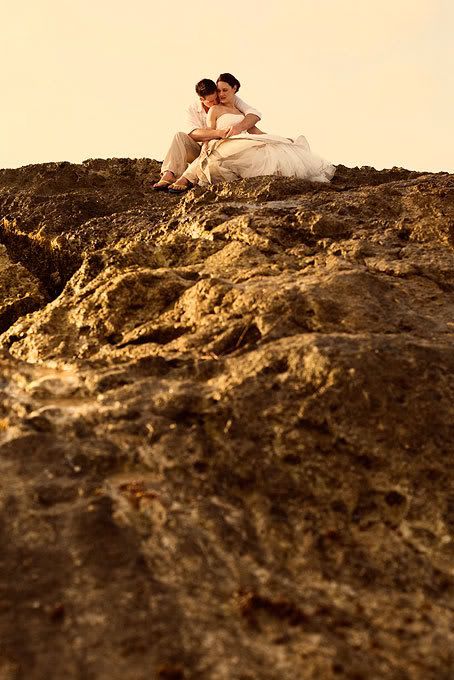 Signature Vacations: C
We went with Signature, because they had the best prices at the time we started booking. I booked our flight/room for us and 8 others over a year in advance. I was told that it was most likely going to be on the Saturday when we booked, but it would be confirmed by the beginning of February. At the end of February, I was told there was only 9 seats left on our flight, so I quickly rushed to get my guests into those spots. I was told at that time those 9 guests were confirmed on that flight, but all of us who had booked a year earlier were not!! I don't even know how that works! We were later confirmed – but it was a bit stressful for a while!! Also, many of my guests attempted to book in February, but Signature could not confirm whether there was a Saturday flight or even if they had room on it (and weren't able to 4 weeks), so many of my guests just booked with other companies and traveled down separately. Which worked out fine – but it annoyed me that they got the run around by Signature.
I was later contacted by another bride of BDW, who was also booked to fly on our flight. She was told by Signature that that flight had been cancelled and they bumped her to fly a day earlier. In fact, Signature had just completely overbooked the flight. When she told them she knew another bride that was still on the flight, they told her I was obviously mistaken or I was lying. Which of course stressed me out and made me wonder if we were really on that flight or not!
At any rate, I will never book with Signature again. They had horrible service and were very slow to react. They only reason why they got a C and not a D, is because we got a free set of nice luggage which I really like
However, I must say our travel Agent (Lisa Gleed at Uniglobe Beaumont) was awesome to work with. She hounded Signature every day until everything was confirmed. Without her I don't know what I would have done! She was also able to get a $500 refund out of Signature for us, because it was such a bad experience!
Hair: A (Doranna Debortoli) Located in Playa Del Carmen
Doranna was amazing! I brought done a couple of pics of how I wanted my hair, and she worked with it. The end result was not quite what I imagined, but I loved it just the same!
Doranna was really sweet and great to work with – she allowed me to come to her house for the hair trial and then she came to the resort on the day of.
Yes – for some reason EDR allowed me to bring her onto the resort, without paying the vendor fee. However apparently this is not the normal policy – but for some reason they allowed me to do it. No idea why! (Note: I still had to pay for the wedding day pass though)
OOT Bags: A
This was a lot of fun! A lot of work – but fun! I wanted to make sure that my guests knew that I really appreciated them going to the expense and effort to come down for our wedding – so I think that doing an OOT bag shows that you have put a lot of thought and gone to a lot of work to help them have a better vacation.
My mom actually made the bags! They were orange mesh material with blue handles and a zippered compartment. The bag was by far our guests favourite part! They also loved the fact that if they saw another bag walking by – they knew it was someone with the wedding and were able to meet more of the guests from the wedding this way!
I also included: a map of EDR, Spanish phrases, Pepto Bismal, Imodium, individual crystal lite packages, a pashmina (thanks to the BDW mass order!!) and koozies. I would probably do everything again, except for the koozies – nobody (including myself) used them! Other then that – everything else was used!
El Dorado Royale:
I've split up the wedding coordination and the so called 'EDR Policies' because my experience with each was totally different.
EDR Policies: C
Most everyone knows about the infamous outside vendor policy at EDR. I don't necessarily think EDR is a bad resort for having this policy. I think every business is entitled to do business as they choose – if you don't like it, don't go there. What I don't like, is that they don't seem to be consistent with the enforcement, nor do they seem to always remember when other arrangements had been made!
When I booked I was told that I only had to pay for a 3 night stay for my photographers. This policy was changed a few months later. What I was not impressed with, is that I had to keep 'reminding' EDR what our agreement was when I booked the wedding. I was also not happy to have a new contract sent to me 7 months after I had already signed a contract with them. The only real significant change was that it contained the new outside vendor's policy. So I ended up signed it under the understanding that particular clause did not apply to me – but I thought it was extremely unprofessional to have a client sign a new contract.
I was also not impressed to be emailed about a month before the wedding in regards to making sure our photographers had the proper government approval to work in Mexico, and if they did not have it EDR would not allow them onto the property. It took a lot of work for me to find out what exactly this meant and that I wouldn't have to worry about it. My WC was also not at all helpful in giving the exact information I needed. It took about 10 emails going back and forth for me to get through to her – but in the end it was fine, they didn't have to do anything and it all worked out.
Finally, I had made a comment on this forum, in regards to being allowed to bring my hairdresser onto the resort. I was contacted less then 24 hours by my WC to tell me that this was a special concession by them, and if I make any more comments like that, they will not allow anyone (including me!) to bring their hairstylist to the resort. While I appreciate that some concessions are made to some groups and not others, I did not appreciate being censored. Further – I wasn't even told that it was a special concession when they initially said it would be fine for her to come the day of the wedding – so I was annoyed to have my hand slapped for something I wasn't even aware of.
EDR Wedding Coordination: A-
I worked with Valeria for over a year via email. She was fantastic to work with and promptly answered all emails and questions. She really was great to work with and made it a whole lot less stressful to plan an event from so far away! She always apologized for having to enforce the policies (as noted above) and told me that she hated that part of her job. I knew that it wasn't her trying to make it tough, that it was just the EDR policies that were in place.
The onsite coordinators were also great – they had all of the up to date requests that I had made and it was a breeze to go over it all again with them. They looked after my cd's and table cloths easily. I gave the rest of my decorations (though there weren't too many) to my friends to set up, since I had heard that they can charge you $5/person to set up decorations, and I didn't want the extra cost. I believe they were able to do this with no problems.
We were married at the Gazebo 55 at 4, and then had the BBQ Buffet at the Health Bar starting at 6. The wedding and reception was exactly as I imagined it and better! Almost everything was perfect! The only things that weren't right, was that there was supposed to be orange lilies for our centerpiece, and they were white and the song I was walking down the aisle to was stopped when I reached the first row on the aisle so I walked down the rest of the aisle to nothing. But that was it and both were pretty minor!
The reception staff were awesome!! They were extremely attentive – I couldn't even sit down or get up without 1 of them grabbing my chair for me – and since I got up to hug each person who spoke – that was a lot!! The second I finished a drink a waiter was asking me what I wanted next.
The food at the reception was incredible! I have been told over and over that it was the best food the whole week. This is saying something, as all of our guests were raving about the food all week! I think Lauren was in love with the deserts as she took lots of pics of them – so take a look at the gallery if you would like to see what is included!
So in conclusion, although there was a few stressful moments in planning the wedding with EDR – the wedding was amazing! It was better then I imagined it and all the guests had such a blast! I would definitely recommend having a wedding at EDR!!
Please let me know if you have any questions – I would be happy to answer them!