Ok, before I start part 3, I just want to say I LOVE LOVE LOVED my wedding at Al Cielo. It was everything I dreamed of and more, and I'm a highly critical person so that is saying a lot. I thought it was more beautiful than I had hoped for, and more fun! I had worried about keeping my guests captive at Al Cielo from 4:30 to 11 PM, because we were shuttling them there, and feared they'd get bored, but the party lasted past 12 PM (an hour longer than scheduled!
My guests kept telling me repeatedly during and after the wedding how it was the most amazing wedding they'd ever been to. I've been to a zillion weddings and have said many nice things, but I don't usually say that unless I mean it, right? Many said it was the best. Some said it was the most fun. Others, the most "cool". One of my cousins, who treats me like a sister (meaning, he treats me like crap and expects me to still love him), told me, while at the wedding, that it was better than his own wedding (which is saying a lot).
I kept thanking my wedding coordinator, Donaji, for helping make everything perfect, but she just told me, its all about your people – which is largely true – I had great guests. That, coupled with a couple in love, is supposedly the key to success – though the beautiful setting, great food, plentiful alcohol, and rockin' music didn't hurt.
I had SO much fun at my own wedding, and that, I believe, is an accomplishment. I think part of it was that I wasn't that stressed out about spending time with people, because we had already spent time together, and would continue to spend time together afterwards, due to the wonders of a destination wedding. I'm not trying to boast about my wedding, I'm just trying to tell you guys that if you choose a great venue and vendors after doing your research, and of course with the help of BDW, add some unique (to your guests) touches, inspired by the BDW gals, and invite your favorite people, your wedding will be amazing, and you'll have the best time ever too!
Ok, onwards.
This was kind of how the day worked out:
3:15 (was supposed to be 2:45) Wedding Party shuttle to Al Cielo
3:45 Guest Shuttle to Al Cielo, 2 more shuttles at 4:15
3:50-4:50 Rehearsal and Photos
4:50-5:10 Sign Ketubah
4:30-5:15 Welcome lemonades with Live Mexican Folk Trio
5:25-5:55 Ceremony
5:55-6:40 Cocktail Hour with DJ Lounge Music, More Photos
6:40-6:55 Jewish Hora Dancing to CD
6:55-7 Take Seats in Palapa
7-8:30 Dinner with Live Jazz Band, FOB toast
8:35 First Dance
8:40-9:35 Dancing to DJ
9:30 Early Shuttle w/some parents w/babies leaves
9:40 Dessert, MOH and BM toasts
9:50 Greek Dancing
10 -12 Dancing to DJ, Cake served on dance floor at 10:30ish
WEDDING TRANSPORTATION
Paradise Transport and Tours: A
Lyrebard – Thanks for recommending this company to me!
Stuart, who is maybe Australian something, not sure, offered me significantly lower rates than the company Al Cielo planned on using for transportation from the Grand Riviera Princess to Al Cielo. He had 2 early shuttles waiting at the lobby on time for the wedding party, did not make a fuss when we stuffed 30 people into 28 seats, and the drivers were safe and patient with our crowd.
There were supposed to be 6 vans to get the remaining guests, and 2 of the 6 were late because they were the early shuttles that dropped the wedding party off, and the wedding party left late. Since we had to wait for the last 2 shuttles of wedding guests, the whole wedding started ½ hour late.. I lowered the score from A+ to A b/c if I paid for 8 shuttles total, they should have had 6 vans available that weren't dependent on the earlier vans, or they should have simply let us use 3 for the early shuttles, since we had to sit on laps with the 2. However, some claim that the later start time was good because it cooled down a bit, and we did get more photos while we waited.
On the return, he had the 1 early shuttle departing at 9:30 as planned, and the rest ready to leave around 11:15. Many of us didn't leave until after 12 (the wedding was fun!!) and there were no complaints from the shuttles, which waited patiently.
PHOTOGRAPHER
Elizabeth Medina
(+ her daughter Lindsay, and guest photographer Grace Kim)
No score or elaborate review yet as I haven't seen the photos, but I can give a preliminary A+ for Elizabeth being so super sweet, enthusiastic, genuine, flexible and generous with her time, and so on.
Elizabeth checked into the Princess and went above and beyond our agreement by coming straight to my room for some "getting ready" shots (I waited to put my dress on until she got there). Ok, so this was why we left ½ hour late, but hopefully it was worth it.
Also, Elizabeth brought a guest photographer, Grace Kim, along to shoot my wedding with her. What an amazing treat for me to get 2 perspectives (3 if you also count Lindsay's of course)! I'm so excited for the photos!!
VIDEOGRAPHER
Jennifer Anne Video
No score or elaborate review yet as I haven't seen the video. Jennifer Anne is videographer from SoCal (Orange County I believe?), and I paid for her and an assistant to fly down, stay a few nights, and shoot in HD for 6 hours, and she'll provide me with an edited video and the original HD tapes (in case I hate her version and want to re-edit later haha). This was still cheaper – NOT CHEAP – but cheaper, than hiring the few local videographers who shoot in HD in Mexico to shoot my wedding. Ok, I would have paid more for Paul Shrank, but he was getting married on the same day as me, so I was out of luck! Maybe I'm dumb to go for HD, but oh well, weddings are a money-suck, right? I watched my parents silent black and white wedding film several times, and I edited my sister's video (my family told me to go into the biz) and I feel the videos help the viewer really remember the day, so I'm hoping her video will be good!
Jennifer arrived a little early (before us at least), to get some set-up shots, and left at 10 PM sharp, right after the Greek dancing. So no cake cutting on the video.
FLORIST
Euforia Flowers: A+
After trying to decide between bringing my own materials and centerpieces down, which seemed difficult for a wedding my size, working with the choices Al Cielo offered, that were limited and not my taste, and working with other florists, who didn't quite get my vision, I was referred to Euforia Flowers in Cancun, by another florist, Vanessa Jaimes, who was too busy for my business herself.
I explained my vision of turquoise vases and flame red flowers to Hector at Euforia. I sent over my photo of the turquoise vase with red pincushion proteas, which are unfortunately unavailable in the area, and told him I wanted something modern, but also soft-beachy-organic. Hector emailed regularly and even called me in the US to discuss my needs. Hector graciously offered to do a mock-up arrangement inspired by my inspiration, using turquoise water and red tulips, and his vision was amazing.
My inspiration photo (NOT AT WEDDING):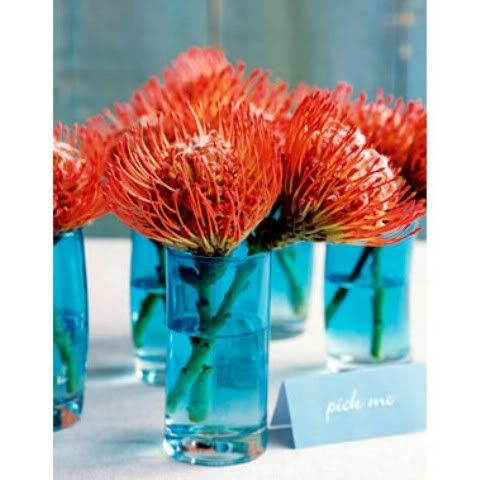 Hector's mockup (NOT AT WEDDING):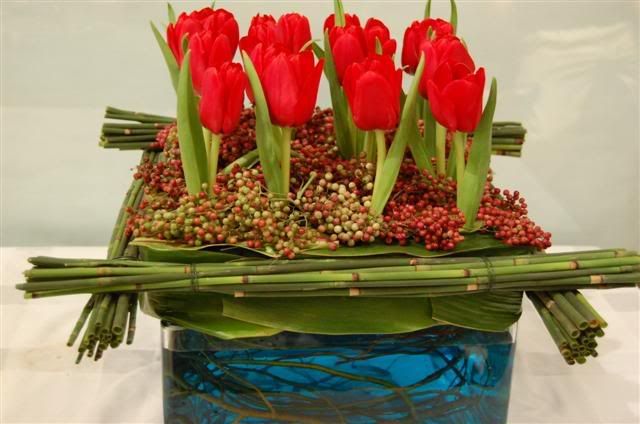 Although Euforia was quite pricey, I felt that if I was going to pay for a florist, paying for complicated and beautiful arrangements that I could not make myself, which took my vision to a whole new level, made it worth it. When I arrived at Al Cielo on my wedding day, I found the arrangements were much larger than what my mom and I had imagined from the original photo Hector sent. My only regret is not asking for some sort of lighting inside the vase so that the turquoise water would still appear turquoise after it got dark (when people were eating).
The actual arrangements (YES AT WEDDING):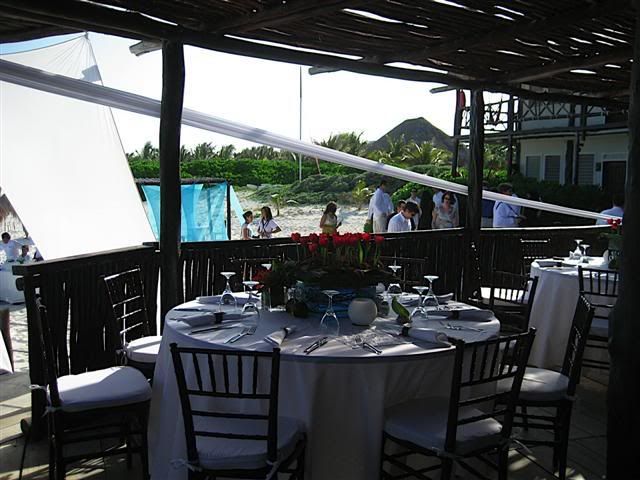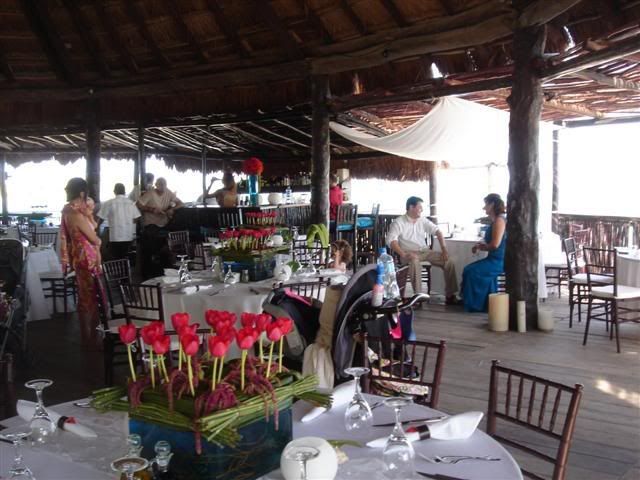 We paid for 13 table arrangements, 1 sweetheart table arrangement (which we just left up to him to create, and it turned out great),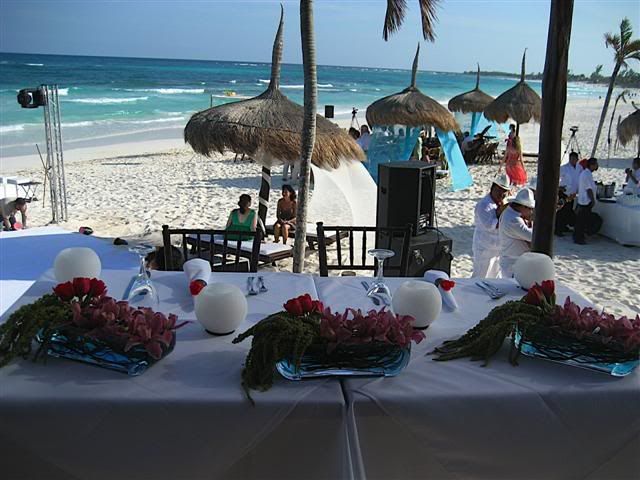 And 2 bar arrangements, 2 lounge table arrangements, 5 bridesmaid bouquets (flame red tulips), and 1 bridal bouquet. Well, apparently the flowers we discussed using for my bridal bouquet were no longer available, so Hector went ahead and upgrade my bouquet to red peonies. The red wasn't exactly the same red as the tulips – it was more of a dark pinkish-red. However, the flowers were beautiful, and the darker pinkish-red probably went better with my dress, and in many photographs, they actually look more red than they did in real life, more like the red I actually love, so it turned out well. He wrapped them beautifully in a natural mesh material over turquoise ribbon, per our discussion about it. You can kind of see it in my Part 2 review with the photo of my hubby & I going down the aisle. I assume my photographer will have better photos of it than I do, but maybe you'll see it later in my review in more photos.
Hector, because he felt bad about the bouquet, also threw in arrangements for the bathrooms (which I didn't get to see b/c I never went – my endorphins put my bladder on hold!), as well as for the table under the chuppah. I was so happy with the arrangements under the chuppah, as it added the splash of color I wanted without taking away from the setting, and was really perfect.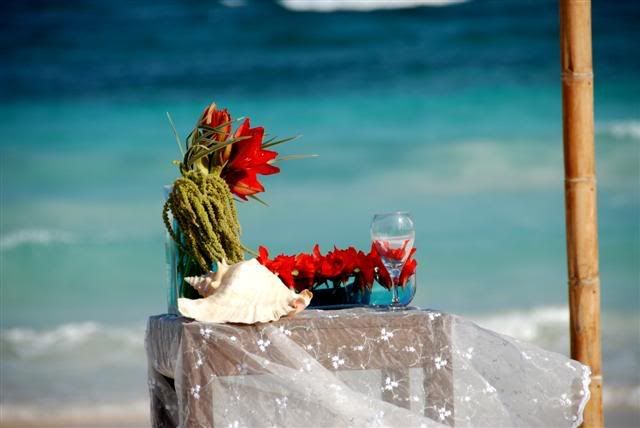 Ok, I am SO late for work...I'll continue with this later!