Disclaimer: I did not get married at the Grand Riviera Princess in Riviera Maya. My wedding was at a separate venue from where my guests and I all stayed, so I am splitting up my review to make it easier for BDW gals considering each of the separate venues. I did have a few events planned at the Grand Riviera Princess in Riviera Maya, in addition to staying there with my husband and 100 guests, so hopefully this will be useful to you all. I'll be thorough in hopes of being helpful because I appreciate how much you all have done for me, and also because I want my own record of everything so I never forget. And I'll include a few photos.
I will review in this order (if you want to skip ahead) - check-in, rooms, platinum lounge, bars, restaurants, pools, beach, activities, gym, Salon Services, Public Events/Welcome Cocktails (that we didn't pay for), Wedding/Event Coordinator, and Private Events/Rehearsal Dinner (that we did pay for).
Before I start my review, let me explain why I did not pick the Grand Riviera Princess for my wedding venue, and why I did pick it for our stay. I always had a vision of an intimate, rustic-elegant-chic beach wedding, which requires a smaller venue. However, I have a large and very close extended family and set of friends, including young children, and thus many of the smaller hotels were either unable to accommodate a wedding group of that size either for housing or for the actual wedding. Slightly larger hotels that I liked did not offer sit-down dinners (vs. buffet) on the beach, or had rain-backups in conference rooms, which I refused to have as a location for my wedding reception. Lastly, many of the hotels with wedding services that I liked had rooms that were too pricey for many of my guests.
I visited the Princess in late November 2007, 2 weeks before it opened. Besides not really being the type of place that met my vision, the wedding coordinator missed our appointment, which did not sit well with me. Also, I believe the beach dinner option was only buffet. So I knew I wouldn't have my wedding there. However, although it was a lot bigger than the other hotels I was considering, it was architecturally tasteful and pleasing, white with palm fringed rooftops, with beautiful pools, wooden poolside beds, and a big, sandy beach and pretty sea. The rooms were (are) tastefully appointed and relatively large, and best of all, the price was amazing compared with everywhere else I was looking. The cheapest rooms were between $80 per person per night (for a double) and $130 per person per night (for a single). $160 for a room for 2 people, including tax, transfers, food, drink, etc, is pretty amazing! The nicest rooms, the Platinum, were $125 per person per night (for a double), so my husband and I paid $250 per night for our room. These prices are significantly less than hotels on the beach in Southern California (where we live and considered having the wedding), as well as many of the hotels I visited down there, so I thought that this would make the trip worthwhile for many of our guests, and encourage them to come to the wedding, and motivate them to stay longer. I also wouldn't have to worry about the hotel being booked up with a short Save the Date to wedding time span, which with a huge guest-list, is an important factor. I waited 2 more weeks before sending out my Save the Date, so that I could read initial reviews, and the food reviews were pretty positive, so I took a chance. Ok, onwards…
CHECK-IN: C
We arrived at the Grand Riviera Princess around 6 something and there was no line at the Platinum (nor the regular) check-in. We were greeted with some really delicious champagne. The check-in lady gave us our room number but claimed she had no idea if the room was ocean view or not, despite my attempt to reinforce my travel agent's request for us.
We decided to walk to our room since it was going to take the luggage a little while to get there, as an opportunity to move our legs a bit. The walk is about 10-15 minutes depending on your pace. Ours took about ½ hour because we ran into about 12 people we knew along the way!
We finally arrived to our room to find it decorated with 2 towel swans kissing, flower petals, and confetti. We also had champagne and delicious chocolate covered fruit waiting for us. Unfortunately, all this was soured by the view: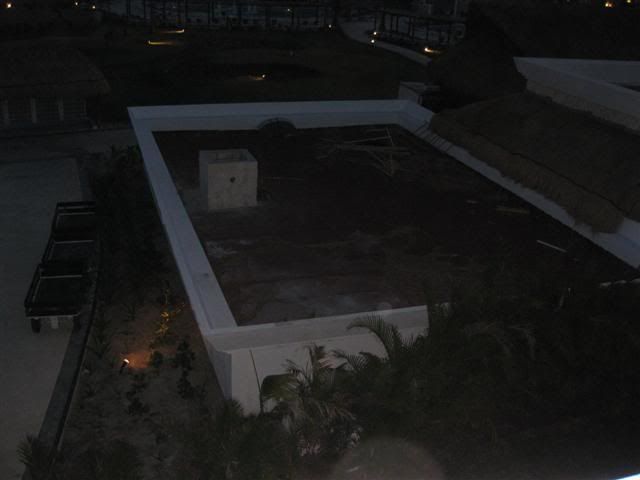 Basically, if I went out on the balcony I could see the ocean from the edge of it, but I could also see an ugly construction site underneath my balcony. I was in tears and furious that I brought over 100 guests to the hotel, was having my in-laws pay a lot for a rehearsal dinner and open bar even though it is an all-inclusive, and was essentially on my honeymoon (though I'm taking a real private one in the future), and they did not give me an ocean view room per my request.
I spoke to 3 different people on the phone (since we were waiting for our luggage for nearly 2 hours). The first, when I tried to explain that I'm sure that if one of my guests got an ocean view I'm sure they'd be willing to switch, told me that all guests are treated equal. WTF?? The 2nd tried to get me to pay an extra $50 a night, claiming that was the price for ocean-view, even though I knew this not to be the case. The 3rd said there was nothing he could do and I started to cry. My hubby had to take the phone and I don't think he really got anywhere.
After our luggage finally arrived, my hubby convinced me that we need to eat and he and the friends we ran into walked back up to the main buffet and ate. Afterwards, we went to the main lobby to complain in person. The check-in woman promised us a room on Saturday (2 nights away, as we arrived on a Thursday), and told us to check back the next day. However, she wouldn't give us anything in writing, she just claimed her star in their book was enough.
I ran into my dad and tell him of my unhappiness, and I wrote my travel agent around 3 AM (as I was towards the end of putting together my programs and place cards, last minute, another long story, what a lovely night!) to complain to her too. The next morning I run into my dad at breakfast who tells me he has managed to get one of the very nice platinum concierges to hold an ocean view room from a check-out that day, and it turns out my travel agent had been in contact with the same concierge. We moved into the new room and it was PERFECT!!!!!!!!!!!!!! Perfect view, great room.
Here's the new view:
So hmm – not sure here – mixed rating? Diana the Platinum concierge – Score: A+, the rest of the Grand Riviera Princess check-in (including Sandra the other concierge who tried to milk me for $) – Score: F. I figure it averages out at about a C.
And FYI, some other folks, such as my parents and sister, also had problems with where they were put first, and had to move rooms - although their new rooms were great.
ROOMS: A
Ok, so this is based on my expectations of an AI (rather than a cute high-end boutique hotel, etc.), and it is also based on the hotel price I paid (which was great) compared with my rooms at other hotels in the area and their prices, etc. We stayed in a Platinum Suite on the Riviera side (north, slightly newer side (relative, since they are both new). Seems from the building layouts, you may have more of an opportunity to get an ocean view on the Sunset side. Also, I have friends who were in pool view suites and even regular junior suites on the 3rd floor who had views of the ocean on the Riviera side. I can try to find out room numbers if anyone cares. Our ocean view room was well appointed with dark wood furniture and architectural trim and marble floors, etc. There was a living "area" with a couch, a coffee table, 2 chairs, a mini-dining table. We had a relatively comfortable king bed, 2 nightstands, bureau with desk and minibar (but nowhere to unpack), wood bench, flat screen tv and dvd player (we never used due to lack of time), and large closet with a safe. The bathroom had a sliding wood and opaque glass window between the bathroom and the room, which we kept closed, a toilet stall with a door, a rain shower with a door, 2 above counter sinks, and a Jacuzzi tub. We never used the tub due to lack of time. The balcony was covered with the palm fringe, and had another Jacuzzi tub (we which also didn't use), and 2 wicker style chairs. The air condition worked perfectly. The mini bar was always stocked with water, soda, beer, rum, and tequila. I saw photos of other people's non-Platinum rooms, and they seemed pretty much on par, besides the Jacuzzi tubs. Pool towels in room. Lots of great little toiletries, including a wood hair-bush, mosquito repellant wipes, and a toothbrush, which was great since I forgot mine. Platinum rooms included free room service (which was slow, but good) and free wireless internet (which was spotty). I believe the Sunset side has lighter wood furniture.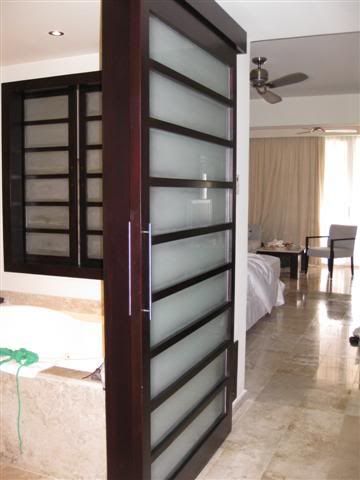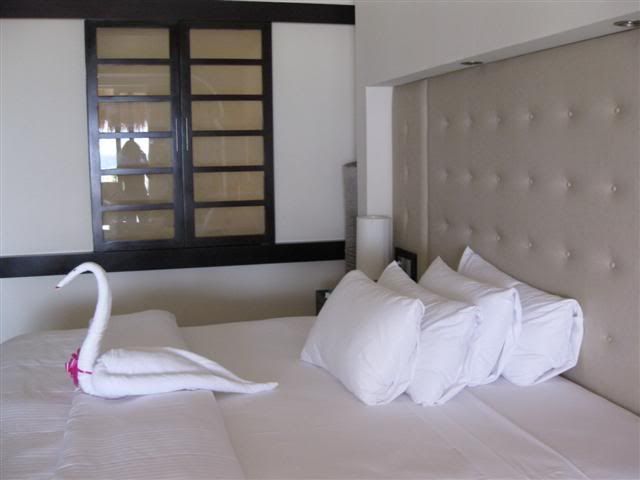 PLATINUM LOUNGE: A
There are 2 Platinum lounges – one for Sunset and one for Riviera. They have lots of windows and comfy furniture. They have a full bar with top-shelf liquor all day/night. They also serve made to order coffee drinks of all kinds, various juices, cereal, fruit, and pastries in the morning, bite-size sandwiches at lunch, and nuts and olives the rest of the time. There are 2 computers you can access the internet through for free, and there isn't usually much of a wait. You also can make your reservations for the a-la-carte restaurants with the Platinum concierge. A lot of the restaurants were "booked" even though they seemed empty when we looked, but we didn't have much time to try all the a-la-cartes anyway, so we had reservations all of our free nights.
BARS: B+
There were plenty of bars to choose from, and you can definitely choose your liquor brand, top shelf, and so forth. Drinks were a little inconsistent in strength and quality, as with the real world. Lowering the score because the wine sucked and I'm a wine-drinker, but the champagne was very drinkable, so I had a lot of champagne and pina coladas all week.
Platinum bars – These probably served the best quality drinks with the best service – including poolside servce.
Lobby bars – I only had a couple drinks there but they were weak. They did offer a nice space to hang out.
Riviera side:
Sunset side:
Courtyard bar – This was the place to be at night and the drinks were inconsistent – sometimes good, sometimes not, but it was fun.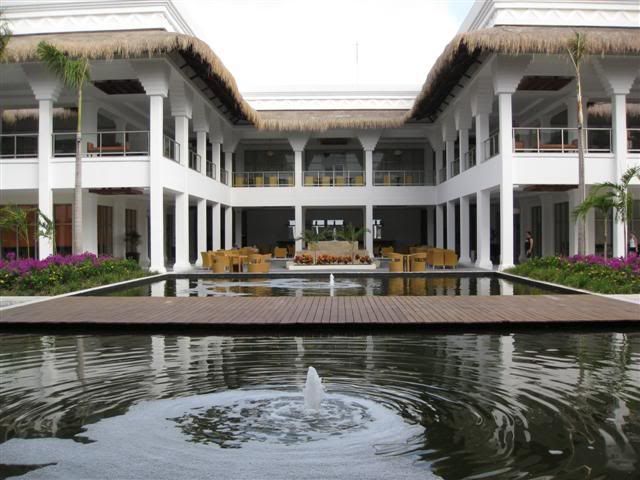 Swim-up bars – never tried, sadly.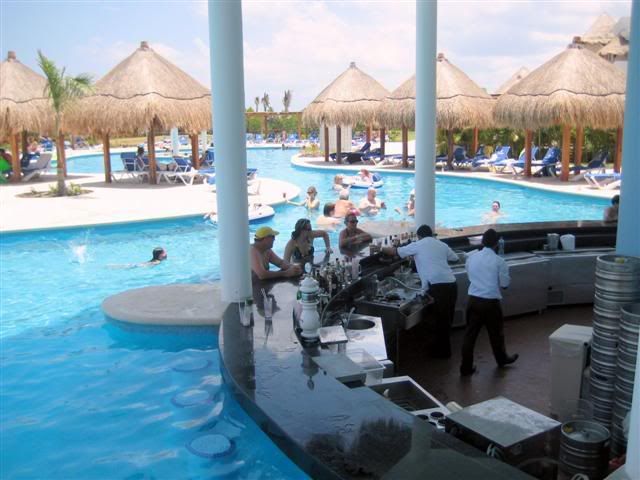 Beach bar – Weak drinks from the walk up bar, stronger drinks from the Platinum beach service. Sorry no pics of either!