Quote:
Originally Posted by CABOBRIDE200

That is too cute! I would've laughed too while dressing him up, if I were you.

Here is my little baby. For some reason, she can't figure out that she needs to pee outside, so she wears a diaper....it was either that or she had to find a new home. Here she is, her name is Schatzi...aka Diapers!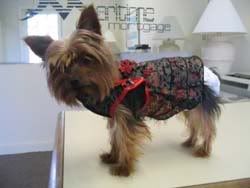 So cute! I have a yorkie too, named Tyson! He pees outside though! That is way to cute that she wears diapers! They must cost a fortune
Sarah