K here's mine:
We adopted Minggis from the SPCA right after Christmas of 2006. They didn't know much about him except that he was somewhere between 1 and 1/2 to 2 years, and that he'd chipped his tooth on something. He was really skiddish for a while after we had him, and hated new people in the house. He would hide for hours under the bed just so they wouldn't take him. But he's much better now especially since we got him a companion.
1st day we brought him home: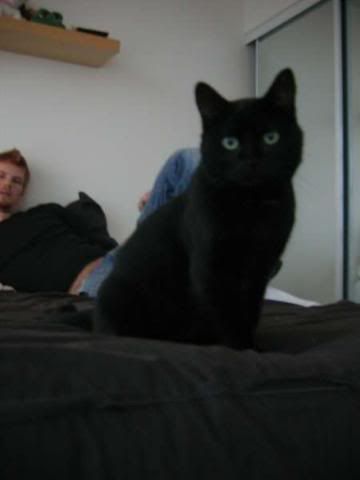 Michael holding him:
Abby is our youngest. We got her from the Vancouver Orphan Kitten Rescue when she was 9wks old. They said she wasn't going to be a "lap" cat and that she liked her space. Boyyyy were they wrong! she wants to be snuggled all the time! she won't leave me alone even to go to the bathroom! If she's not being held by us then she's snuggling with Minggis. They're best friends, and he's really come out of his shell since we've had her. Its been 8 months now.
kitten pic
a more recent shot (she still has her kitten face)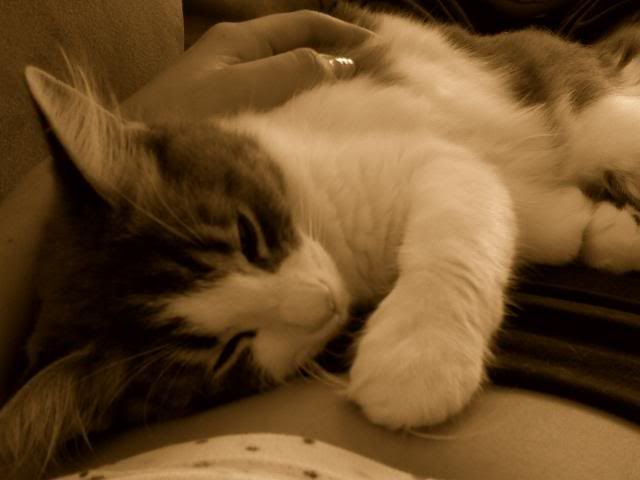 This is Nala. We got her after our two golden retrievers passed away last year. She was 5 months, the breeded had initially wanted to keep her for breeding but apparently her chest wasn't wide enough (*wtf?!) anyways their loss and our gain. She's the sweetest dog ever, and super intelligent (althoug very very stubborn). She's in Toronto with my parents and loving the snow