So this is more of an "entire process review" than a wedding day one! I've been writing this review since I started because I didn't want to forget any details (I know, I'm a dork!). I've just been adding to it as everything happens, so hopefully this should help any future brides (and grooms). I know this is incredibly long, so just skip to the parts that apply to you. If you have any questions about anything, please ask!
Wedding Date:
May 9th, 2008
Travel Dates:
May 1st – May 11th
Honeymoon Travel Dates:
May 11th – May 24th
Number of Guests:
23 (including one adorable toddler!)
Planning and Organization:
Honestly, I think those planners that they sell in the bookstores are a rip off. I looked through all of them, and some of them were handy, but they got pricey and I couldn't find one that was specific to DW. So, I just made a binder and made specific tabs (Tammy Correspondence, Mariana Correspondence, Ceremony, Budget etc). I think I ended up having 24 tabs including DIY projects and honeymoon. This was easy and cheap and catered to my organizational needs… unless you find an amazing one, don't get a planner! It helped me with the important stuff that I wanted a hard copy of, but mostly I stored everything on my computer (my list of "Favourites" was outrageous!!)
One thing I did do was print ALL of my e-mails that applied to scheduling, d©cor, prices, or any other arrangements that may require proof that we spoke about it! In the long run, Mariana had her stuff together and there was no need for the emails. Better to be safe than sorry I guess!
Our Website:
I personally didn't want to spend any money on our website. I knew we wouldn't have a lot of people attending (and therefore checking it) and some of our guests don't even have the internet. We signed up with Wedding Announcer (
Welcome Dinner
We struggled a bit with the welcome dinner. I really loved the idea of a bonfire on the beach, but was a little disappointed when I saw what Dreams idea of a bonfire was. I think the most you could seat around the bonfire would be about 5 people – tops!
We ended up setting up tables at the La Cascada Terrace, in the lower level. We had a Mexican themed dinner with "show cooking"; they fried up the flank steak right before our eyes. The set up was better than I imagined – another thanks to Mariana!
The Wedding Day!!!!
Suzanne Morel:
I know her services are expensive, but the price was well worth it to put my mind at ease! I booked her services about a YEAR before the wedding, and oh-my-god… Paulina can call a lot! Like, sometimes multiple times in a day. I am, of course, at work and I come home to 2 or 3 voicemails from her! Kind of funny/annoying. I did tell her that I was best available by email and I think she started to get my hint after so many unanswered phone calls. But, I'd have to say, it's much better to have her following up so many times, than trying to get in contact with her with no avail!
I booked my hair trial for the day before the wedding/rehearsal dinner and I'm glad I did. I thought I was prepared; I came armed with ONE picture (as per the poll I posted here before with the back shot of the up-do) and thought that it would be sufficient enough… boy was I wrong. I didn't even think of how I wanted the front done!! I looked through Diana's album and we merged a lovely up-do creation.
When Diana was done, I loved it. Suzanne came in to talk to me and my mom and she re-worked the hair-do a little with a few suggestions. I couldn't believe the difference Suzanne's suggestions made. I genuinely loved the original up-do, and then Suzanne came along and recreated something that looked totally different, but so much better!
Ceremony
Everything is such a blur; the day went by so quickly. We had our hair and makeup done starting at 11am and they were done by 2:30. Originally they were supposed to take up until 4pm, so Leigh was going to stop by the room for getting ready pictures at 3. Since they were done and packed up so early… they just left. That is my one regret; I wish I had asked them to stay for the getting ready pictures.
Throughout the entire day I felt this strange sense of calm. I was totally expecting to feel nervous and anxious – I'm not sure if it just didn't hit me yet, or what, but it was nice to be relaxed the entire time! I started to feel nervous when my dad and I started heading downstairs. We were waiting in the lobby for the go-ahead from Mariana and people were watching us and smiling, giving us their congrats… and then I felt nervous. From then on, I don't remember much. I hardly remember walking down the aisle. I saw my mom and my ring bearer walk ahead of us together… apparently while they were walking, on of the rings dropped off the pillow – I'm so glad I didn't know that until after the fact!
Of the ceremony itself, I remember very, very little. I cried, I remember that! I had to try to cool it during my vows because I felt like my crying was making my voice too shaky. Lol. Aaron was so sure he'd cry, but he didn't (until the reception!).
After the ceremony, we walked back down the aisle, and there was a waitress with champagne for us. When we got there, she must have gotten excited (or flustered!) because she spilt the champagne, some of which landed on my dress, but I honestly didn't care. I actually felt kind of bad for the waitress because she seemed really upset she did this. Seriously, I could have cared less!
Mariachi Trio
To be honest, I don't remember much about the Trio. I had hired them through Mariana, I remember them playing at the beginning of the cocktail hour before we left for more pictures. My guests seemed to have loved them… and apparently THEY are the reason the ceremony ran late. Not because they weren't ready on time, but because my guests enjoyed their music so much they wouldn't sit down!
Location
Dreams was amazing; the reason why I chose this resort was because I fell in love with the gazebo. On our wedding day, the waves were particularly aggressive and made for a breathtaking backdrop. Not so close that they were too loud or in the way, but close enough that it set the tone for an amazing destination wedding.

Reception
For the reception, we chose the Oceana Terrace. We sat at the far side of the pool. The only down side of this location was the fountain – it was beautiful, but loud! Although, I didn't notice when they shut the fountain off partway through the night, so it didn't disturb the reception at all!
Speaking of disturbing the reception… keep in mind that the Oceana Terrace is located directly below a row of balconies. We were part way through dinner when all the sudden we could hear a couple CLEARLY enjoying each other's company… loud and clear!
The rest of the night is a pretty big blur. My brother was our MC, and he did an outstanding job. We played the Newlywed game, he SANG to Aaron ("What a Wonderful Aaron" and play on "What a Wonderful World"), they had memories sent to us by guests that couldn't make it and even letters sent. It was so much fun and went by far too quickly.
Leigh Miller
I consider myself lucky to have booked Leigh for our wedding. As I mentioned before, we had our engagement pictures done by her when we went for our site visit and couldn't have been happier. She and Amy were so much fun to work with. So far, I've only seen two teaser photos and I love them both… I can't wait to see the rest. Both Leigh and Amy blended in with my family so well; they even helped Aaron's side (aka the cheating side) win Family Feud on the rehearsal dinner night.
This is the teaser Leigh posted on her blog last week...
Trash the Dress:
As I mentioned before, Aaron and I had our engagement pictures done by Leigh in the Art District of San Jose Del Cabo in August. There were some really neat places there, and so for the TTD we returned. It was fun to revisit some of those places, including one where we had been before; it's an old little hotel with a small lobby with one couch… and one old Mexican man wearing his cowboy hat. We returned there for TTD and the same old Mexican man wearing his cowboy hat was sitting there. When Leigh asked if we could take some pictures, he stood up this time, so I don't think he made it into any pictures this time, but it was still fun.
The TTD was a blast – my dress didn't get too trashed; it's pretty dirty and a bustle broke, but other than that it's fine. We didn't do any in-the-water type TTD, but even if we had it still would have held up.
My Honeymoon
So, I was lucky enough to book a honeymoon at Disneyworld. It wasn't the best idea location-wise, but Aaron and I had gone to Disneyworld 2 years prior with my family and knew it was THE honeymoon location, so it was worth the additional travel.
I booked my honeymoon with Tammy's help, and she was fantastic! She went above and beyond to help me get the honeymoon I wanted, so I owe her one big thank you!
At first, we wanted to book our honeymoon accommodations at Regal Palms (
Relaxin', waiting for the show to begin!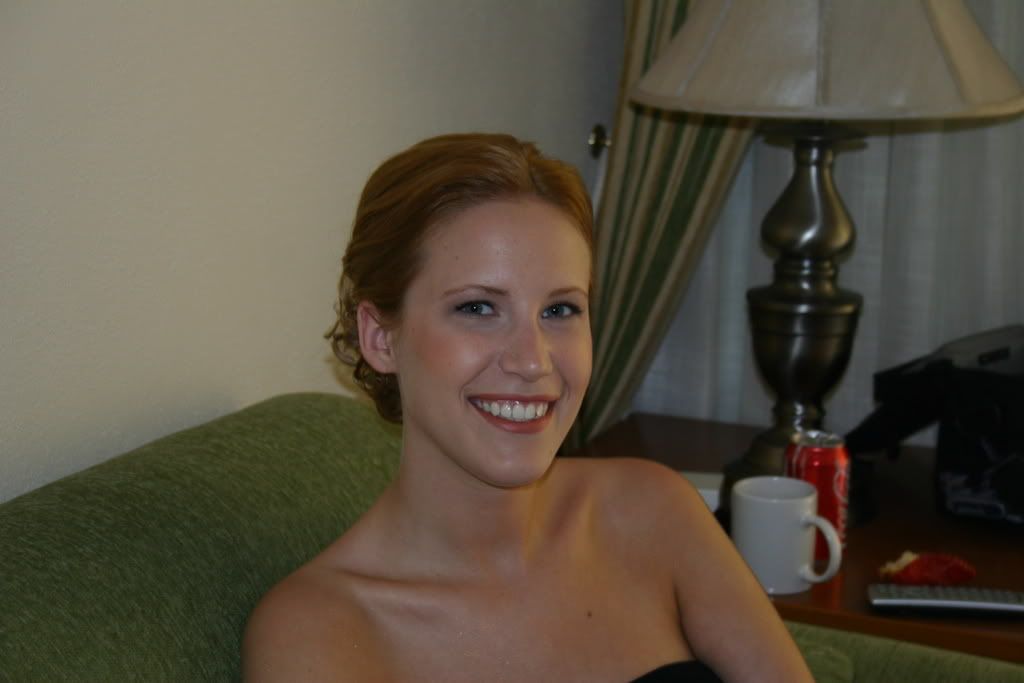 Lol... Aaron, his best friend/GM Devon and his Dad/GM posing while waiting for the ceremony to begin!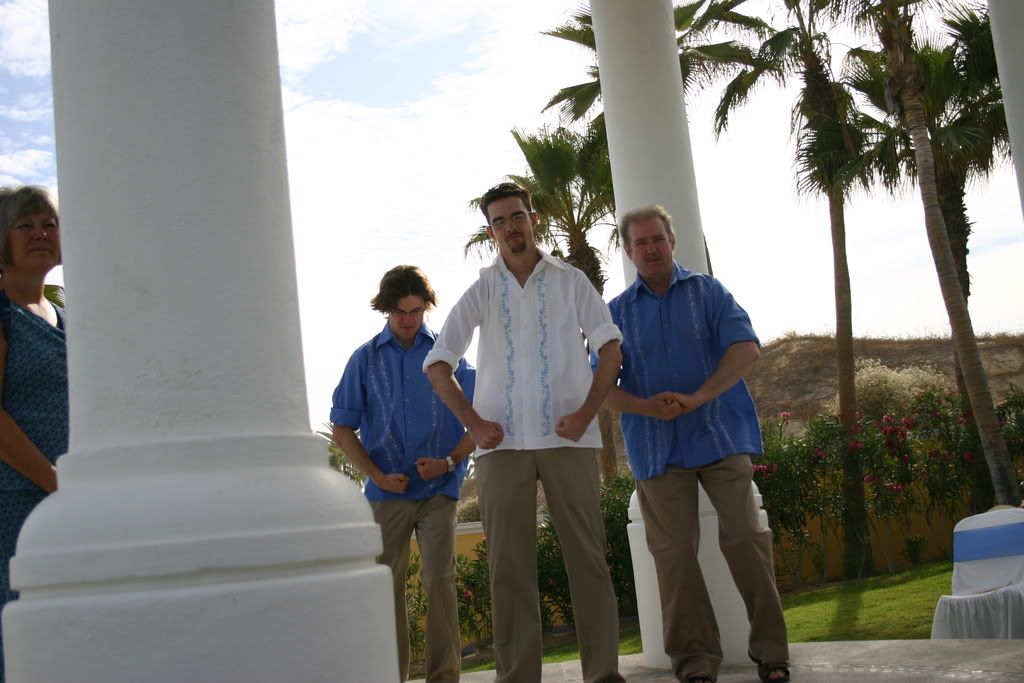 My mom and my ring bearer