Our AHR was last Saturday. I was hoping to have some pics emailed to me by now from friends and family, but so far -- nada -- so I am going to go ahead and post the few set-up pics that I took on my camera just before our guests started to arrive.
I wish I had more/better pics ... and I pray that someone took pics of the food spread, singer (who is from Nashville and about to release his first single and CD -- he is going to ROCK!) and some guest pics ... b/c I only snapped a few pics, which I hate ... but it was so crowded and busy that I really wouldn't have had time.
We had about 150 people. The AHR was at Tom's bar "Oysters on the West End" in downtown Greenville. We have a rooftop deck and bar ... so the entire upstairs was closed for our reception until 6pm.
We had a Low Country Boil as the buffett, along with bread pudding, hush puppies ... all the simple seafood-style stuff that made for a very relaxed day.
Here are some pics:
The entrance (nothing fancy -- and it still looked like a bar) ... but it's very "beachy" so it fit perfectly with our DW and starfish themes!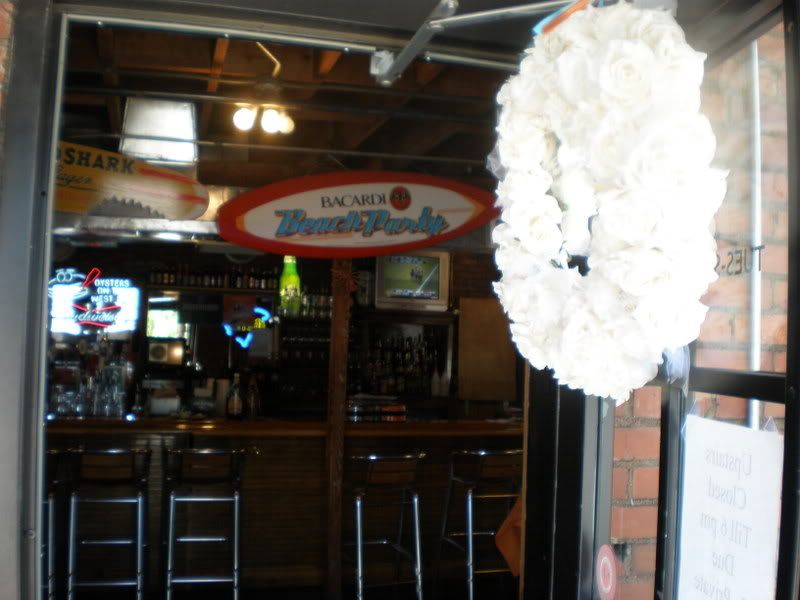 Here was my last-minute guest book table. I just got unlined note cards and fine point Sharpie's and asked guests to write down some thoughts or advice for us. I'm going to make a scrapbook with these notecards and pics of our guests from the DW and AHR. For a last-minute idea, I think it turned out pretty awesome. I bought the pails on Friday afternoon.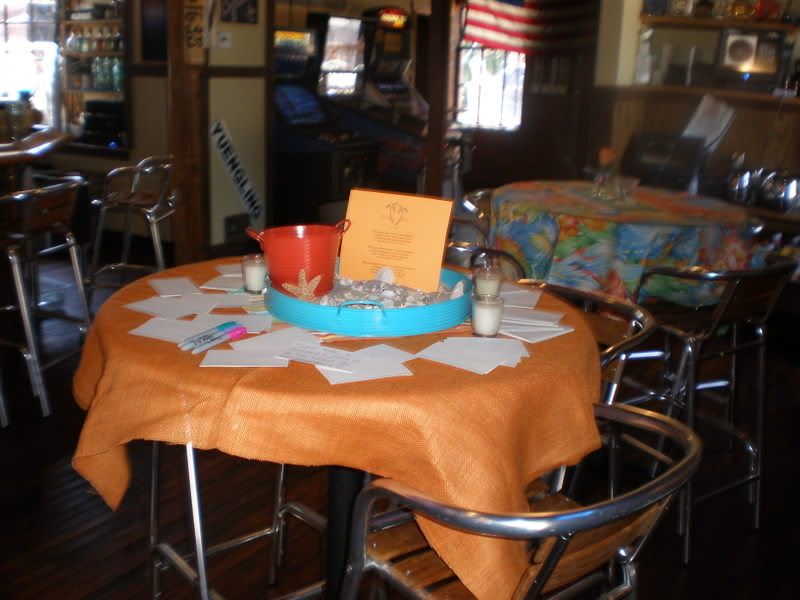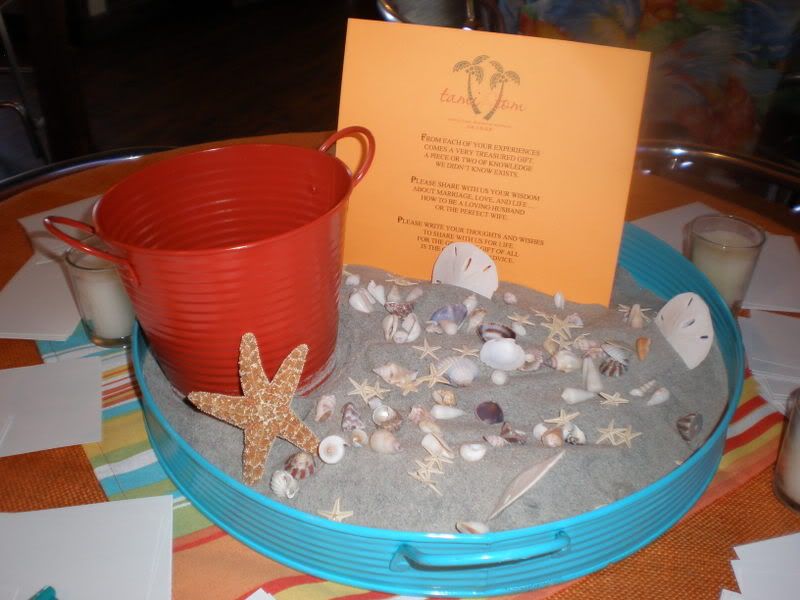 (I just read some of the notes and I am crying right now -- especially what my Dad wrote ... OMG! Some are so funny and cute and others are touching.)
I found these striped table runners, a matching tablecloth, placemats and napkins at Tuesday Morning like 3-days before the AHR. I loved them and bought up everything at 2 different stores. Then, I went to a fabric store and bought 10-yards of the aqua fabric and 12-yards of orange burlap and used that as the tablecloths (I just brought scissors and cut the fabric as I was setting up Saturday morning, so nothing fancy). I also got the paper lanterns at Dollar Tree ($1 each) and hung those around as well as some matching strings of smaller paper lantern lights ... but we didn't turn them on b/c it was still daylight).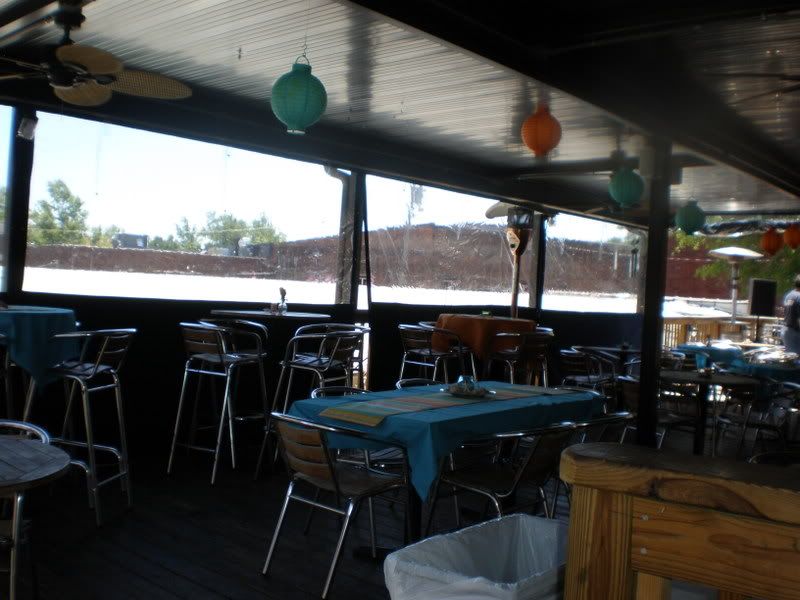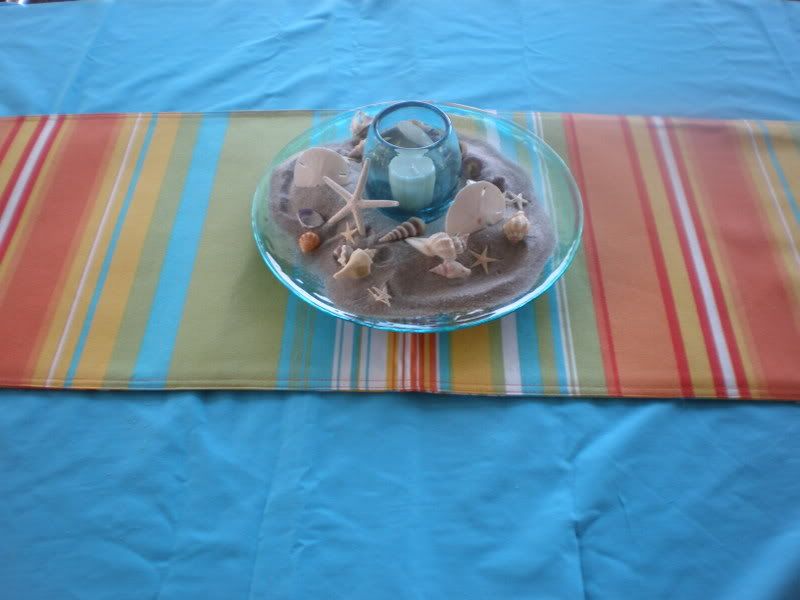 These are our centerpieces. I brought back what we had from the DW and used those, as well as some other small candles, pails, etc. Unbelieveably, none of the starfish, sand dollars or shells broke during thr trip down or back from the DW. I got the plates at Dollar Tree ($1 each) and the votive holders at Old Tyme Pottery ($1.99 each) and had Tom's Mom bring some sand from Hilton Head. I loved the final outcome.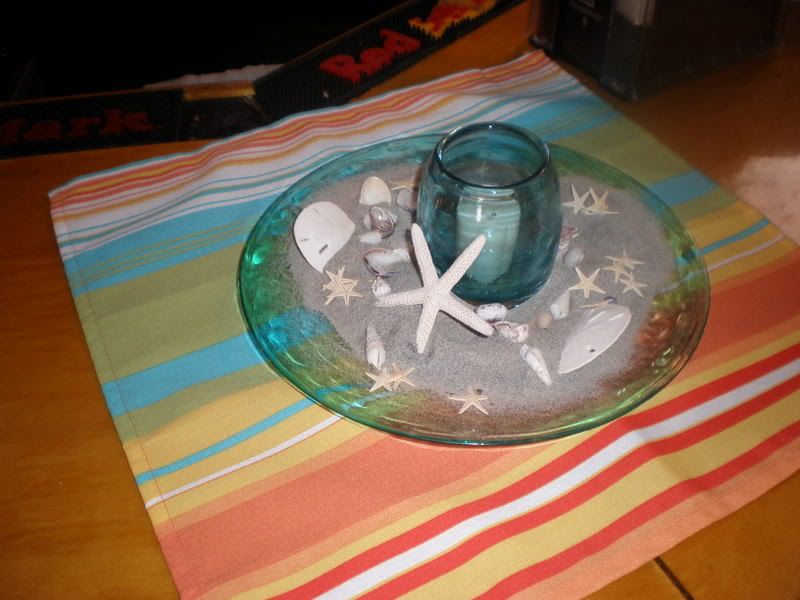 Here's my favorite -- the cupcake tower!!! I had Mom and 2 girlfriends bake the cupcakes and then Mom and I iced them on Friday night and Saturfay morning. I spent each night the week before making the starfish candies. I sprinkled brown sugar to look like sand on each tray and on the tower, then more brown sugar on top of the cupcakes, then stuck on the starfish as I set it all up on the table. They were a huge hit and no one believed they were DIY!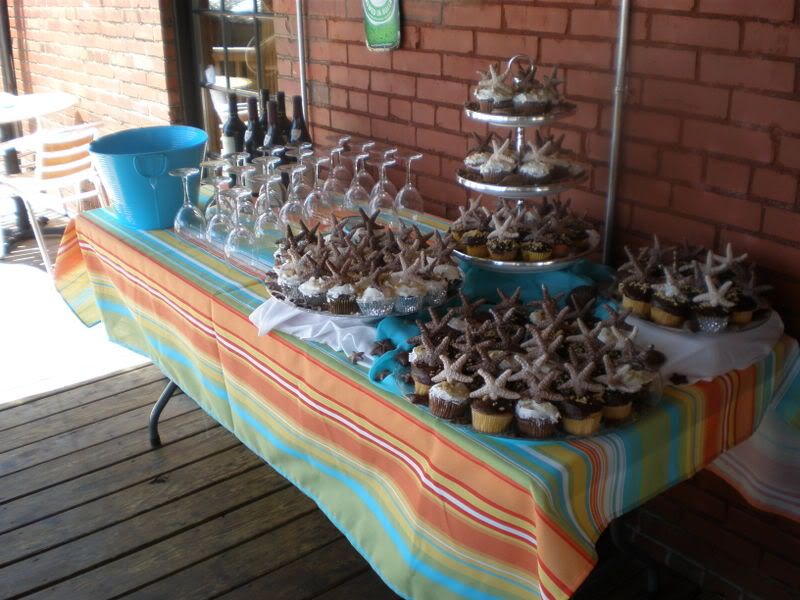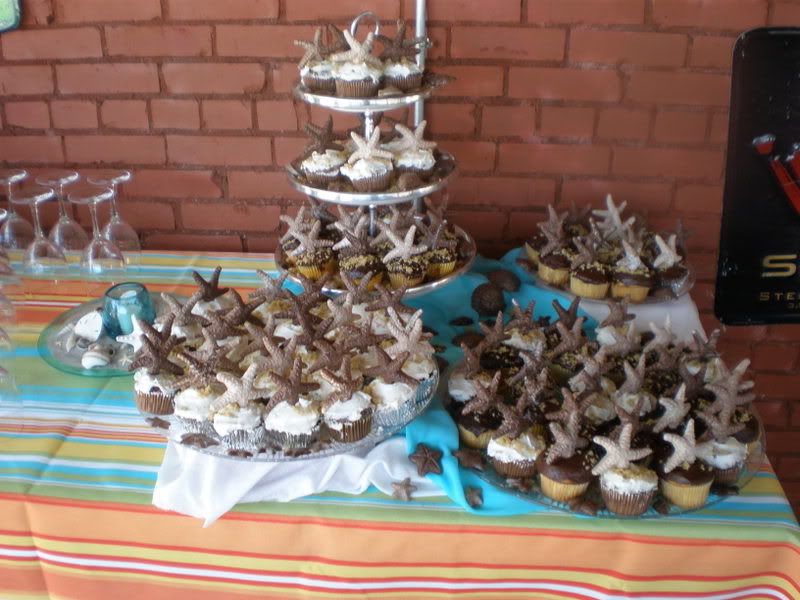 Hopefully I'll get more pics soon ... but it was a blast (albeit exhausting!!!).