Hey Ladies,
This is a cut and paste from the original thread, but I thought I'd update you here... the problem is solved.
UPDATE!!!! Hey Ladies! Thank you for all of your kind advice, and calming words, you really helped me get through this - yesterday I was a teary mess!
My best friend/BM/new momma - went to a local bridal salon this morning to try on styles of dresses - low and behold, the style that best suited her was this Alfred Angelo Gown #6548 - she tried on many others - but really liked the structure that this style offered.
In comparison with the dress from J Crew that we really liked the structure is the same - but the JCrew dress is simply more beach appropriate.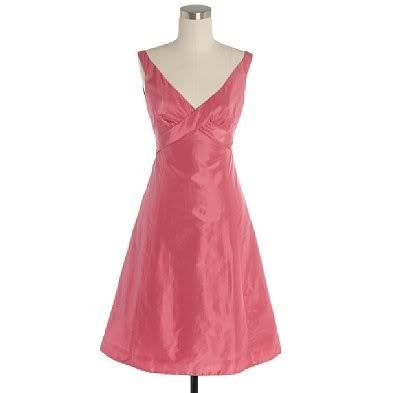 In a thrilling conclusion the the most stress of the wedding thus far, I am THRILLED to report that we have ordered the JCrew dresses and they have an anticipated arrival of next Wednesday! YAY
This is my sister/MOH dress:
When my best friend/BM/new momma was at the bridal salon, she was told that although Alfred Angelo head office was offering early January delivery - she would not chance it - and if it was her call, she'd order from JCrew to ensure that the packages were indeed here with plenty of time for alterations.
In every stressful situation I try to find the bright side... in this there were many.
1. my best friend/BM/new momma stated that she was really thankful that I gave her the time to be sure about the dress, and time to run around and try stuff on, she feels confident about the decision and is really excited to see the order upon arrival.
2. my florist Bridal Blooms by Laura has been super accomodating, her most recent email to me said
Quote:
Don't worry we can change the flowers, but if you find a bridesmaids dress that you love, maybe get the flowers to match the dress, that's easier. I know how difficult is to find the perfect bridesmaids' dress.

Let me know if there's anything I can do flower wise. If you want to wait till you finalize the dresses, I can wait too it's up to you.
I mean really how accomodating is that, I am feeling very blessed to have good vibes coming my way to get through this rough planning patch.
and lastly
#3.So I am on the JCrew website ready to process the order when I see a space for a promo code - very quickly I googled for a promo code - the letters HOHOHO popped up and I gave it a whirl.... I SAVED $97.50! Awesome! +
Ok... So that is the conclusion of my bridesmaid dress drama - and I managed to do it frugally! Touch©!!!!