I finally motivated myself to take some pics of some of our favors, etc. We haven't done a lot of projects, but enough to keep me busy! Mainly, I"ve been pouring a lot of candles. Anyway, here are some pics - we leave 2 weeks from Friday!!
My E ring _ FI know my obsession with blue, and he got me the most beautiful sapphire.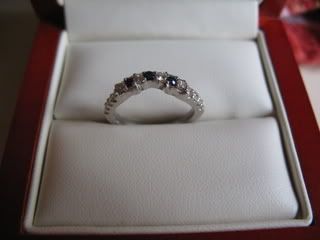 My band - I did have it made to sit nicely with my ring, and I just love it.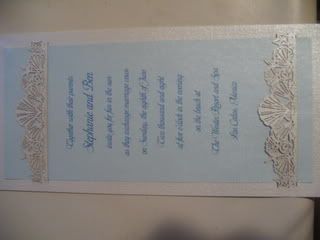 Our invite - it was very simple, but they came out really nice. We were both really happy with them.
Fans for the ceremony
Candles - we found these with the cute little seashells hanging down the side. I poured a light blue vanilla verry scented wax into them. I really love them.
Menus - I found the paper at Michael's. The colors go perfectly, and put a little bit of sparkle on them.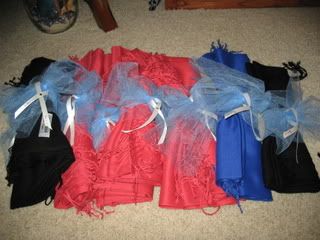 The pashminas - thank you Danielle. I wasn't going to get these, and one night I saw her post, and I'm so happy I did. OUr colors are royal blue, coral, and light blue. I ordered the acrylic for all the ladies, but the black are the real pashminas for our mothers and my MOH.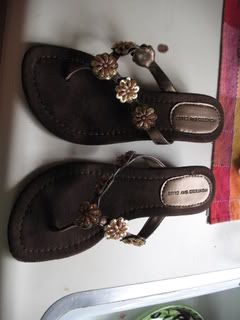 My shoes - from Payless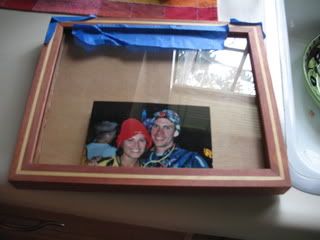 Our sandframe we ordered from a vendor who posted here. He did a really beautiful job with it. The picture is of us at Burning Man - 2003. We had only known each other for about 1 month, and we ventured their together. It was a great time! We don't really have any pics of us. We didn't do engagement pics, and the only "nice" pictures of us are from Ben's Christmas parties, but this one is very sentimental, and smallish, and brings back fun memories.
That's it right now. I still don't have one picture of my dress, but right now, I really don't like it. I go back for another fitting saturday.
Thank you to the forum for all the inspiration and help. I feel like our wedding would have been completely different if I hadn't found this forum! So, so awesome!