Erica - I PMed you a bunch of information too but I'm going to post it on here for other girls interested:
-------------------------------------------------------------------------
(btw, I'm going to use abbreviations for the hotels in case you are wondering what those letters stand for)
Yes, I did a site visit to a bunch of hotels in Cancun. Going down, the RIU's were my first choice. Both the Riu Cancun and the Riu Palace Las Americas were gorgeous.. few differences were pricing, gazebo location and private reception. The RC has a beautiful gazebo in a garden overlooking the water.. so nice. The RPLA's gazebo is connected to the pool so it might not be as private as you'd want it to be. Neither hotels offer private reception (nor can you have a reception on the beach...no room). I asked the WC if there was anyway to make it private and she said we'd have to rent out their nightclub after a certain time and it's only in RC. So, dinner would have to be in their restaurants as the other hotel guests were eating, the cocktail hour would be a section blocked off from the other guests. If you don't mind it not being completely private, then you'll enjoy the restaurants they offer. I checked out all from both hotels and they're so pretty with a real Mexican feel. Both grounds are pretty so it makes for really nice pictures. The RIU's are located in the heart of Cancun so its very easy to get around. As far as beaches, they have a decent beach, and both have beach locations for a ceremony. The RC's area is pretty small and enclosed by the walls where the pool is. The RPLA's beach area is very rocky and even as we were walking to see it, the waves were washing up on our feet. I couldn't imagine dragging my dress over rocks and water!
Here is a link to a girl's wedding at the RPLA's..gives you the best visual:
Gazebo -
Eating area -
One of the restaurants (reception)-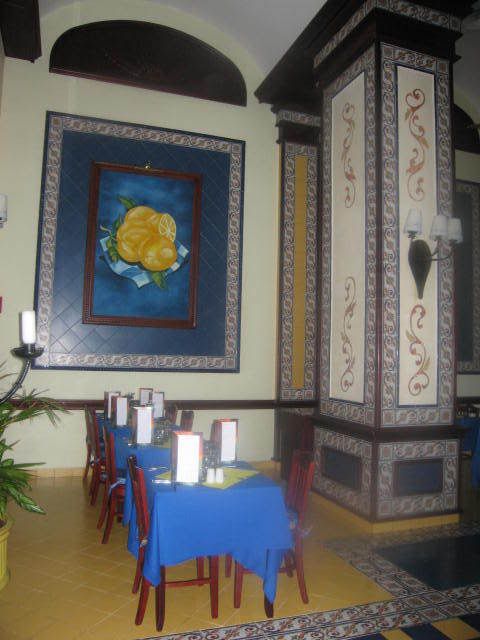 Garden area (this is where you'd walk up, gazebo is behind me in the pic) -
Beach -