I've met Robert Kelker-Kelly (ex-Bo, Days of Our Lives) too! lol..that's funny. He's hot.
Umm...let's see, I'm also friends with Daniel Goddard. He's Cane on The Young and the Restless and now I run his official fan site for him. Very nice man.
Also have met Christian Le Blanc who plays Michael Baldwin on The Young and the Restless too, as well as Thad Luckinbill who plays JT Hellstrom. Lots of Y&R folks and will probably meet more this summer since I'll have to cover some fan events for the site.
I grew up knowing boxer Ken Norton...we're from the same town.
Now, if I can only meet Rob Pattinson, I can die a happy woman. If I can meet him and get in his pants, I'll die happy with a smile on my face. lmao
Here are a couple of pics of me with "D"..he's such a sweetie.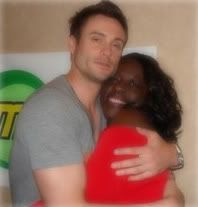 He has a dorky ass smile in this one cuz I was grabbin' his booty..lmao. I was. I have -0-shame.