UPDATE: Thanks for all the feedback. I am going with the majority vote (it also matched up with my favorites). I put stars on the outfits he'll be wearing.
He acted like I was putting him through some sort of cruel punishment asking him to try on all these clothes. That is why he is making the goofy faces.
I am trying to decide on Mike's outfits for our wedding & TTD. We are doing the TTD the day before the wedding so he needs 2 outfits. I'll be trashing the dress I'm wearing to our legal wedding in the states.
Right now I'm thinking the blue shirt will be for the TTD & one of the khaki shirts for the wedding. But, I'm not opposed to the blue shirt for the wedding. He looks good in blue. We don't have wedding colors or a bridal party so that doesn't need to be considered.
Here are the 4 shirts.

Here is each shirt with the different pants. Then the shirt next to my dress to see how the color coordinates.
The first 2 pants are linen & the rest are polyester of some kind of slacks material. I think pants #2 might be too short.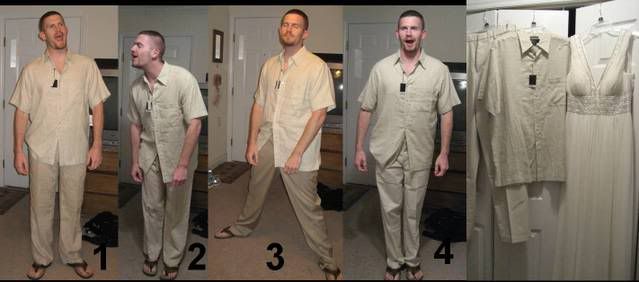 All of these clothes came from Kohls if you are interested.