Quote:
Originally Posted by Nitnylyin1

Hey all, I'm a November bride to be also, kind of jumping in on your conversation late. I was flipping through the posts and came across yours, Tara. I assume you are staying at Dreams, me too. I am there from the 5th thru the 15th. And yes much to my disgust, the freaking "new" tower is under construction and completely closed. At least your travel agent called and told you. I found out on my own when I checked tripadvisor and read someone's review of the hotel. Even the #%$@& wedding coordinator didn't notify me about it. Nor has she really answered any questions I have about it. My travel agent isn't much of a help either. I too had a suite, the jacuzzi one, for the entire trip. Now I am stuck in the old tower. My FI is trying to get us a free wedding package, the more expensive one of course and/or a free upgraded suite( they have 2 level suites in the old tower which come with jacuzzi and private pool). By the way, doesn't it make more sense to remodel an old tower....not the new one!!! Anyways I just wanted to let you know Tara you are not alone. Hope things work out for you!
Welcome!! That sucks about your resort. I feel so bad for you and Tara, not a fun thing to deal with especially when you are having your wedding there. You would think they would have notified you.
Quote:
Originally Posted by amyrak

We originally planned to go to the Iberostar Grand for 4 nights or so also but it was a big mess booking 2 different trips it was so much more expensive then they actually cost so we decided we'd maybe go back for an anniversary. We were going to do the same thing though get an oceanfront room...let me know how you like it the place looks awesome!
I was kind of bummed we couldn't go somewhere else, but we would end up spending way more money and losing too much travelling so it just made more sense to stay. I will definitely take lots of pics at the Grand for ya. I have heard it is a phenomenal place so I'm sure it will be a nice change from the Lindo.
Quote:
Originally Posted by LadyCheese

Hello November brides...hope you are all doing well. I've been trying to read the last 50 pages or so that I've missed since I don't have time to log on during the week anymore

yeah packing is no fun! We packed all of our OOT stuff last weekend. Man that suitcase is HEAVY!!

I also kicked some butt on my DIY projects last night. I made my welcome letter for the OOT bags, the wedding day timeline, and my table numbers and favor tags (organza bags of M&Ms)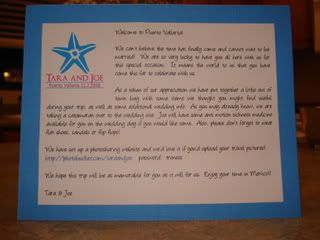 Did you weigh your suitcases? All your DIY projects came out great, and I love the little stands you got.
I am absolutely exhausted! We had a garage sale at my aunt's house this weekend. We didn't advertise so all the people that came were just drive bys. Luckily, they live ona corner, but it was slower than we had hoped. Mike and I still made $525 from some of the stuff we sold. He used to be in a band so he sold some of his old instruments (he plays drums and guitar) so he had some bigger ticket items that resulted in the money we made, but I sold some clothes and kitchen stuff since we got new stuff at our shower. We are going to hold another sale in October and advertise this time so hopefully we can rid of the rest of our crap and make some more money. Otherwise, we'll just donate what's left so we won't have to move it to AZ!
I'm hoping to start working on those programs this week and get this stuff done. I go for another fitting on Saturday, and I need to pick up my head piece. I can't wait until I get to the point where I have nothing wedding related to do!