OMG Girls! I have been such a bad BDWer!
I didn't post pics of my fabulous wedding gifts from the Ferret Club Founders.
Morgan and Nibblet found the most amazing napkin rings for me. I can't wait to have them over for dinner. They are so nice I have to save them for special occasions.
Becks got us the coordinating Door Knocker as a combination wedding/housewarming gift. Now all who come to visit will have the pleasure of using this: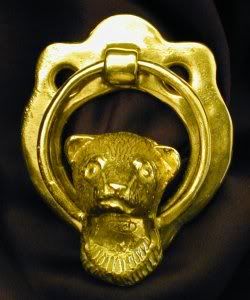 I am truly blessed to have such good friends!
We are saving up to remodel out kitchen. You better believe we are going first class all the way with our new drawer pulls!