Quote:
Originally Posted by CABOBRIDE200

Here's a pic of my bag and stuff. The pic is missing the CD that we made and the advil packets. Other stuff in the pics include flip flops for the guys and the girls, a deck of cards, 2 koozies, 2 bottles of water with our custom labels, a beach ball, a bottle opener, 2 travel candles, a small package of tissues and a couple of games for the kids. We'll also be added a couple of beers in each and snacks, which we'll buy in Cabo.

I tried to do the iron on transfers, but I didn't like the line around the design, so I made a pocket instead. I still have to make the tags for the bags and the welcome letters.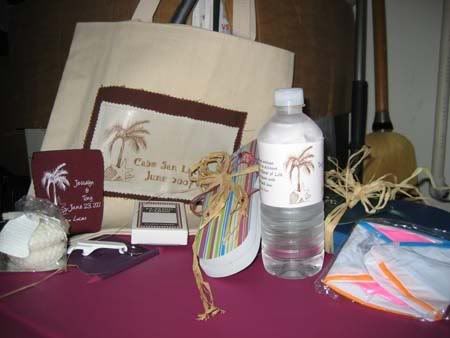 Jess, your bags came out great. I really like the pocket idea. Your guests will be impressed.