I finally finished my invites! Like Galit mentioned in her invite thread, I feel as though I've been working for more than 6 months! They were hell to make but well worth it. I'm very excited at the end result! My BM's got together on Friday night and helped me glue all the inserts and assemble the invites (and along with a few glasses of wine) we had a blast! My stamps came in on Saturday so Sunday I addressed, stamped, wrapped and finised all my invites!
Any how, I'll try and be as detailed as possible
Supplies: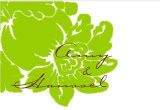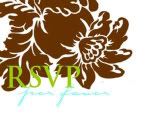 A few hiccups:

-My printer doesn't grab 4 bar envelopes, so I had to tape each one on a full sheet of paper to print.
-My printer doesn't grab cardstock so I had to feed each blue sheet trough the feeder.
-I ran out of envelopes so I decided to add a simple card with the guests names to a few invites that were going to be hand delivered or mailed in bulk to one addy (out of the U.S.)


-I forgot that it can take weeks for mail to get back from out of the country so I decided to glue an insert on the back of the RSVP card requesting guests to respond online. (no pic sorry)
-the card pockets were ungluing (roller adhesive) so we moved to tape. I later realized that you need glue both sides so that the glue can grasp, if not it slides off the metallic paper.