Here are the welcome booklets I made for our wedding.
They went in the OOT bags.
The Cancun information was mostly from cancuninfo.com.
The content for the English-Spanish translations I used from a post from here and I added a little.
I designed our logo.
I will have to look at home to see where I got the map.
I have many of you to thank for bits and pieces of content, but I apologize if I don't thank you personally...
I started it a long time ago and cannot remember where I got everything.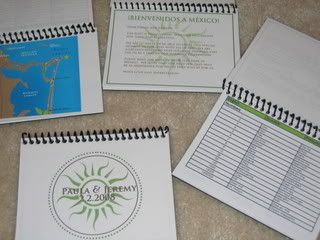 They were small booklets (8.5 X 11 divided by 4) spiral bound with clear covers and a thicker black paper backing.
I printed all the inside at home, collated them and took them to both Kinko's and OfficeMax for a quote.
We also signed our names at the bottom of each of the Bienvenidos/Thank-you-for-coming-to-Mexico pages.
OfficeMax was the better deal and could also bind them while I waited.
The charges were for 2 cuts (since there were 4 per page), plastic front and booklet backing, then two spirals per 8.5 x 11, since they would be cut in half.
Kinko's was going to charge for 4 spirals 8.5 X 11 set instead of 2. Hope that makes sense.
I am attaching it in pdf format to retain the fonts I used, since they are not standard fonts.
If you would like to use my original, please send me a PM with your email address.
Hope this helps someone out there!
Paula