Quote:
Originally Posted by JABride

Great thread !!!

My hair is very thick and curly and do not know what to do with it. I stopped relaxing since it was thinning and breaking my hair after a few years and frankly, I did not like all the chemicals ... I either braid or hot comb my hair ... or put on a wig on bad days
but this will not work for a wedding in Jamaica. I found out about "treebraids" (braids that look like a weave -- see picture).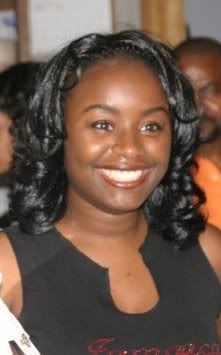 They take less than 2 hours to put in and to take out (since it's only conrows under it all), they cover all my hair, they were not affected by humidity when I went to Jamaica with them .... I have been doing them on and off for the past year and thought about having them for my wedding (putting half up, half down) but ALL MY GIRLS are against it since everyone is used to see me in "treebraids". But now I am back to square one ... Humidity will kill my hair if I hotcomb it - so that's not an option. A weave is an option but I tried one last month to practice and the hair kept tangling after just 1 hour -- I had to brush every hour to keep it smooth and every time I brushed, hair kept coming out... I bought what I thought was a good weave at $30/pack...
... anyone can suggest a good brand? I am not used to the weaving thing ... what's the normal price for a quality weave?
What's fusion? how much would it cost? do any of you have pictures of that?
i just PM'ed you about the tree braid style