My order from Oriental Trading came in today so I was able to complete my first OOT bag! Here is what they will all look like once they are filled (except I forgot to put in two cups- I'm giving one bag per room)
still to come- Welcome letter with photoshare info & a meet the guests section (looks like the prewedding brochure I stuck in the picture)
Spanish to English translations
pens
tags for bags that say "gracias" and names
I might buy some snacks when we get there
Things in my OOT bags
study luggage lock with customizable combo (ebay)
coin purses for room key, credit cards & cash (OT)
Clip (OT)
The world's smallest notepad. Check dimensions before you order from OT!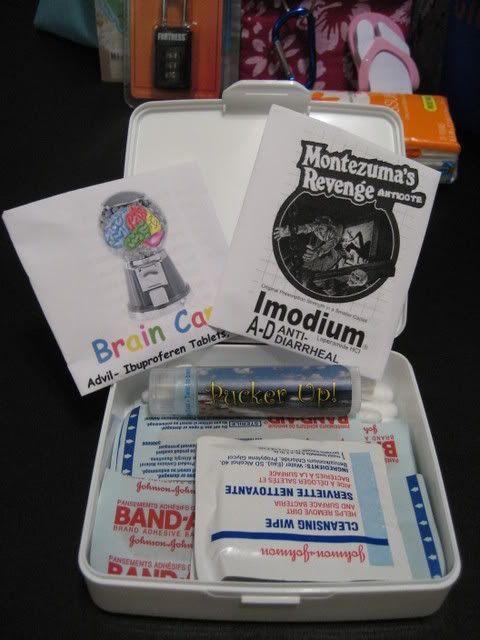 My first aid kits (target) with chapstick (ebay) and labels (vistaprint)
OK magazine from our subscription. I'm saving them until the wedding.
Cup with name painted on it
kleenex
silly hairflowers (OT)
3 riviera maya postcards (vistaprint)
The bags are the large multi-colored totes from OT. They are real cheap, but they are a great size for a beach tote. I think they will make good reuseable grocery bags after the wedding. Even though they are cheap bags, I don't think they will fall apart. I like that they are super lightweight for packing.
UPDATE
Just about everything was used by someone. I think the most useful thing in the bag was the hibiscus coin purse. I saw several people using them to hold their keycard. I always had mine with me to hold my key, some ones, and my chapstick.
I saw several people using the cups. The hotel cups were tiny.
Most of the ladies wore thier hairflower at some point. it always made me laugh to see one of them with it on. It was just something silly.
I think most people used the locks too. I know some guests used the safe, even though we told them how the hotel staff can rob them. A couple (not with our group) had their safe robbed while we were there. They were at the front desk upset about it. They found out right when it was time for their shuttle to leave.
We met most of our guests when they checked in & gave them their gift bag then.