This is long - read to end please:
So my colors are turquoise, flame red, and dark brown. My bridesmaid dresses are most likely dark brown (they prefer that over flame red, although I ordered both to see first, and I couldn't find the right turquoise). So I was looking to my centerpieces for the turquoise and red elements.
My florist said she could get me square turquoise vases, and I was thinking of having 2 flowers of different textures in a flame red in them, similar to one of these centerpieces, but without the bow. Flowers such as red torch ginger and flame red tulips, since red protea pincushion aren't available in Mexico and I don't know if I want to go thru the hassle of buying them here and shipping them down and then having them not show up or something.: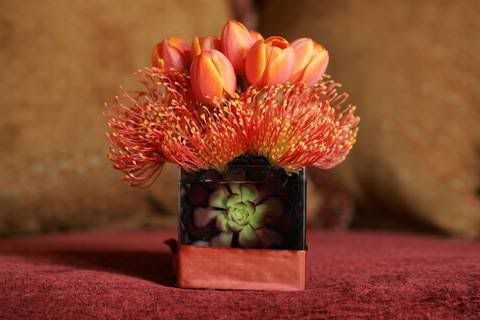 However, I also sent my florist this photo below, and she liked it the best. (note, my tables are round). She suggested ginger, red tulips, some leafy something, and a glass vase with turquoise water and a floating candle: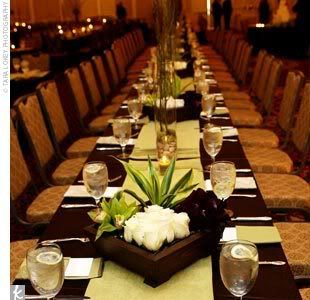 So I have a few questions:
Is this going to be enough turquoise?
note: My venue may wrap the napkins in a turquoise ribbon, to help a little.
Is this going to be enough candlelight?
note: I was originally planning on having turquoise glass candle holders around the centerpiece (which the florist would supply or I would bring)
OR I could have small clear glasses filled with sand and a tealight, which my venue includes in my package - but I fear that will be too much going on?
Speaking of too much going on - my venue also includes 2 conch shells - is this too much and does it take away from the modern vibe?
The venue is on the beach in a rustic brown wood palapa -->