Who is familiar with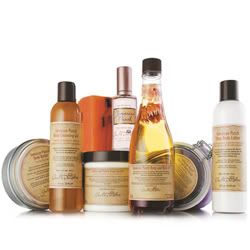 Let me tell you ... I read so many fabulous reviews about this line that I asked for it w/o ever trying it ... and now ... every single person at my shower (including me, of course!) is in LOVE with this scent!
The reviews talk about how it lasts all day and let me tell you -- I put on only the body lotion this morning (don't want too much scent at work and really just wanted to see if it would last) and I could smell the hint of scent all day long. It is absolutely amazing. I can only imagine once I layer with all the different things!!!
This is going to be my wedding day scent and it's already become my favorite nighttime and weekend scent. I cannot tell you how amazing it is!
My sister tried the Almond Cookie Collection and is head over heels for that one too.
Anyway, just an FYI if you are looking for something new to try.
Mary J Blige is also one of their models/spokeswomen as well as Jada Pinckett Smith.
And thanks to Jamy for listing it on your Wish List and getting me curious enough to try it and now LOVE LOVE LOVE it!!!
(it's also at Macy's and Sephora, FYI).