Woohoo!
I got them done... FINALLY! Mostly it was about getting the hotel and date finalized. And I actually managed to get them printed and cut in one day. Now I just have to assemble the rest of them with the ribbons and magnets.
Many thanks to Natasha for sharing hers - I pilfered the signature page from her, plus a couple of stamps. The rest? Well, it's amazing what you can do when you wake up at night worrying about your resort...
The seal on the front is actually a magnet, attached with my new most favorite adhesive EVER: Tombo Mono removable adhesive - basically it's a very thin line of rubber cement and works like a CHARM. And I included a picture of it, too!
So, we'll see just how badly FMIL reacts, but I LOVE THEM and I don't care if she doesn't think they're appropriate!
Cover: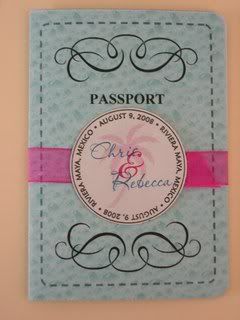 Detail of the magnet: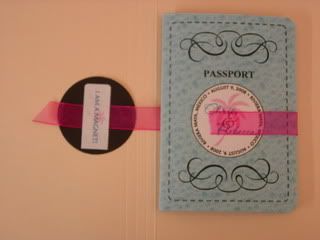 Inside: