I hope this isn't creepy. It's kind of funny to me.
I will not be having BMs. But, if I did I would not be able to narrow it down to less than 8 girls. I still want to make these girls a gift as my "honorary BMs."
My favorite gift I've ever received as a BM was a little photoalbum of silly pictures of us. So this is what I've been making for my HBMs. I have been trying to come up with something for the cover & I came up with this idea- I could superimpose our heads on someone else's wedding picture. So it would be like they were my honorary bridal party. A picture of a bride & 8 BMs would be the best. But, a picture with a bride, 6 BMs & a ring bearer & flower girl would also work.
The album will be full of silly pictures, including one where I merged my friends face with her two sisters to see what their child would look like if they genetically engineered a baby with all 3 of their DNA. So it's not like this is a classy album. Superimposed heads on a bridal party would fit right in.
I'm also including quotes about friends from QuoteStack. And I'm typing up our own funny inside joke quotes. It's been a really fun project so far. I*'ll post pictures soon.
BTW, this is what it looks like when sisters have a baby together. The flippers are a reference to Nubbins on This American Life.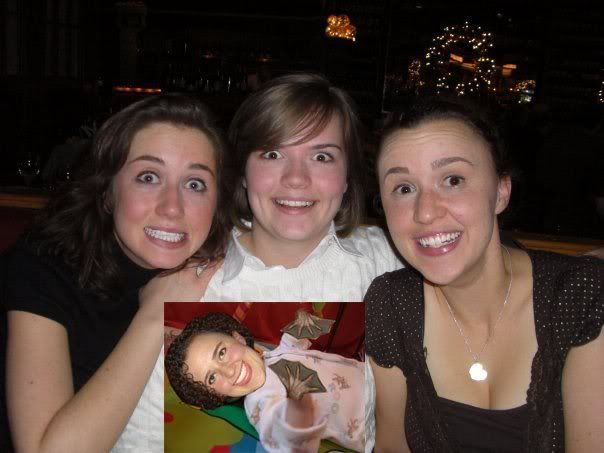 UPDATE
Here they are. I'm going to try to order them today to have in time to give my girls when they fly up in April.