We took some video at the gazebo the day we got there.
It was very windy in February.
Very windy on the day of my wedding too, but the temperature was perfect.
They have yoga here every morning at 9am. My SIL did it and said it was wonderful.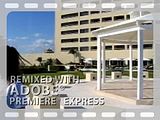 The Seaside Grill is actually being blocked by my big head at the end , let me post another picture of it...
It is the thatch roof structure in the background. All outdoors.
Also, you cannot swim too far out on this side of the resort, you can see the the rope out there.