So I talked to my sister/MOH (only attendant)and she found a dress she loves and it's an orangy persimmon color. I've been wishy washy on colors and changed them every other week. I don't have much decor but mostly what my guests will wear and little details like ribbon for girl fans and other accessories.
So far my FMIL is wearing a blue and white floral patern flowy dress, think Chadwicks; my one FSIL is wearing a sky blue tea length strapless dress; and now my MOH will be in persimmon. I really want pink accent color with the orange. Does this work?
Should I have the rest of my guests(less than 10 girls, boys will wear white/khaki):
Option 1: All girls wear a bright Mexican/Beachy (pinks, blues, greens, orange, yellow) colored tea length or shorter dresses ( Iwant MOH to stand out in floor length dress, but still have everyone else be the rest of our 'party')
---------------What color bouquet if I go this route? I like pinks, whites, and greens, orange (but only with pink).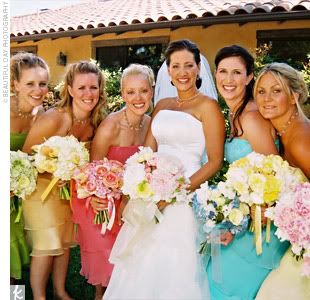 OR
Option 2: All girls wear a blue tea length or shorter dress -any shade of blue, except navy
---Can't find any pics that have shades of blues with persimmon and pink accents
I'm all googled out!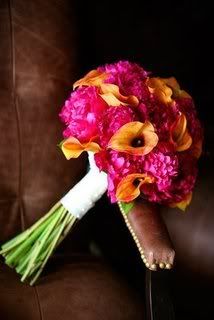 These are the only flowers I found that I like in Pink and Orange, I will be the only one with flowers, everyone else will have fans(palm fans for boys, sandalwood for girls w/colored ribbon) and white parasols. I might make shell or ribbon bout for the boys but I have to figure out colors first.
So frustrated with this, even though I realize no matter what colors I choose or don't choose it will look great because of the beachy backdrop.
Please help me picture my wedding in these colors. Oh yea, my gown is ivory pearl beaded lace and I think I'm wearing a mantilla veil. Ideas please, oh so talented BDW brides. TIA