Hi Ladies:
So I was talking with my mom the other day, and she mentioned that she still had her dress and veil from when she and my dad were married some 40+ years ago. She told me the story of when my sister got married and tried on my mom's dress, but it didn't fit (my mom had a 23" waist when she got married... that b**ch... just kidding... love my mommy!!!)
But, she did say that the veil (or the comb) was pretty, but might be a little dated. She sent me a photo this morning. Clearly she was married in the 60s.
I was thinking of going really simple - a simple veil that had a bit of piping around the edges, and some tiny flowers in my hair. But seeing mom's veil (or the comb, anyway - the veil itself would probably have to be redone), I'm wondering if I should use the flower-y part. It would be pretty neat to have my mom's veil, and I think she would be touched.
That being said, it's pretty dated in appearance, and really isn't my style.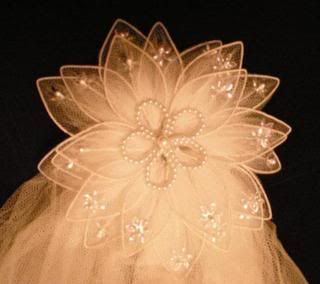 So, what do you think? I figure I'm going to lose the veil shortly after the 20 minute ceremony anyway....
Alternatively, she also has three hair pins that have little rhinestone flowers on them that she's sending me - I don't have any photos, but I COVETED the hair pins as a little girl.