Quote:
Originally Posted by Morgan

I have started working on a brochure to mail our guests a couple months before the wedding. Thanks KellyMN for the ideas & inspiration.

This is still a rough draft.

I plan on working on this more later. I'm tired of messing with it any more today. If you catch any typos, let me know.

The brochure will be trifold. I'm getting 25 free from vistaprint. The lines in the back will not be on the final brochure.


WARNING

I've learned the resolution is too low. It probably happens in the step of saving it as a picture in powerpoint. I'm trying to figure out how to fix it. I'll post once I know what to do.

UPDATE

To get past the resolution problem I made the power point page size 2x what it needed to be. It still acts funny when I uploaded it to vista print. So I opened it in powerpoint and saved it as a jpg from there. While I was at it I upped the resolution to 150 (from 127) with bicubic resampling (image-->resize-->resample image bicubic, then I typed 150 into the resolution box). Now the image is twice the size it needs to be with half the resolution. It ends up the correct size in vista print with 300dpi. Yay!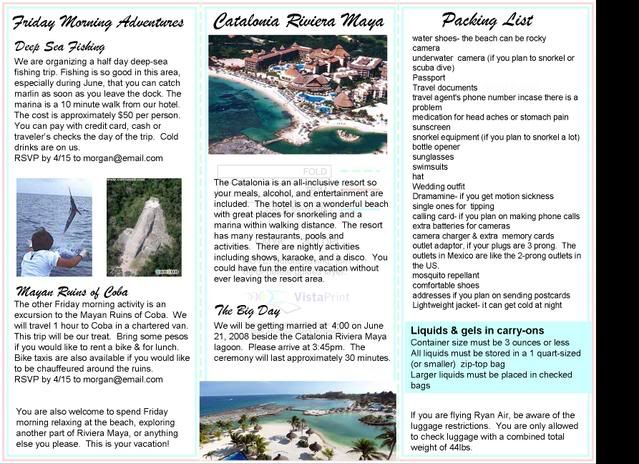 I used the vista print templates to make this. I didn't want to work in photoshop, because I use powerpoint more often. So I opened the pdf file, flattened the layers, and saved it as a jpg. I then made a powerpoint file that was 11.1 inches by 8.63 (File--> Page setup). I inserted the template jpg onto a slide. I then right clicked to change the color to washout.
It also helps to trifold a piece of paper to determine what page is what.
I plan on making brochures like this for a welcome letter & a meet the guests letter. As always, I'll post pictures of the real deal when they are done.
UPDATE
Here is the new version.
I put a step by step guide with pictures for making the background on post #46, page 5.
If you aren't that computer savy, I don't recommend trying to make the dark/light background- it's a little tricky. Just make the whole picture light so you can still read the text. If you want some premade backgrounds (you' will have to make your text fit in the boxes available) download it here
I ordered them on Feb 10th. Only $7.45 shipped from vista print. I love vista print! I'll let y'all know how they turn out.
They came in! I couldn't be happier. I love them! I can't stop looking at them. Mike teased me because all 25 are the same, but I've read them each. I stuffed some in envelopes today to send to our family & friends who have booked. The quality is great from vista print. Probably my favorite vistaprint project so far.
thanks! the brochures look beautiful! thanks for sharing