I have heard so many good things about people loving their rings from Blue Nile so I decided to research wedding bands a little bit yesterday during my lunch. And it turns out that I found identical rings that we had in mind! And for less $$ than the jeweler who made my e-ring wanted to charge. So glad to cross this off my list of things to do!
For mine:
Blue Nile women's pave set diamond ring, 18k white gold, 2 mm band $600 (this is $200 less than the jeweler who made my e-ring quoted us for making the *identical* wedding band custom made)

this matches my engagement ring, which looks like this: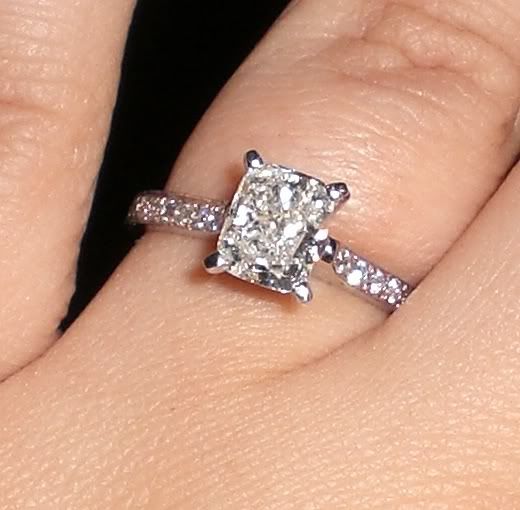 For his:
Blue Nile comfort-fit men's wedding ring in 18k white gold, 4 mm band, $300 (about $100 less than the jeweler quoted us)

They have FREE FedEx 2Day shipping. For an extra $5.50, you can get it via FexEx overnight if you're really jonesing to have them immediately. You really cant beat that, I think.
The total cost for our wedding rings would be $800. How is it that I'm finding good wedding deals left and right lately? FI was so proud -- and he loves these, so he wrote on our wedding calendar the time frame when we should order them haha.