San Jose Del Cabo
Best Wedding EVER--Melia Cabo Real!!!
This is a review of: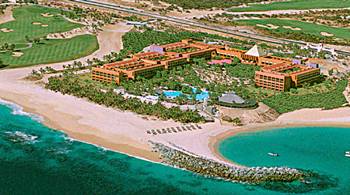 Detailed Ratings
By
LeeLee
, · 844 Views · 6 Comments
Pros:
Beautiful grounds for wedding venue, food, large beach, friendly staff and patrons!
Cons:
One thing only--beds are a little hard. Wedding services are amazing!
Rave reviews for Melia Cabo Real! Magical and perfect are the words to describe our wedding day!
The journey began in May of 2010—my now-husband, Keith and I traveled to Mexico for a site visit where we stayed at MCR, enjoyed the amenities, observed several weddings and met Vanessa! It was Vanessa's first day at MCR and she really knew her stuff! After visiting one other resort, we knew that MCR was the only place we could imagine our wedding reception at. So began the planning process! February 1, 2011 was the date!
We planned to have our wedding ceremony in San Jose del Cabo at the catholic church—La Mission de San Jose del Cabo, so a ceremony site at MCR was not needed—we only had to plan for the party!
Communication:
It can be a little daunting to plan a wedding via email and since Vanessa and I had little communication (besides the essentials, i.e. date and proposal) leading up to the wedding. I was very nervous and unsettled, however a month prior—we finalized all details via Skype and email. The months leading to the wedding I would email Vanessa and not hear back right away—but I decided that I would not worry—my wedding wasn't the first or last wedding at MCR and I knew I just had to trust! Which was totally the case! Vanessa delivered on all requests and questions I had sent her throughout the months. We buttoned up most details in just one Skype call and a few straggler emails. When we arrived all requests were in place and everything was taken care of! Just a note to future MCR Brides—do not worry—MCR and Vanessa execute everything 100%! Do not stress, do not cry, do not worry—everything will be perfect!
We had a meeting the day we arrived where we walked the reception site and finalized outstanding questions or concerns. Vanessa and Nubia were also available for questions in the days leading up to the wedding. I wasn't super thrilled with the pre-wedding communication, but the month prior and during our stay the communication was spot on! Very happy with the results!!
Location:
We originally planned to have our reception at the Ocean Terrace, as we liked the ocean view when we were on our site visit. However the day we met with Vanessa and Nubia—they suggested we move to the Garden Terrace, as it is more private and romantic with the palm trees and gorgeous staircase (with rose petals and candles!) leading to the patio. Also, it was very, very windy during our stay in February, so the location also sheltered us from the wind! We were very happy that Vanessa and Nubia suggested this! The way the lights reflected off the palm trees—it was just gorgeous!
Food:
The cocktail hour began with coconut shrimp, chipotle meatballs, chorizo and potato with tortilla and quesadillas—all of which I was told was amazing! Keith and I decided on a few beach photos, so missed out on most of the appetizers—besides just a few bites. Which was OK—b/c the dinner was amazing and I am glad I had room for it all! We selected the spinach salad with walnuts, beets and peaches—so yummy! It was elegantly displayed with thin cucumber wrapped around it—very chic! Salad was followed by choice of Filet Mignon or Red Snapper—again AMAZING! All I heard from guests was that it tasted wonderful! The Filet was the perfect temperature and the Snapper was so tender! I surprised my hubby with an upgrade—a lobster tail! The biggest lobster tail I had ever seen! For the $$ upgrade, it was sooo worth it! Dessert was the best—ever! We choose Crème Brule! It was so beautiful—we didn't want to dig in. It was garnished with berries and a sugar spear that was like artwork! The best crème brule I've ever had! We also choose a small white round carrot cake (bottom) and strawberry and cream (top) for our wedding cake. Again—sinfully delicious! I still have dreams about this cake! J We were so thrilled with the dinner! It was perfectly timed, delicious and a lot of fun!
Décor:
Our reception/cocktail hour was so elegant. We choose the white cocktail set up with the lighted box/table and 4 cubes/chairs with red rose petals scattered! So lovely! We decided to upgrade to the chiavari/tiffany chairs in gold—which made such a difference! It turned a reception with the normal white chair covers from OK to glamorous! We had a guest list of 32, so upgrading the chairs wasn't a huge expense, but I would recommend to future brides as it adds so much elegance! We had 6 round tables covered with a gold-ish/sheer draping over the white linens, hurricane vases with sand/one large candle and each table was named with Loteria cards (Mexican Bingo, i.e. El Sol, La Pera, La Rosa, El Pescado, etc.). We brought our own votive candles that also doubled as a place assignment with a guest's name and their meal selection (fish for Red Snapper and a cow for the Filet). The Garden Terrace was circled by the hanging paper lanterns—which we highly recommend! It's so pretty! We had explained and provided photos of inspiration for the decor to Vanessa and she delivered exactly what we wanted!
Flowers:
I was so happy with our flowers! All that I said was that I wanted red and orange for my bouquet, a red rose with a chili pepper for the Groom's boutonniere and white/yellow for the bridesmaids—the flowers showed up and I couldn't be MORE HAPPY! I am not sure who the vendor was, but Vanessa dealt with them directly! Perfect! Perfecto!
Transportation:
The concierge desk helped us with transportation to/from the church for the rehearsal and the wedding day! Clean, safe drivers, on time! No complaints!
DJ and Mariachi:
Vanessa lined up the DJ and Mariachi band and did a fantastic job! I normally think of Mariachi bands as a little cheesy (at least in the States—where they walk around the restaurant serenading you with really loud music). Well—this band was AMAZING! There were 10 men in beautiful uniforms playing the sweetest music I've ever heard! They entertained us during cocktail hour—an added expense—but soooo worth it! Our DJ was DJ Edwin—he was the DJ in the Lobby Bar during our site visit and we asked Vanessa to book him for our dance. He was great! He played music that got people moving and shaking—the entire night! The dance ended on a high note—I felt that I still wanted to party and dance. Which is exactly the way I wanted our wedding celebration to end—wanting more!
Hotel Grounds:
Clean, clean, clean! All of our 30 guests, plus the two of us enjoyed the resort immensely! Our group ranged from the oldest being 62 to the youngest, 1.5 yrs old. The grounds are large enough to meet most people's interests. If you like to party, you can party at the pool bar and if you like seclusion, you can head to the beach for a quiet nap. The food is great, lots of options and overall a resort I would go back to again! Maybe for our one year anniversary!
I hope this review helps others—as I could not find a ton of information about MCR when we were planning. Thanks! Stephanie