Riveria Maya Corridor
A Luxury All-Inclusive Experience Unlike Any Other
This is a review of: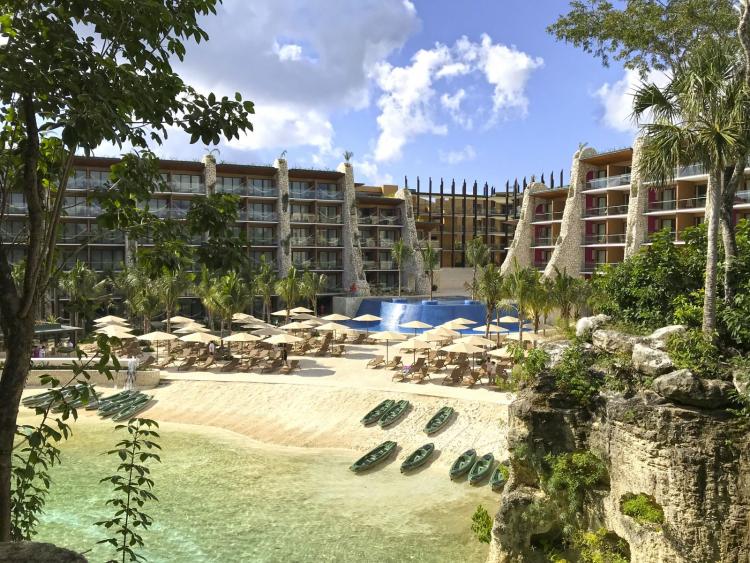 Detailed Ratings
Pros:
Incredible property that is breathtaking throughout, great food and the all-fun inclusive program gives you the freedom to explore outside the resort and truly gives you memorable vacation experiences!!!
Cons:
Because the resort just opened its doors in December 2018, it is safe to say, there are operational aspects that are still being worked out each day. But this is commonplace for any resort in its first year of business. So be patient if things take longer than usual and remember, you're in paradise — there could be much worse places to be ;)  The check-in process can be slow at times, with everyone arriving in larger groups on the complimentary airport buses. So be prepared for a wait when you check-in at the lobby. The great thing is that the staff will greet you warmly with towels and fresh paletas, and if you're lucky there will also be delicious cookies and coffee in the lobby area along with the famous taco cart which you'll often see there in the late afternoon to evening hours.  The hotel transport back to the airport is also working out its kinks. The system lacked some organization when I visited the resort in late May 2018, and we almost missed our flight. So for anyone who opts to take the complimentary transfer back to the airport, make sure you leave the resort with plenty of time to spare — 3.5 to 4.5 hours is suggested as it will take 75 to 90 minutes for travel, possibly more depending on traffic and weather conditions. 
In an area that is bustling with all-inclusive resorts targeting every type of traveler, every budget and every level of luxury and adventure — Hotel Xcaret Mexico has found a way to set itself apart from all the rest by offering an all-inclusive vacation experience unlike any other.
The minute you step onto the resort and look around the property, you quickly realize why this resort took nearly a decade to finish. Hotel Xcaret is layered with beautiful textures of earth, stone, sand, sea and fauna. It is a mix of lush jungle surroundings, incredible rivers and lagoons, views upon views at every turn and sweeping ocean landscapes that will take your breath away. While beautiful and luxurious, the resort is blooming with exquisite touches of nature and culture — this resort clearly embraces the region's Mayan roots and celebrates the authenticity of its surroundings while giving vacationers an escape to paradise. 
All Fun Inclusive Program
The hallmark of what truly sets Hotel Xcaret apart from other all-inclusive resorts is its All-Fun Inclusive Program, which allows guests to participate in several excursions and tours as a guest of the hotel without any additional costs. 
Guests are given unlimited access and entry to Xcaret, Xel-Ha, Xplor, Xlplor Fuego, Xoximilco and Xenses. They can also take part in tours to Xenotes (a daylong adventure to local cenotes and swimming holes), Tulum, Coba, and Chichen Itza. Transportation via the Hotel Xcaret buses is also provided for free with pickup and drop off points between each of the parks and the resort every 20 minutes. Unlimited food and drinks are also included at the theme parks and you will also receive drinks and meals while on the tours/excursions. 
The Food
When it comes to food and drinks, guests can have a plethora of great dining options and bars to choose from. The resort has 11 restaurants, including Ha featuring Carlos Gaytán, the first Mexican Chef to receive a Michelin Star. Ha provides diners with a unique dining experience available for an additional fee. I also loved that there were drink stations and fruit carts available throughout the property. My favorite eatery was Mercado de la Merced, an incredible open market style space with an abundance of offerings throughout the day, including a taco cart, homemade gelato, a bakery, a fresh juice station as well as other delightful Mexican food favorites. 
Guests can also indulge in 24-hour room service with no extra charge. Meals and drinks are also included on the excursions and tours — so you need not worry about having to pay for food an drinks when you participate on the off-site outings.
The Rooms
There are 900 all-suite rooms at the resort, all of which offer scenic views and roomy hammocked balconies. The rooms are spacious, clean, and decorated with lovely colorful touches of Mexican color and culture but also equipped with modern amenities like USB outlets,  enormous flatscreen TVs, and a unique bathroom feature that let's you enjoy the view with the flip of a switch while sitting on the toilet (you'll have to visit to understand what I mean!).
The Resort Amenities
Walking through the resort feels almost otherworldly — you will find yourself discovering new beautiful pockets each day — it's almost like a new adventure every day that will leave you in awe. 
A mix between lagoons, caves, rivers and beautiful pools along with the beach — this hotel is like paradise mixed with luxurious touches. I truly enjoyed the chance to kayak along the river, it's an amazing experience and allows you to enjoy the true beauty of this glorious space. You can also use a standup paddleboard on the river, however, there comes a point where you will have limited access to the river through a cave inlet on the paddleboard and the guides monitoring the river will make you turn around. 
Transportation
Guests staying at Hotel Xcaret are offered roundtrip airport shuttle drop off and pickup. The hotel bus picks up guests at each of the airport terminals every 30 minutes with direct transport to the resort. Upon return to the airport, you can also find the same buses picking up guests from the hotel lobby every 30 minutes -- make absolutely sure you take a bus back to the airport 4 hours prior to your departure time. Transport to the airport takes about 45 to 75 minutes depending on traffic. So give yourself some allowance so you're not rushing once you get to the airport.
Wedding Venue Options
Hotel Xcaret offers every imaginable type of wedding backdrop you can think of - beach, coves, river views, outdoor terraces, caves, ballrooms, etc. With so many beautiful areas throughout the property, the setting options are endless for both the ceremony and reception festivities.
The Experience
Staying at the resort will give you a true one-of-a-kind vacation experience. The resort staff truly goes out of its way to make sure your needs are met and well taken care of and everyone is so friendly and welcoming. If you want to truly experience an all-inclusive vacation that encompasses every factor of lodging, food/drinks, entertainment and excursions — this is the place to be. You will not find another resort that offers all of these options with your stay. 
I cannot say enough about the Hotel Xcaret Mexico experience — it's easily become one of my top three resorts in the entire world. My family and I had such an enjoyable time staying at the resort and enjoying all the parks and excursions, it's a steal when you think of everything that's included in your stay. I highly recommend this place to any couple planning their destination wedding because you and your guests will have the most amazing time and you can easily plan lots of fun group excursions without having to invest any extra money into the experience. This is also a great place for couples or families looking for a fun and unique getaway that includes plenty of luxury touches. This is an incredible place!!!