Cancun
AMAZING Resort and Wedding!
This is a review of: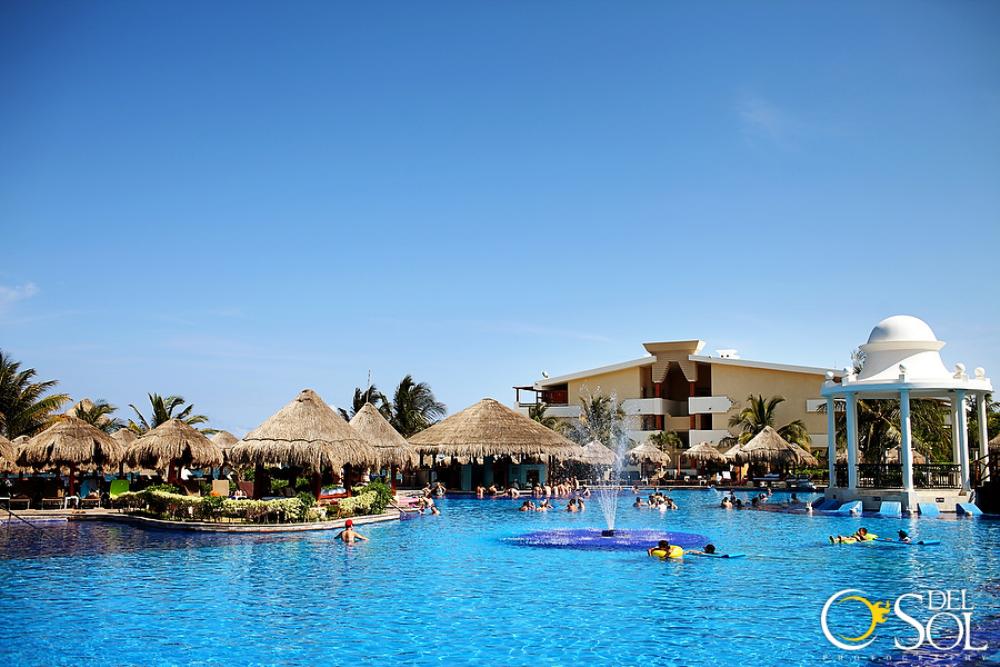 Detailed Ratings
By
cayls55
, · 2,222 Views · 1 Comment
Cons:
I couldn't stay longer!
This group has given me so much advice and been so extremely helpful I wanted to leave my review to help others! I got married at Now Sapphire Jan, 20th 2017 with 59 guests. I used Unique Romance Travel & Destination Weddings as a TA and would recommend Carla to anyone. She helped us narrow down our search and helped to get the best group rate and extra perks as possible. Sorry for it being so lengthy!
Juan Carlos was my WC and I cannot speak more wonderful things about him! He was quick to reply to all my emails within a day and was so helpful!
The resort is beautiful and amazing! We all stayed preferred and it was worth is being able to relax at the preferred pool which was much more relaxing and quiet with such attentive bartenders. The hydro therapy circuits were great and highly recommend doing a few times. Our massages were so nice -the perfect mix of deep tissue and relaxing. All the staff were amazing and attentive and constantly say hello with a smile and ask what they can do for you. We ate at all the restaurants except Fresco. The French restaurant was amazing and if love lobster get the lobster bisque as it comes with a full lobster tail. We ate at the market or blue water grill daily for lunch or breakfast and it was delicious. Preferred breakfast was also great at Cebu and Lemongrass. Definitely make reservations for the Hibachi grill. It will not disappoint. Throughout the week, they had various entertainment like karaoke at the club, a fire show on the beach, and tons of other things for kids and families. We also took advantage of the catamarans which they teach you to sail yourself and are free – so fun and the snorkeling on the site. They pick you up at the resort beach and take you to a reed a mile out. It was so amazing and beautiful. We saw sting rays, eels, all kinds of tropical fish, and even a nurse shark. My sister snorkeled at the Cenotes and said this was better than their snorkeling.
We did a bachelorette party at Playa Del Carmen and the resort helped us schedule a bus. The driver was awesome and pretty much didn't give us a time limit. Playa was a blast and I recommend it!
Now on to the wedding! I had 9 bridesmaids and 6 groomsmen
Timeline:
4:00-4:30 – Ceremony
4:30-6:00 – Pictures
6:00-7:00 cocktail hour
7:00-10:00 reception
Hair and Makeup – I hired ST Makeup Artistry for me and 3 bridesmaids and the rest of my bridesmaids and mom got theirs done at the salon. I can't say better things about Sara and her crew. They were awesome and knew exactly what I wanted. My party who did their hair and makeup at the salon were happy with it as well except my sister who they tried redoing her hair 3x (she wanted a fishtail braid) but just couldn't do it so Sara was nice enough to do it after finishing everyone else's hair/makeup. I ended up going last but recommend going earlier as it took longer than expected so I had literally 10 minutes to get dressed and ready after my hair and makeup was finished. I would have liked more time to take pictures with my bridesmaids. I had 9 bridesmaids and between most of us getting ready in my preferred suite we fit fine. We ordered room service and a friend who was not in the wedding party would just let the waiters at the beach bar know when we needed drink refills and he would run them up.
They send a golf cart for the wedding party and that takes you to your destination. I got married on the tequila beach and reception on the terrace and loved it! For the ceremony, I brought my iPod and they played the songs I wrote down for them in perfect time. We didn't do a unity ceremony but our officiant (the male) was great! We had only a centerpiece on the alter and JC through in rose petals for the runner since I didn't use the boutonnieres. After the ceremony, we walked in and they had glasses of champagne ready for a group champagne toast.
We did a group picture right after the toast and then family/bridal party/couple pictures. My husband didn't want to do a first look so all pictures were in the 1.5-hour time slot which I thought would be enough but I was soooo wrong! We ended up doing pictures for 2 hours and 15 minutes and didn't even leave the beach to do pictures elsewhere on the resort. During this time, other guests watched the pictures, got drinks from the lobby bar and brought down or sat at the tables talking. The DJ came early and started playing music so it was nice they had something to listen to. The wait wasn't an issue at all according to the guests. During pictures the waiters kept bringing the bridal party appetizers and drinks on the beach until it was time to make our entrance.
We did out entrance then we went directly to first dance and parent dances. I enjoyed getting this portion out of the way first. We ended up doing the International buffet and it was delicious. It had a little bit of everything for everyone and everyone raved about the food. We did speeches during dinner and it cut down time not having certain courses. After dinner, we did cake cutting and it was beautiful and tres leches (amazing). Then it was the reception which was soooo fun! After the reception, we all went to the club to continue dancing. We tipped JC 100 and all the servers 20 each because they really went above and beyond.
Decor: we went for minimalistic. After much debate, we brought our own globe lights for the terrace and are so happy we did! I know it's expensive but it really does set the atmosphere and I think I would have regretted not doing the lights. I made all my own bouquets, corsages, and boutonnieres with like real flowers from Michaels and Hobby Lobby and the use of 50% off coupons. In exchange JC gave us an extra centerpiece (making 2), flowers on the ceremony runner, and flowers on the cake. The centerpieces were gorgeous! We brought our own electric tea lights, table numbers, and candles with candle holders and used bridesmaid bouquets in vases we rented as table centerpieces. The candles actually stayed lit all night and if one blew out the staff was quick to relight them. JC gave us upgraded chairs for free which I was so thankful for compared to the linen covered chairs because he said it just didn't look right. He also added little things like a sign by the entrance and so forth. We also brought a few frames with hashtag, guestbook, seating chart etc... The ceremony was beautiful and apart from the lights barely cost anything. I put a list of items I gave and received everything back and wrapped the next day.
Photography and Videography: We used Octavio Montes Photography for both photography and videography. He was awesome to work with and had unique ideas which I loved! He even purchased sparklers for me since I couldn't bring them with me from the States. The sparklers didn't work out well since it was so windy and sparks were flying everywhere. They have to be done on the beach and the pictures didn't turn out quite as I'd like due to having to hold them so low. We did 7hrs of both at a great price and even gave him a hard drive which he's going to put all the raw video footage on and mail to us with our pictures. We received the raw pictures pretty quickly and are still waiting for the edited photos and video. Highly highly recommend these guys!
DJ: We used Professional DJ's for weddings in Cancun , Doremixx Audio.... They were awesome! They played all the music I asked for and played exactly what my guests were wanting to hear. He kept it high energy and the dance floor was packed the whole night. They even brought cold fireworks which we did at the very end of the night! I highly recommend them for DJ services!
Other Items: We didn't do a formal pre-wedding dinner. We just had everyone meet at the pool at a time on a specific day to hand out gift bags and such. Pretty much every night people would congregate in the lobby bar anyways so it was easy to keep tabs on people. We used WhatsApp and Facebook to keep in touch with guests and some people (including us) had international plans to text each other. I would make sure guest bring plenty of small bill tipping money. Towards the end of the week some guests weren't tipping the beach bartenders so they stopped coming their way. They do work very hard so it is nice to have a couple bucks to give them a day.
Overall it was amazing! I really don't have one bad thing to say about the resort or my vendors. The week went by without a hitch and I would do it the same again! Our guests still say that it was the best vacation they have ever been on and the best wedding they've ever attended!