Cancun
Wedding - Nov 16, 2016
This is a review of: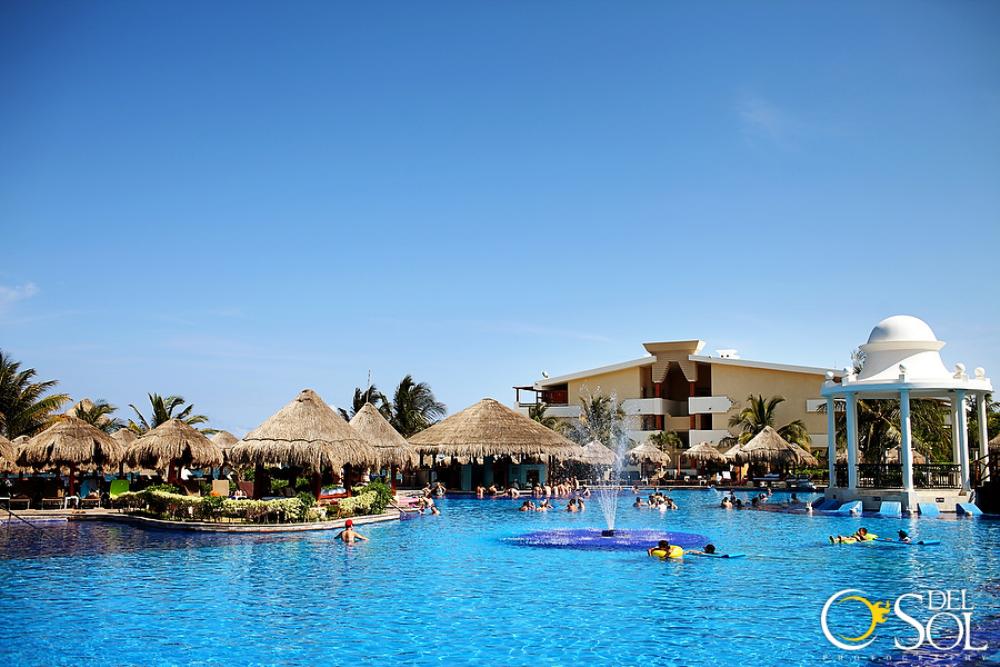 Detailed Ratings
By
AmandaU
, · 1,823 Views · 1 Comment
Our wedding was at 3pm on Nov 16, 2016 on the Tequila Terrace, with cocktail hour to follow at 6pm than dinner served at 7:30 pm and cutting the cake around 830pm. We also paid for the extra hour so our reception went till 11pm. We had the Divine Package, and all events were on the Tequila Terrace.
The Spa:
I had myself and 3 girls with me, we had the spa to ourselves. Upon arrival there was a tray of fruit, juices, water and mimosas waiting for us. Each girl had their own hairdresser/make up artist that worked on them. Our appointments were at 10am and we were out of there around 12/12:30. I had brought photo of how I wanted my hair done, and they lady did an amazing job, it looked just like the photos. For my make up, I let her pick as I don't wear much make up and wasn't sure where to go with that, my only request was to have a red lip. My make up was good, just felt a bit heavy as there was many layers and they also used a finish spray to make it hold all day. All the girls were happy with what they looked like when we left.
Getting Ready:
We all got ready in my Ocean front room (Free upgraded when asked at check-in). Took some photos on the deck, and inside the room while getting ready, the rooms are quite spacious, we had 7 ladies plus our photographer in our room and didn't feel squished. At 2:50 Juan called to say the golf carts were waiting for us, they picked us up and he met us in the front lobby with my bouquet and all the flowers for the girls. The bouquet was so beautiful and larger than I imagined. He showed me some photos of the ceremony space that he posted on Instagram as we walked towards the buffet to go to the Tequila Terrace.
Ceremony:
My Dad was waiting for me inside the buffet. Juan got everyone in a line, and there they went. Just as my Dad and I were about to exit on to the terrace I noticed the rose peddles were missing from my aisle way, so Juan ran so fast to grab them for me and put them down for my exit. (Took about 1-2 min, my Dad and I stood there, while everyone was looking at us...my Dad was impatient, while I was ok with it, it let me soak it all in) We had upgraded to the Rustic doors, and the scenery was even more beautiful than in the look book they send you.
We had picked a non-religious symbolic ceremony which was nice, about 30 minutes. Our JP was really nice and was funny. After the ceremony we were all greeted with fresh champagne. After we got everyone to go down to the beach and take a large group photo, and then photos. We let everyone leave and we stayed with our photographers (We brought from home) to wonder around and take more.
Cocktail Hour/Reception:
I had brought all my own décor (Speaker, Lights, Chair Sashes, Table Runners, Charger Plates, Small Lanterns, Paper Flowers) to help save on money. They did an amazing job setting everything up that I had brought. We got to the Cocktail hour before our guests showed up, and we walked around and one of the workers asked to make sure everything was done to my liking and then offered me a drink. The food was good, everyone said they enjoyed it. We gave the guests 2 meal options which was nice. After Supper they handed our more champagne for the speeches.
Cocktail Hour Food:
Prosciutto Ham Bruschetta
Beef Brochettes with Rosemary Sauce
Shrimp Tempura
Spring Rolls
Reception Food:
Mushroom & Roasted Garlic Veloute
Beef Filet Bordaleise OR Duck Breast
Pistachio Panacota
It was a good thing we paid for the extra hour, as speeches took 2 to 3 times as long as I had allotted for them, then we also did sparkler photos which also took longer than expected. Once we got all that out of the way, we had our Dances and we danced the night away until 11 when it was cut off time, so we all ordered a few more drinks and shots and stayed there till 1130. The older people then went to the lobby to sit and visit, and a bunch of us went to the night club.
We had 47 guests plus us. We had our tables set up as 2 long rectangles and we were sitting at a sweet heart table. We had 6 serving staff and 2 bartenders, and our sweet heart table had our own server. We did a signature drink of a watermelon mijito for cocktail hour(you could only get it on the day of the wedding, we tried all week to get them as they were SO good) and we also had a "something blue" margarita for the reception.
The only flowers we had for the reception were 2 center pieces which sat on our sweet heart table. They were the from the Diving package for $130 each. I must say, they were larger than I imagined. They did custom ones to match my bouquet. And at the end of the night we gave each of our mothers an arrangement.
My only complaint was that it was windy...Which is no ones fault at all! And that the day went by WAY TOO FAST!!!
The next day we met with Adventure Photos to pick our the photos for our wedding book, and fill in some paperwork for our video. We got our video back in 2 weeks time, and our book arrived 5 weeks later. We were happy with what the supplied us, and we loved the video. Great way to capture they day, and helps you remember things you may have missed. (Our video was just of the ceremony)
All in all it was AMAZING and I would love to do it again in slow mo. I highly suggest this resort for a wedding or even just a vacation. All the staff was great, remembered your name and always welcoming. We have been to Mexico and various places but this has been our Favorite resort and we are already planning on going back next November!
With 47 guests from all over Canada, and not any of them complained, or had anything bad to say the whole time.
And don't worry about the sea weed!! They clean up it 24hours a day, I barley even noticed it.
Juan was my WC and he was just great to deal with, would answer my emails within 3 days and sometimes within the day. So thank-you Juan for being so great and helpful!