This is a review of: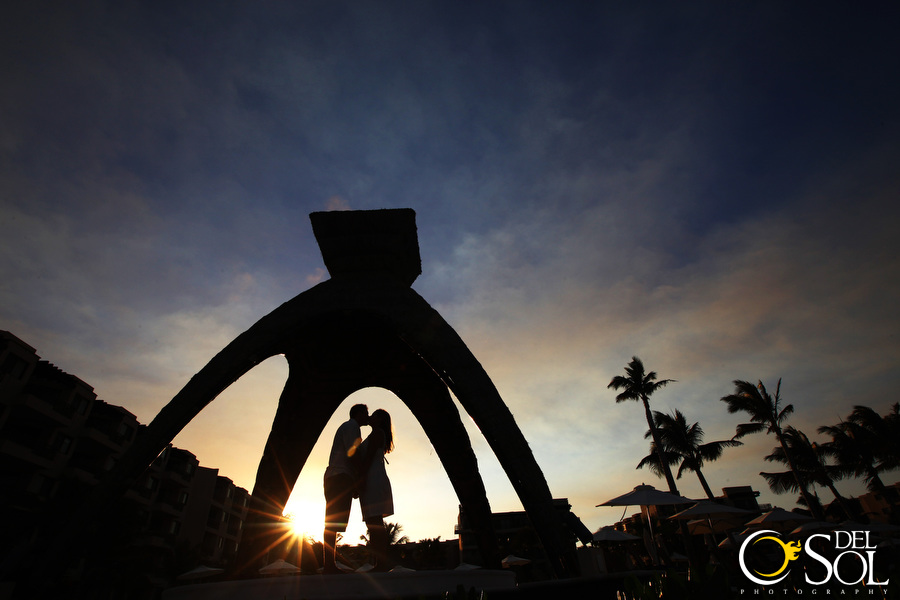 Detailed Ratings
Pros:
Beautiful resort, great food, amazing party
Cons:
Confusing planning process, expensive
We got married on May 24th on the North Beach with our reception at the Seaside Grill. I may be a little biased, but it was the best wedding ever! We had several other guests say the same thing. I will try and hit the important categories of our experience...
Planning - This was the worst part of our whole Dreams experience. The information packets they send you are poorly organized with conflicting information throughout. I knew that we wouldn't speak with a wedding coordinator until 3 months out, but we needed to have some information (for printing invitations especially) sooner than they wanted to give it to us. We were not overly concerned with the minor details of the wedding, but this process was still extremely frustrating. Our wedding coordinator was Maira, and she was awesome, but the system they have set up for the planning process is not good. We sent the same Word document back and forth 20 times, changing font color to indicate changes made. Needless to say, it quickly turned into a sloppy, 25 page document. In the end, Maira pulled off everything we asked for, so we can't complain about the planning process too much.
The Resort - Absolutely beautiful!!! Pictures don't do it justice. We literally walked around the resort in awe for the first day. Staff was super friendly and the rooms are gorgeous. We liked the rooms better than at Secrets where we honeymooned, which was supposed to be even more luxurious than Dreams. We were upgraded to Premier Club by our TA which was very nice, but I don't know if I would pay for it if we went back.
Restaurants - Overall, the food was good, and at times it was fantastic. Buffet food will never be amazing wherever you go, so take the time for sit down meals. Service at restaurants was hit or miss, but we were never in a hurry anyway. If you go to the nicer restaurants like Portofino and Bordeaux, you will not be disappointed! The Mexican restaurant was our least favorite, ironically. The dress code at the nice restaurants was frustrating because it was SO hot and humid to expect men to wear pants. Men could not wear dress shorts, but women could wear cheap sundresses bordering on pool cover-ups... didn't make a lot of sense. Plan accordingly, and make sure to pass the word on to your guests!
Beach - We loved the beach! There is a nice strip of aqua water before it turns dark blue above the reef, and the water is sooo warm.There was some seaweed, but they work hard to pick it up. If a pristine white beach and turquoise water with no seaweed are your absolute top priorities, then you should go to Maroma beach. But every one of our guests was perfectly satisfied with the beach at Dreams. Free kayak and hobie cat rentals are another plus!
Pools - The pool areas were great and drink service was fast. There are 3 pools, but most people hang out in the main pool with the swim up bar. There is a really shallow pool that is great for little kids, or playing ping pong. The third pool is where they did most of the entertainment... dance contests, paddle board balance acts, water aerobics etc. The entertainment staff is awesome; they work so hard and really get people to have a good time without being too pushy to the ones who don't want to participate.
Bars - There are plenty of places to get a drink at Dreams, and most of the bartenders were super friendly and knowledgeable. They were great about refilling the tumblers we made for people (and rinsing them off in between drinks!) and making drink suggestions when you ran out of ideas. We really wished there was a better place to hang out after dinner, however. A lot of our guests would like to hang out drinking until 2 am, but aren't into the whole night club scene. The night club was nice to have, but it was pretty cheesy and very loud. The lobby bar was beautiful and the hookahs were a nice touch, but it was so hot and full of mosquitoes that we would find ourselves moving down to the pool area to cool off. Drinks, cool air, and conversation were all we wanted, but you could only have 2 of those things at a time.
Welcome cocktail hour - We had a welcome cocktail reception on the beach the day that the majority of our guests arrived, and this was a big hit. We had cocktails and hors d'oeuvres and played a "get to know each other Bingo game". Everyone really enjoyed this private event, and the Bingo game was a lot of fun. We weren't sure how Bingo would go over, but everyone was super in to it and talked to people they had never met. By the time the wedding came around, all our friends and family had met each other. It's nice to get those ice breakers out of the way early. The service was great and hors d'oeuvres very tasty! We just wish it lasted another hour.
Rehearsal - We had a quick rehearsal on the beach the day before the wedding followed by a rehearsal dinner in the wine cellar. I highly recommend spending money on this touch! We had 24 people at a private 5 (or 7? I can't remember) course dinner, and it was amazing. The food was phenomenal. Guests could pick their main course, but we pre-selected the other courses. The service was so good, I swear there were ghost ninjas refilling our wine glasses. It was very nice to spend this quality time with our immediate family and wedding party. The restaurants are not that great at accommodating large groups, so this was great to have a reservation and private room. Everyone was super impressed with this meal!
The big day - My husband got a separate room the night before which was included in our Ultimate Package. They actually gave him a room with a plunge pool, which was super cool considering we weren't totally convinced there would even be an available room for him. My mom, four bridesmaids, MIL, and I all got ready in our room. That is probably the the most people getting ready you'd want in one standard room before upgrading to a suite of some sort. We had our hair and make up done by the spa and paid extra for them to come to the room. We negotiated the fee to $150 for them to come to the room, on top of the $150 per person for hair and makeup. This was ridiculously expensive in my opinion, but they did a great job on everyone! I was very nervous about using these services, as I have experienced horrible hair and makeup at a cousin's destination wedding. I couldn't be happier with how everyone turned out though. Those girls were fast! I'd say everyone's hair took an average of 25 minutes each, and we all have A LOT of hair. I would highly recommend updos for everyone, because there is a 90% chance it will at least be breezy on your wedding day. People who didn't have their hair up have messed up hair in most of our pictures. Also, there is probably a 95% chance it will be hot/humid on your wedding day, and you don't want sweaty hair sticking to your neck and face.
Ceremony - We saw several weddings during our 8 days at Dreams, and the North Beach is by far the most beautiful and private location for a ceremony. 6 pm was a great time, as it was not too hot and the lighting was amazing. We had a legal ceremony because we didn't want to go through all the trouble of bringing 64 people to Mexico for just a symbolic ceremony. You don't have a lot of say in the script for a legal ceremony, but the justice of the peace did a beautiful job! His English was great and it was the perfect blend of funny and sappy. I'm really glad we chose the legal ceremony. They brought out a glass of champagne for every single guest after the ceremony, and we got a great group picture in front of the hoopa! It was so beautiful, don't bother spending much extra money decorating. We paid for flowers on the hoopa, and bows and starfish for just the aisle chairs. NO ONE is going to remember the lanterns or whatever else they want to charge a crazy amount of money to rent. The location is beautiful on its own.
Cocktail hour - While we took pictures, our guests headed to the cocktail hour at the jacuzzi. Although we weren't present, everyone had great things to say about it. The mariachi band was part of our package and people thought that was a nice touch. I can tell from pictures that people had a great time visiting and doing shots, getting ready for the party!
Reception - The Seaside Grill was an amazing place for the reception; I wouldn't have it any other location. It was the perfect size for around 65 people. We used their DJ, dance floor, photo booth, and cartoonist. I would highly recommend all of those except the dance floor. It was small and very uneven. We would have been better off dancing on the concrete floor of the restaurant. The DJ played everything we asked him to and allowed guests to request songs. The photo booth girls were great! They had a wide array of props and helped to put together our "photo booth guest scrap book". We loved looking through the scrap book our guests created with photo booth photos, stickers, and markers that we brought. The food and service was phenomenal during dinner! We had the gold menu and everything was so good. I wish we didn't get a cake, because dinner came with creme brulee and the cake cutting really just cut into the party time. Again, we hardly paid for any decoration upgrades. I think we had basic centerpieces and that's it. The restaurant is beautiful on its own. People are going to remember how good the party was, not what your table cloths looked like. Our reception ended at 11, which was WAY too early! We were so sad when they announced the last song, it felt like the party had just started. Most people headed to the club after, but the party momentum definitely took a hit. We still had another 2 hours of fun, but it would have been awesome if the reception was longer.
Adventure Photography - We just took the basic photography package that came with Dreams Ultimate because we brought our own photographer to take pictures for 4 days. The 50 pictures we got of the ceremony were AMAZING. They sure have the lighting figured out because their pictures were even better than our photographer's. They are very expensive, but I promise you won't be disappointed by their work. We also got a photobook in the mail just last week that is lovely. We should be getting a 15 minute video of the ceremony, but that has yet to arrive.
We still can't stop talking about how great of a time we had during our 8 day stay at Dreams. All of our wedding guests feel the same way. Some of our guests are world travelers and/or frequent all-inclusive patrons, and they couldn't believe how nice this resort was. The only reason I don't give it 5 stars is because of the disorganized planning process and the cost of our wedding. They never seemed to acknowledge the fact that we were bringing them $100,000+ worth of business; they nickel-and-dimed us for EVERYTHING. I guess they are so popular they don't have to comp anything, but some of the charges were worthy of laughing out loud. $700 for a bubble machine during our first dance, $3 PER napkin to have any color other than white, and $600 for some fabric on the ceiling of the Seaside Grill were some of those charges we just had to pass up. For the amount of money we spent, I would expect a flawless experience.
Overall, our wedding was everything we could ever hope for; truly it was the best day ever! We can't wait for a big anniversary to renew our vows and have a big party all over again! Please feel free to message me with questions! I relied heavily on this site to navigate the wedding planning process.