This is a review of: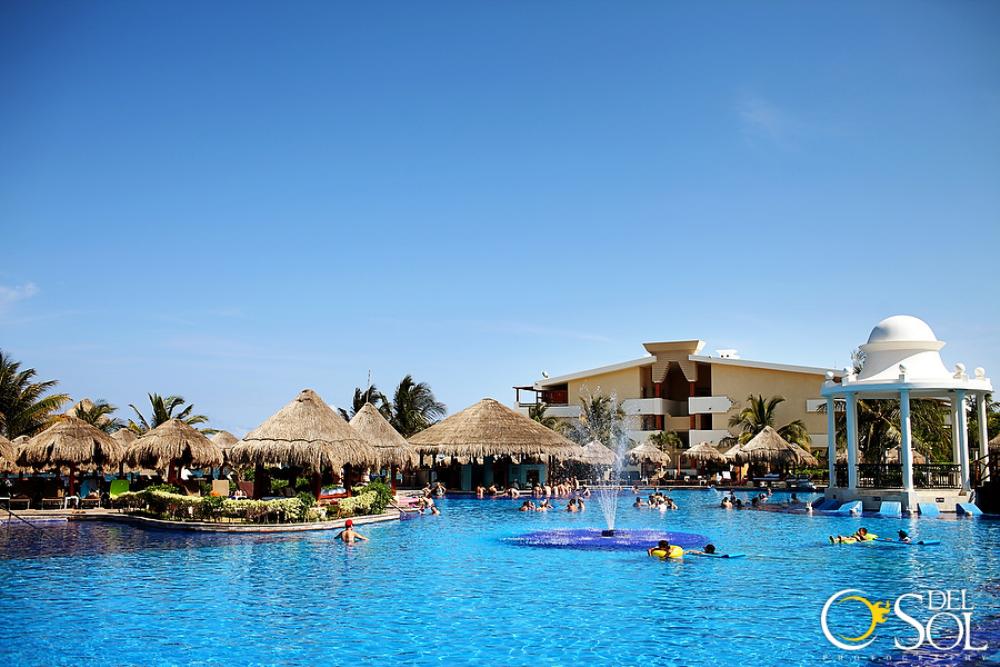 Detailed Ratings
If you're looking for the perfect destination wedding, this is the place to go! We started planning our wedding a little over a year in advance for our 2/26/16 wedding and my now husband found this resort by the great reviews. We did alot of research looking for the perfect place and I'm so grateful we decided to book here. The process is a little confusing at first considering you are trying to plan a wedding thousands of miles away without seeing anything, but with the help of our Wedding Coordinator Juan Carlos, the process became less confusing as he explained everything to us via email and answered every question we had (and we had MANY questions!) within in a couple days. We had a total of 54 people joining us for our wedding which stressed us out a little bit, we wanted everything to be just right and enjoyable for all our guests! Juan Carlos made our wedding more amazing then I could have ever imagined! I was also very nervous about getting my hair and make up done at the spa without ever having a trial run. No need to worry future brides, they are up to date with hair and make up styles! My 75 yo Mother had her make up done and I had hair and make up done the day of the wedding, my Mom looked so beautiful (make up done by: Veronica Nava) and I was pleasantly surprised at how Nayel Huerta made me look and feel so beautiful. I showed her pictures of what I wanted for both hair and makeup and she did much better then the pictures I showed her!

We decided to do a Beach BBQ to welcome our guests the night before the wedding. It is not included in the Wedding Package, but we wanted to do something to welcome the 52 people that traveled so far for us. It was a little expensive, but well worth it. They set up the tables on the beach, it was just a great way to welcome our guests to Mexico. Who wouldn't enjoy sitting on the beach enjoying great food with an open bar??? Food was set up buffet style and everything was delicious! The only thing that could have made it better, was that it was a little longer...2 hours just wasn't enough time.

We were married on the beach, which was cleaned every morning and during the day, so there was minimal seaweed. They all work very hard to keep the beaches clean which was a big plus for this resort. We had our reception in the Preferred Pool area which wasn't my top pick in the beginning as I wanted a total beach wedding since we were in Mexico, but I was so happy Juan eased those concerns as its the perfect place for a reception and I'm so happy it was there, it was not only set up beautifully, it's secluded and private which was such a nice perk! I would definitely recommend the Preferred Pool area for a wedding reception. The staff who worked our wedding were so attentive and everyone of them work so hard to make our wedding perfect. (I wish I knew all their names!) Everyone of our guests RAVED about every detail of the wedding and also the resort as a whole. We would not change one thing, Juan Carlos made our wedding experience wonderful and we can not thank him enough. He's the Best!

As for the resort...not one bad thing to say, our 10 day stay was without a doubt, the best vacation we have ever had. The staff are so courteous and helpful and make your stay so much more wonderful, including Aurora and Alberto in the main pool area...they worked so hard to keep my husband, myself and our guests happy. Now Sapphire is lucky to have them!! Jonathan at the Main bar was one of my husbands favorites, always knew what he was drinking before he asked. Raul in the main lobby was always there to help us if we needed our bags moved or helping in getting my parents a ride back to their suite as they are older. (The entire Bellman group were wonderful!) The food was top notch in every restaurant we went to...buffet was great, but I really enjoyed the fresh chicken, steaks and seafood they prepared fresh for you at the stations...delicious! The French restaurant Paramour and the Italian restaurant Cibu were both very good as well!! Loved having lunch at the Grille, was so nice to sit outside and enjoy the sea air and eat delicious food! The staff at the Concierge, all so helpful, especially Monica who helped me get my very expensive camera back to the states that I stupidly forgot!! To the employee who found my camera in the Preferred Club, thank you for turning it into Lost & Found, to Monica and Juan Carlos who went above and beyond to safely get it back to me, I will forever be grateful...THANK YOU!

Also wanted to thank Gladys in the Spa who was very helpful to me prior to us going to Mexico, I wanted to set up a spa day the day after my wedding, she helped me make all my appointments for 10 girls the day after the wedding, with lots of switches...she always confirmed my changes promptly. I had a massage by Iran and Cindy, both gave great massages! We also took advantage of the hydrotherapy one day after all our guests left, wish we would have done it more while we were there! All in all, the Spa is wonderful!!

The grounds are kept pristine, everything was very clean, rooms were very nice, we were in Building 2 in a Beach Front room, just walked right out to the water, it was all just a very nice experience. We will be going back for our one year anniversary next February!!!
Room Tip: Building 2 was a great location. Right on the beach and a short walk to the Lobby and Pool Area.