This is a review of: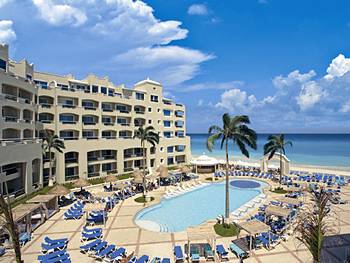 Detailed Ratings
Pros:
Location, Service was PHENOMENAL (the set up, decor, service at the reception with drinks/food)
We held our wedding with 46 guests at the Gran Caribe on November 8, 2015. Everything was excellent and met or exceeded our expectations. We used destinationweddings.com to assist us with hotels at Hyatt Zilara and Gran Caribe, so there were different price points for our guests.
Majority of our group stayed at the Gran Caribe, and seemed pleased with the cleanliness and service at the hotel. Our wedding coordinator leading up to the event, was Katia Nunez. She was so great and easy to work with, we had a lot of requests and she always went out of her way to research our requests. Our wedding coordinator on-site, Eizabeth Sotela Zuniga was AMAZING!!! She was responsive to emails/requests to talk by phone before the wedding. We spent an hour when we first arrived going through all the details, looking at reserved spaces, and discussing back up plans, She made sure that everything was taken care of and that every detail was immaculate. It was so nice not worrying about any setup the day of. She had our schedule for the reception and kept us on track and managed any last minute changes that came our way. I was a little worried about the food, because I had not eaten at the hotel prior to the wedding and had read reviews. The food was actually good and presented very well. We did a plated dinner and the service with the drinks and food was outstanding!! Elizabeth and her team picked up all our off our decorations after the reception and brought them over to us at the Hyatt the next day. We could not have been more impressed or happy with her and her team's service. The entire day was incredible and better than we could have ever expected. To any future brides, I want to tell you not to worry because they honestly take care of every single detail. It's already a stressful and busy day, so it's nice to have an experienced professional taking care of things that you shouldn't be worried about. Majority of our group hung out at the beach every day too and had AMAZING service from Mac – he would take so many trips back and forth bringing our huge group drinks. Amazing service and huge thank you to Katia, Elizabeth, Yolanda (vendor coordinator), and everyone at Gran Caribe for everything!!