Cancun
Best Weekend EVER!
This is a review of: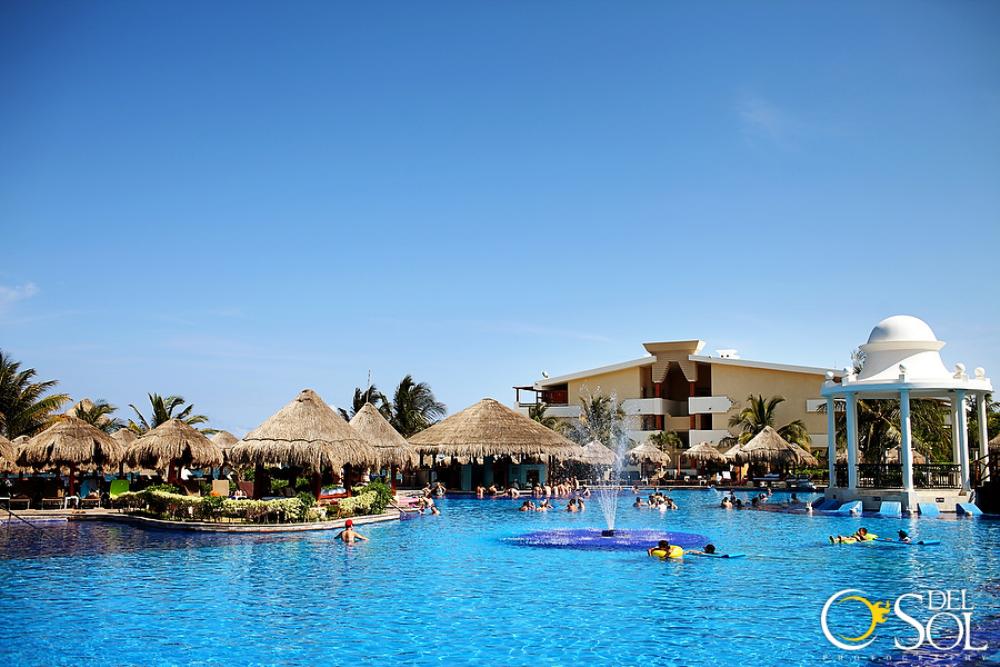 Detailed Ratings
By
Alia86
, · 2,223 Views · 2 Comments
Pros:
Juan Carlos, Hotel Staff/Service, pool, food
Cons:
Seaweed on Beach but nothing else!
Hi Brides/Grooms!
My wedding was Sunday, June 21, 2015 so just about 6 weeks ago and I can say it was honestly one of the best weekends of my life. My wedding wasn't a typical one – I had an Indian/American fusion wedding with 3 nights of events! The first night was a Welcome Party, second night was the Indian (Sangeet) Night, and Third and final of events was a traditional American wedding. I had 96 people in attendance it was so much fun and everybody has raved and raved about it. If there is one thing I can say it is to not stress! The wedding coordinators are amazing and pretty much create your dream wedding :)

My wedding coordinator was Juan Carlos and I booked about 8 months in advance. Before booking I did a site visit and everything was put to ease by Juan Carlos. Not really knowing what to expect, he was able to walk me through where each even should/could be held and showed pictures of past weddings. More than anything regarding the hotel, Juan Carlos gave me the confidence in Now Sapphire because he was so genuine and nice I couldn't imagine doing it anywhere else! Throughout the 8 months of planning, the wedding coordinator was very responsive in answering any questions that I had and helping me throughout the process, even giving me suggestions on different décor items and taking the worry out of my hands! Juan Carlos was absolutely amazing and I honestly can't wait to visit again!

Here's a recap of our wedding weekend!

WELCOME PARTY 8-10pm @ Preferred Pool
We had our welcome party on Friday June 19th at the Preferred Pool. We did this from 8-10pm to welcome everybody to Mexico for our wedding and to have people mingle and meet each other since we had people coming in from all over the world. We had drinks, appetizers and mini desserts for the two hours and people seemed to enjoy themselves just mingling and having a good time. The set up was so pretty with the lounge seating the buffet station. We had to resort photographer come to this event since it was part of our package and didn't want it to go to waste (we brought in our own photographer from Dallas for the other two days). The resort photography is not great so I would really recommend using an outside service for this. We rented the sound system speakers and had music playing via our IPhone. The one downside was that it was VERY VERY hot at the preferred pool and this is because it is entirely enclosed. Had I realized this sooner I would have tried to move it somewhere closer to the beach but otherwise it was ok. Nobody seemed to really mind and people had a good time. We handed out our welcome bags at this time with our letting/itinerary welcoming the guests and little goodies inside. After that some people headed to their rooms and some headed to the lounge/club to keep the night going!
INDIAN (SANGEET) NIGHT 7-11pm @ Ballroom
Since we are an interracial couple, we had our Indian festivities on Saturday June 20th in the ballroom. We decided on the ballroom due to the fact that there is air conditioning and Indian clothes are very hot! This was such a fun night. The mandap and stage turned out beautifully (see pictures) and the buffet was delicious and there was enough for everybody to eat. The desserts were great as well and it was a nice way to have our Indian festivities without it being too much like our wedding day. My family, the Indian side, was very happy with how this turned out and wanted to keep the party going. We rented a sound system and had one of the guests play the music all evening long.
CEREMONY @ 6pm on the Beach
We had our ceremony on the beach at 6pm between buildings 4 & 5 because the seaweed on the shore is better in this area. The seaweed was A LOT (you'll notice in the pictures below) but it didn't faze me one bit! Everything looked so beautiful with the flowers on the gazebo and the chairs that I didn't even notice anything other than that. We had our own officiant which was amazing and personalized and we had the violin player which was beautiful. I picked 4 songs – one for while the guests were sitting down, bridal party entrance, bride entrance and the recessional. It lasted about 20 minutes and it wasn't hot at all. The wind was blowing off the ocean and because the sun was setting, it wasn't directly hitting out guests. I was nervous but it turned out to be pretty cool right by the beach. The ceremony was pretty private (I didn't notice anything) but there were 2 people that were watching from their rooms up above and 2 people who walked past us and stopped to admire.

CHAMPAGNE TOAST & FAMILY PORTRAITS @ 6:30pm on the Beach
We left 30 minutes for this and that was a perfect amount of time. We did a champagne toast with our bridal party and told family to stick our around for portraits. We pretty much got all the portraits done in about 30 minutes and then had some time for our individual photo session on the beach along with our videographer.

COCKTAIL RECEPTION @ 7:00-8:00pm on the Beach Terrace
From what I heard it was fun! By the time we did group photos (we had 96 people, so it took some time to get everyone organized) and bride & groom shots (we did a first look prior to the ceremony so we didn't eat up time to do bridal party photos), it was about 715-730. I went back to my room during this time to freshen up and bustle my dress for the reception. I also wanted to see the reception site before everybody sat down so I left enough time for this. From what I heard, the cocktail hour was fun and the food was good. Since I am Indian, a lot of my family decided to change into traditional Indian wear and leaving an hour to do this was plenty of time for them to change.


FOOD
Dinner started around 845-9pm and it was amazing and all of our guests raved that it was the best meal they had at the resort (and all the food at NOW Sapphire was really good). For the salad we had the mixed lettuce with honey balsamic dressing and the soup was mushroom and roasted garlic which was delicious. We gave our guests 4 options – supreme of chicken, beef filet bordelaise, fish filet, and vegetarian. I had the beef and it was amazing, definitely one of the best meals I had throughout the week I was there. I also heard that the chicken and the fish were also very good. We did a fruit tart for dessert and tres leches was our wedding cake both of which were delicious. We did our cake cutting towards the end of dinner but didn't serve it until people were on the dance floor. Our cake was 3 tiers and a lot of people didn't eat the cake or missed it because nobody wanted to leave the dance floor! I had everybody RSVP with their meal choice and when I made name cards I stamped the name card with which type of food they wanted (see picture below). These were set at the tables already and provided to Juan Carlos when I arrived at the hotel. I had ushers who took people to their tables so nobody had to fidget with their name cards and so that the servers knew exactly where to look to see what meal people were having. We also had speeches in between the courses of each meal as to not take extra time away from the dancing to keep people busy while eating their meals.
DJ & DANCING approx. 1015pm – 1am:
Now this was the BEST part! I haven't had so much fun dancing in my life! We hired DJ Party Rod at the recommendation of our wedding coordinator and I am so so happy we did! It was absolutely amazing. We met with the DJ the day before our wedding to go over what songs we definitely wanted him to play and if there was anything we wanted him to stay away from and he did exactly that. The DJ also had a project that we used for our slideshow and we got the light up dance floor which was such a big hit (people are still talking about the light up dance floor). The tequila terrace is a wooden platform so even though you can go without a dance floor, I think it is definitely a must have. It makes the ambiance of the room so bright and fun and it keeps splinters off your feet if you are barefoot (I got a couple of these walking around shoeless). The dance floor was packed ALL night long and we extended it from 12am to 1am because nobody wanted the party to end! The DJ & Dance Floor are definitely worth the extra money.

FLOWERS
We took advantage of the flowers that came with our Divine wedding package and had the hotel do all of our centerpieces, gazebo, bridesmaid bouquets and any other flower arrangements needed. We did not use any outside vendors for anything other than videography and the DJ. All décor was done by the hotel and I honestly wouldn't have had it any other way. It was less stress on my part worrying about this and they do such a fantastic job with creating my exact vision and helping me with some ideas along the way! See all the pictures below :)

HAIR & MAKEUP
I hired Sara Tamargo and her and her team were absolutely amazing! I had 4 of my brides, mom, aunt and 2 cousins all get their hair and makeup done by them and they all looked absolutely stunning. We rented the bridal suite so all of us could get ready and it was super fun and special to be all together. We started hair and makeup around 1pm and I was ready by 4pm for my first look! She does airbrush makeup which lasted the entire day on my bridesmaids and me. I had my hair & Makeup done by the hotel spa for my Indian (Sangeet) night but definitely was happy to go with Sara for my wedding. Although the spa did do an ok job, the quality and type of makeup was not nearly the same.

Overall our wedding weekend and our week at Now Sapphire was truly amazing and exceeded our expectations. Everything went off without a hitch and the service and hotel staff are absolutely amazing. They really know how to do weddings (even interracial ones!) and really make sure you are happy with you are getting. I can't say that there was really anything that went wrong the whole weekend. Our family & friends raved about our wedding and are still talking about it almost two months after – apparently we are the wedding to beat! Don't stress (I know this is a funny statement I agree!) and leave the worrying to your wedding coordinator. They are awesome at what they do :)
<3 Alia
PHOTOS:
http://www.bestdestinationwedding.com/gallery/album/18085-now-sapphire-wedding-weekend/