Riveria Maya Corridor
Storybook Wedding
This is a review of: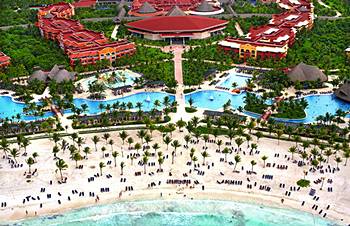 Detailed Ratings

Pros:
beautiful beach, delicious food, gorgeous wedding decor, amazing photos
Cons:
some initial issue with wedding planner, and change of photographer
We had an amazing wedding at the Barcelo Maya Colonial on March 14, 2015. Our party of 14 left Vancouver early in the morning on March 10, flew with Air Transat, and arrived in Cancun in the evening. Our flight with Air Transat was great, and they were very accommodating. They took special care and attention with the party, gave my (then) fiancé and I champagne on the flight, and put my wedding dress in its own overhead compartment.
The transfer bus was great, check-in at the resort was a breeze, and the rooms were gorgeous. We only had one room issue, where two people requested separate beds, and were given one bed and were not given a cot until the 4th day at the resort. Once people were settled in their rooms, I provided everybody with little card with the party's room numbers and the wedding day schedule. Our guests indicated that this was really useful.
We met with the wedding planner, Aurea-Andrea, our first full day there. My fiancé and I were going to be legally married in Mexico, and we chose the strawberry package. I had spoken with her months in advance, planning all the little details. I was very frustrated at our first meeting to find out that Aurea had changed some things that we had already agreed on, and had made a number of mistakes. For example, I had selected the wedding bouquets but she had recorded the incorrect ones. The cocktail hour was supposed to be in a covered space, and she had it on the beach in the open. The biggest issue was that she tried to move our dinner earlier by an hour, which would have conflicted with our photography time. After some arguing and tears, everything was corrected.
I next met with Ocean Photography Studio (the resort photography company) to find out that the woman that I had been planning with had quit, and that the remaining staff did not have access to her e-mail, and had no idea what we had agreed on. This was frustrating, but they were very accommodating and quick to re-do all of our planning. We agreed on 5hrs photo, RAW unedited images on disk, and a DVD of the ceremony. This custom package cost $1850 USD. I was planning to have a friend at home edit the photos for me, Michael Holbrook of Michael Holbrook Photography https://www.facebook.com/MichaelHolbrookPhotography.
The next few days at the resort were lovely. We spent a lot of time at the beach, and we frequented the beach bars, swim up bars, and buffets, all of which were amazing. We were especially fond of the swim up bartender Javier. We went to the Capri a la carte, which is Italian, and it was excellent. Because of the issues with the planner and photographer, the Colonial manager upgraded us to gold class, and the night before the wedding we went to the Palace buffet which was delectable. My fiancé and I also had to go to the clinic in the resort one day to get our blood taken as a part of the legal wedding. Everything was clean, and it was a relatively "pain free" experience.
The wedding day:
I woke up early with my sister (maid of honour), and we got ready a little before going down to the buffet with my parents and bridesmaid and her boyfriend for breakfast. We had to make sure that my fiancé and his family went to a different buffet. We had a lovely breakfast, and returned to the room to start the long process of getting ready. We did not use any of the resort Spa services, we chose to do our own hair and makeup. We all had makeup lessons with my Mary Kay consultant Sarah Bardell before leaving for Mexico. We had a relaxing morning, and we chose to have room service for lunch. After lunch around 2:15 the photographer made his way to take photos of the boys getting ready in their room. They had 30 minutes of photo. At 2:45 the photographer came to my room to take photos of us getting ready, and we had one hour of photo. Around that same time the wedding planner came to our room to drop off the beautiful wedding bouquet, bridesmaid bouquets, groomsmen boutonniers, and corsages. We paid extra to have these made, the package only includes bouquet for bride and boutonnier for groom.
At 3:55 (a little late) the wedding planner arrived at my room to take my parents and I in a golf cart to the wedding location, the tropical beach. When we arrived the ceremony space was beautiful, and the wedding planner had extra security to make sure that resort guests were not interfering with the ceremony. The planner set out a chair for my fiancé's deceased father, with his photo and a boutonnier. The officiant was spectacular, and his English was very good. We were told that the ceremony would be in Spanish and that the planner would translate. This was a special surprise. His words were so amazing, and we had an opportunity to say our own vows. The ceremony was beautiful. After the ceremony we had a number of group shots taken by the photographer, before moving to the cocktail hour location, a little covered area at the back of the theater facing the fountain. This location was awesome. They had cocktail tables set up with appies, and we had our first dance, cake cutting, bouquet toss, garter toss, and speeches. This was a lovely, intimate experience. The photographer continued to take photos as our guests had a half hour to get to dinner at the Santa fe steakhouse. We went back to the beach for more photos, and arrived for dinner at 6:40 (10 minutes late). Dinner at the Santa Fe was lovely, we had a set menu of Artichoke soup, chicken dinner, and apple crumble. I ate very little because I wasn't feeling well from the heat. I had to get my bridesmaids to loosen my dress because I started feeling faint.
After dinner we said goodbye to my grandparents as they made their way to bed. We chose to go to the bowling alley for some random wedding bowling for an hour or more. After bowling we went to the discotheque for 40 minutes or so where the DJ took our wedding requests like "shout", and "the twist". My new husband and I were tired so we retreated to our room, to find it lavishly decorated with rose petals, and found a special plate of chocolate dipped strawberries and champagne.
Needless to say, we had a storybook wedding day. I could not have asked for a better or more special day. There were a few issues with the photos and DVD in the upcoming days (photo disks were scratched, names were incorrect on wedding video, wedding video was blue ray not DVD), but my mother sorted them out with the photography company.
Unfortunately my husband got into a jetski accident the day after our wedding, so we spent the remainder of our trip and more in a Mexican hospital. He is ok, and we made it home safely after 7 days in hospital. I can't wait to go back next year for a re-do of our honeymoon.
Please find a link to our wedding photos edited by the talented Michael Holbrook:
https://www.dropbox.com/sh/jk3af7bdudgsag0/AABJAKMCpqQURcNYYd0J-k75a?dl=0
I will try to post a youtube link soon of our wedding video.