Cancun
Beach Palace Wedding ---the pictures dont do it justice.. its a beautiful resort!
This is a review of: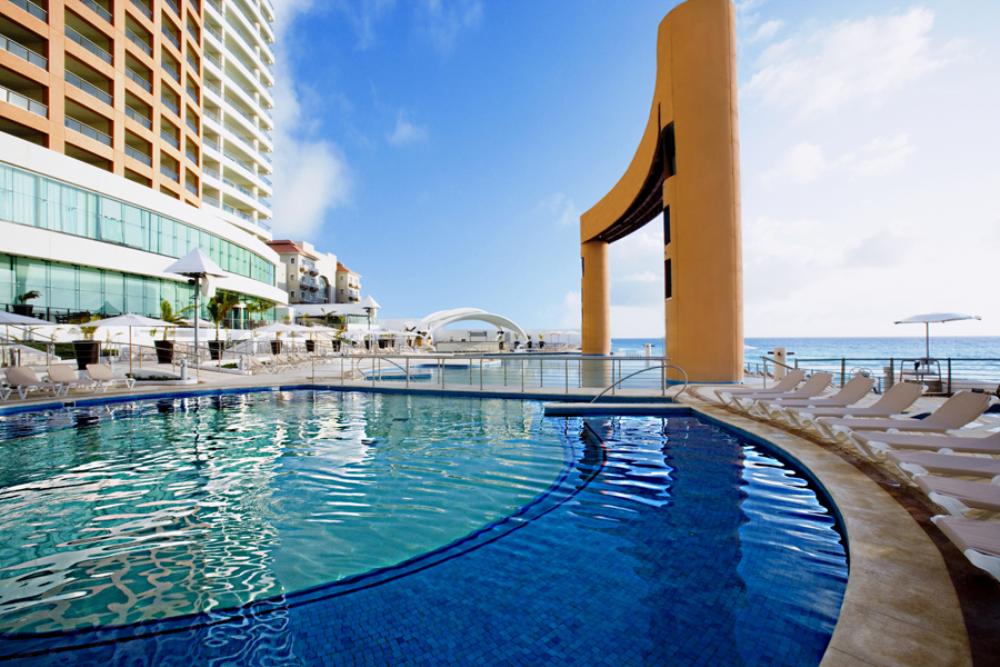 Detailed Ratings
Pros:
good location- walking distance to most places-- allows kids.. great for all ages-- pretty roudy... music... fun... what vacations should be
Cons:
service was phenomenal.... but there were a few employees who would do/give you exceptional service... we just kept going back to those individuals... they really made a difference in our experience... too many to list names
before going there.. i was nervous... the photos of the resort dont seem that pretty... but in person.. its gorgeous!
*Feel free to check out the photos from our wedding à
http://youtu.be/tBO60gIGSwc?list=UUlghc4NNa3ca7mT2pkYzbOw
I figured I would put my input here for future brides. We just got back from having our wedding at Beach Palace Cancun (Dec wedding). I have to say that it was AMAZING! The resort is beautiful. The pictures don't do it justice at all. The service there is incredible and every single person in my wedding group had a great time. The resort is a little smaller than Moon Palace but I much prefer BP. The location is way better. You have easy access to downtown, the mall and pretty much the rest of the strip. Moon Palace is very isolated so your guest are pretty much stuck on the resort unless they want to pay the hefty 40$ each way cab ride to and from the strip. We found the bus doesn't take you to the moon palace resort so the cab is your only option unless you take the free shuttle which is twice a day in the morning..... that sucks because it restricts timing….
As far as the wedding goes, our coordinator was Marco. He was AMAZING..... I highly recommend asking for him as your coordinator.....he went above and beyond and made everything perfect. We had some issues with our offsite coordinator... although she was really nice,,, she was a little unorganized (maybe overworked,, i dont know) Her response time was really long (about a couple weeks) and she had a lot of our orders incorrect and there were so many mistakes with the details... i dont like to leave bad reviews so im not going to drop her name but i think she must have been over swamped or something…. because i really had to micromanage her work...... But Marco jumped through so many hoops and tried to fix them even though it was last minute.. he took care of everything and made sure I didnt really need to do work... hes organized,,, efficient.. and has great taste!!! He really works with you to make your vision come true... . I definitely recommend you confirming with your onsite coordinator all the details of the wedding before showing up..i wish i had just worked with marco from the beginning ... it would have saved me a lot of trouble.... **recommendation to the resort: they should keep the same coordinator for planning and executing the event
The service staff was unbelievably great. They were so polite and kind... they kept the drinks filled, tables clean, they were constantly running back and forth giving into every need of our guests. Everyone was ranting about how great the service was.
We ordered some stuff from the decoration vendor (Zuniga) They're really helpful in the planning process. The items we ordered worked great, they did set up late though and that sort of threw off our time (sister had to complete the deco with stuff we brought from home and she only had 20mins to do it even though we had planned for 1.5hrs)
Photography was phenomenal.... VERY professional and although its pricey.... you get amazing pictures... our photographer was Paco Aguilar.... with Dream Art Photography…..great photographer.. he made it seem so effortless... the beach was CROWDED and in the photos it appears as if we are alone.... Great job... highly recommend them!
As I posted above,,, here's the video of our photos if you're interested: http://youtu.be/tBO60gIGSwc?list=UUlghc4NNa3ca7mT2pkYzbOw
Food- The food is amazing!! We had a couple events before the actual wedding day so we tried out some of the other menu options. The head Chef who orchestrated our menu is Chef William (don't know the last name) He is very professional and nice… Great personality and a wonderful chef. The first night we had the Mexican Buffet… I highly recommend it!!! It was DELICIOUS! I wish I had ordered this for the other nights as well.. The Chicken Mole was mouth watering! This menu isn't your typical (Americanized Mexican Cuisine) it will take yours and your guests taste buds for a ride! The second event we had Italian… this was great too,,, just not my favorite.. everyone else really enjoyed it…… the wedding night we had the French menu… everything was delicious… my guests raved about the food… for the cocktail hours… we had the superior deluxe menu, the Mexican cocktails…. it was beautiful…. Everything was amazing… thank you to the kitchen staff for all their hard work..….. we truly enjoyed the food.
DJ- Our DJ was really great… they were very accommodating with our music type/preference.. I brought an ipod to play Persian/Arabic/Turkish music…the DJ did a GREAT job encorporating the music into more modern pop/dance music of his own… we danced NON stop…. So much fun!!!! My only complaint is that at the end of the night… he cut the last song halfway inbetween…. And just shut everything off….. lights… music… all the above… it was a little abrupt and without warning…. Not the best way to end the night…. Another thing is his accent was very strong and it was hard to understand him on the microphone at times… but as a dj bigggg PLUS!!! Thanks J
Spa- Okay… so I made the mistake of not doing research of the Spa services before going there…. So everything I did was last minute… their spa is really nice…. The ladies who work are really sweet… massages are a little weak for my taste… but nice… the nail salon is decent…. I highly recommend getting your hair and makeup done at the salon…If you use your resort credits you just pay the tax so it only comes out to like $15.. which is crazy worth it!!! I had Minerva (I think I am butchering her name) She is REALLLLY good. Shes had 30+ years of experience in bridal hair… I just showed her a picture and she turned my crazy curly hair into a beautiful side-do…. There was so much wind and dancing and humidity… my hair didn't move the WHOLE time… the next morning… it still looked like that!!! Haha… I did my own makeup because I didn't make an appointment on time… You have to be physically there to book so make sure you do that the FIRST day you arrive.
TIPS:
Whatever planning you do,,,, from booking… to prices…. To details of food.. color . times..etc… do it in EMAIL! There were so many mistakes… I was grateful I did everything in email… have your smartphone with you because you will have to pull it out to show proof in the email…. This is very important… brides to be…. Don't be lazy in this aspect!!
Tours/Events/Spa- I wish we had more info before coming… so I could have better coordinated with my guest of the services they offer at the resort…. Call the resort and see if they can email you info before you go… it would have been really helpful in our case… we did the Chichen Itza Tour… it was amazing to see the ruins but the tour was a waste of time.. It's a 3hour drive because they stop at small bazaar to sell you things.. the tour guide was great but he talked a lot and wasted a lot of our time with fluff… we had only a little amount of time to explore on our own… pretty much a 1hr drive took 3hrs…. you get the point? Probably better to get a car and go on your own? We also did the Isla Mujeres tour… it was cool… boat ride to the island VERY rocky… warning if you get sea sick.. I think they rocked the boat on purpose?!… not a fan of the dolphin area bc I don't like captive dolphins…but if you want to swim with the dolphins sign up at the resort.. you can use your resort credits.. the food there was horrible… very dirty.. the guy dropped the spatula…. Spit on it and wiped it on his pants L we took a cab ride to the palace resort on the island… you can eat and drink for free there…so we hung out … chilled on the beach.. its pretty low key… kinda boring… but relaxing…. The crowd there were mainly older
I can go on and on..but the point is if I could go back and do it again.. I would!!! Over and over again!! I highly recommend destination weddings… you get a full vacation with your family and friends and it's a wedding no one will forget!!! Best of luck and Congratulations!!!!!!!!!
-Parinaz