Cancun
Everything I hoped for, and more!
This is a review of: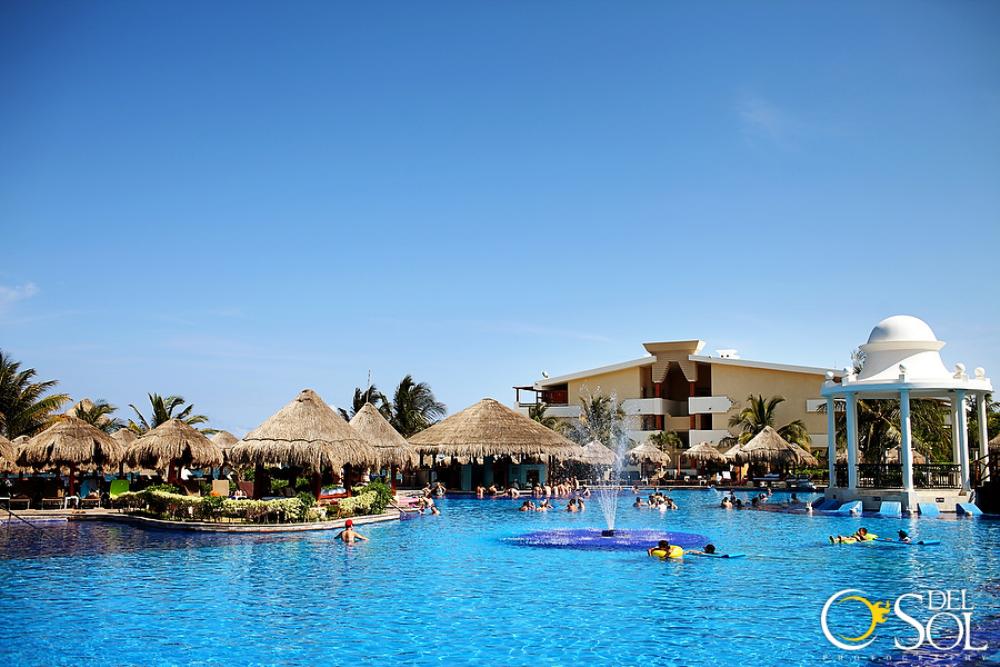 Detailed Ratings

Pros:
Semi private beach and terrace for a wedding ceremony and reception
Cons:
Seaweed on beach/ in ocean
First of all ladies, don't worry, they will do a wonderful job with your wedding. Just relax, and trust in the wedding coordinators.

We got married on October 11, 2014. I picked the tequila beach for the ceremony and the tequila Terrace for the reception. We had 47 people including ourselves. I reserved the date in February 2014, and honestly, the hardest part of the process, was initially reserving the date. They are booked up for certain locations and on certain dates for many months and advance, so as soon as you know your date you need to contact them immediately. Remember, that there is a delay in communication initially, so the date that you want me not be available, and when you finally settle on a date it may be several weeks later.

Once the date is set, you can relax. The only other things that you would need to do, or decide if you want to use outside vendors for anything. We decided on using an outside DJ, and picked DJ Mannia, and we had no complaints. He brought an MC, which was a great part of the package. The competition, did not offer an MC. We did have to pay an outside vendor fee. The prices were reasonable, and competitive with the other vendors, and we picked him because of the MC aspect and the reviews. We also got the light up dance floor, which I was told by several people, at the dance floor was well worth whatever I paid for it. It was amazing, with a 3-D effect. We had a choreographed first dance, which was a slow dance, that we spliced with another song at a specific time to start a fast song, and learned some wicked dance moves. They sent the fireworks off right at the transition point, and that really riveted everybody's attention, people were really blown away. We didn't even ask them to do that, they just knew to do it, which was even better.

The other outside vendor that we use with Samuel Luna photography, we picked them because of great reviews, a beautiful portfolio and his prices were competitive and reasonable. We got the package that food. We haven't done this yet, but will leave a separate review for him later. He was great, and showed up exactly on time, it was easy to communicate with had some great ideas. He knew the resort very well, and was very organized. Everything so far seems great, but since we just got married, we can't really comment on the quality of his photographs, though I am certain they will be amazing.

Initially, I contacted several outside flower vendors, but in the end, decided to go but the resort, I got a reasonable price, and the flower quality was incredible. Everything was so fresh and beautiful. We purchased hanging corsages for the gazebo, which were quite pricey, but incredible. We have flowers on the table, a beautiful bouquet with fuchsia roses and color lilies, and the corsages and boutonnieres included in the package, we got the divine package.

We kept the white linens on the chairs and tables and added the pop of flowers, with fuchsia sashes on the chair. The sashes for five dollars each, but well worth it. We also got the Chinese lanterns which were also stunning, I debated about this for several weeks, but in the end I am happy that I went with them.

The wedding officiant, Blanca was also poignant, pleasant, and several guests said that what she said was so great that they cried. She did a handfasting ceremony which we requested, which was also interesting and beautiful. Her English was excellent.

We chose the guitar player to play during our ceremony, and to be honest, the only song I really remember him playing, was "here comes the sun" by the Beatles, and it was well done.

We miss the cocktail hour because we were taking pictures, but didn't hear any comments, good or bad about the appetizers.

Dinner was delicious, we chose the surf and turf and salmon, and personally, I like the salmon the best, but the guests really liked the surf and turf as well. The tuna appetizer at the lobster bisque were delicious. We had tres leches cake, which I didn't try, and my fiancé said was okay.

We had four hours of the DJ, and chose to not use him during our cocktail hour, but he came a bit early, and still played songs anyway, which worked out well, because it started raining an hour before scheduled to leave and everybody went inside.

We were scheduled to have the DJ leave an hour after the open bar ended, but right when they open bar ended, it rained and as noted above, everything disbanded and we went back inside.


The wet weather was perfect otherwise, and that really made things better.

Essentially, it was an amazing princess wedding, everything that I have ever hoped for in my life, and really more. Many people said that it was the prettiest wedding that they ever been to, which is quite nice. Of course, being surrounded by Paradise cannot be beat.

Juan Carlos is really professional, kind, and attentive. Initially, there was a delay in his responses, but as the date became closer, he focuses on the weddings for the next month, and things really speed up. He is tireless, and works really long days, staying through most of the wedding to make sure it goes off without a hitch. I trusted him to come up with the floral arrangements for the tables, and he stayed in my budget and produced these fresh, fragrant, colorful and incredible arrangements.

We also had the beach barbecue, as a rehearsal dinner evening before. The food served was one of the better meals, the only negative was, of course the cost and it was a bit windy on the beach, but actually very pleasant and people said it felt better than on the inside because it's quite hot inside the resort.

Overall, the resort was quite nice, we got a preferred room from the beginning and really appreciated preferred status. We had a mixed group, with people staying all over the place, but it was easy to meet up with everybody. You cannot plan big dinners in any of the restaurants, they can only accommodate up to a group of 10 which made it somewhat difficult.

Really the only negative about the whole trip was the amount of seaweed in the ocean. Given it is hurricane season, and the reef is close, there is a significant amount of seaweed and the ocean is not pristine blue. Hindsight being 20/20, I still don't think I would change the location because it was so perfect.