Riveria Maya Corridor
Amazing Wedding Week!!
This is a review of: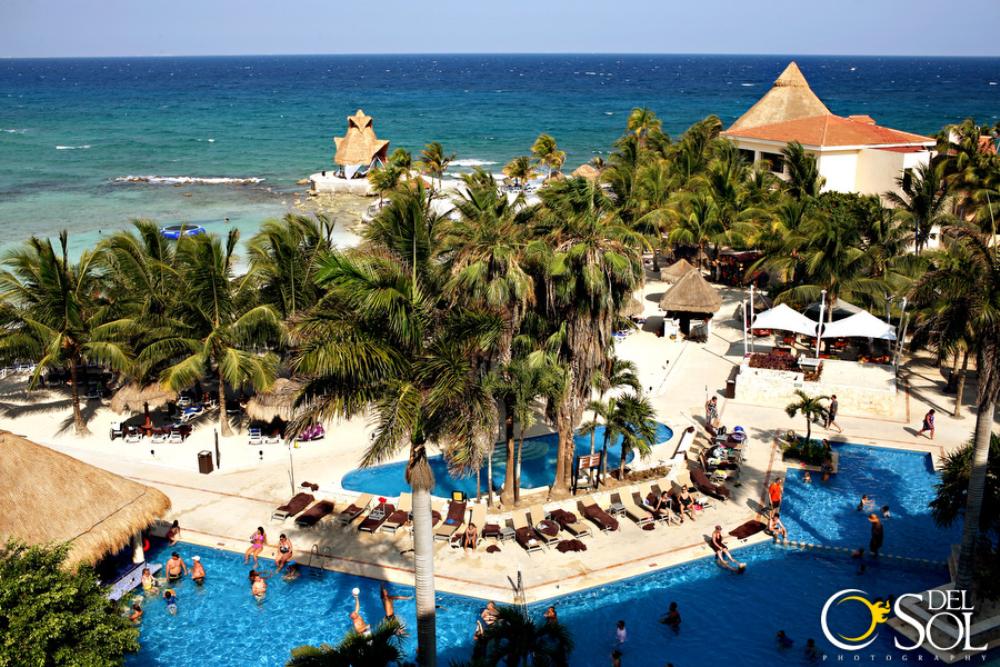 Detailed Ratings
By
awright
, · 1,109 Views · 3 Comments
Pros:
Service, Wedding Coordinators
Resort: From our first second there, the hotel was amazing. The location, although was around an hour to get there, was perfect and secluded. It was amazing to have a marina on one side to see boats & dolphins and the ocean on the other. The view from each of the rooms we went into was beautiful. We especially loved our Deluxe Ocean View from the 5th floor. It was wonderful-on the day of the wedding, right before the ceremony it rained for about 10 minutes and a rainbow came out!!! The photographer was able to get pictures of me looking out over the Wedding Gazebo and all my guests with the rainbow in the background. Talk about good timing. The size of the Resort was also perfect for our group. We had close to 70 guests in our party, and there was something for everyone ages 10 mos to 80 years old!! We were able to run into our guests everywhere and didn't feel like we had to walk for miles to find people or go from one side of the resort to the other. Our favorite spots were the Natural Pool & Adults only pool, but all areas were enjoyable.
Staff/Service: Wow. I could go on and on about this. On each facet, the staff could not be better. I heard so many compliments from my guests about the service at the resort. They were on point with everything. The rooms were cleaned each day multiple times with our beds turned down. We could leave with the rooms looking like a tornado had hit, and come back to a comfortable place to be in. Room service was wonderful & would accept any request big or small. The concierge helped deliver our Welcome bags and did so in a timely manner & none were lost. The front desk was always smiling and willing to get us new keys if lost or let us make calls to other rooms. Above all, we felt like family at this resort. From day one, they knew I was the bride & were constantly congratulating us or asking about the wedding details. I walked down to the lobby on the morning of my wedding and was greeted with "5 o' clock!!! Are you ready!!!?" in a celebratory way. We had impeccable bar service & wait service at all of the swim up bars & restaurants. If we were in the pool, natural pool or by the beach, there was wait staff always asking if we needed something or getting anything we would ask. In particular, Santiago & Manuel at the Adult only Pool, Ricardo at the Main pool, and Noe (who was all over the resort helping in a friendly way!) went above and beyond to make our group feel special. I wish I remembered more of the names because each and every person who helped our group did a wonderful job. On the night of our wedding I had 2 personal servers making sure I didn't need a snack or drink. I seriously felt like a celebrity!!!
Wedding: Another ball hit out of the park. We did the Dreams of Love (middle) package & it was perfect for us. I was thoroughly impressed by the service we received by the coordinators at the resort. Jacki & Isabel helped us in particular & everything was perfect down to the last detail. I don't know why I stressed one bit because they took care of everything. When we arrived at the resort, we looked around & I instantly fell in love with the gazebo. Originally I had wanted to have the ceremony & reception on the beach, but we saw it and it was beautiful. Not to mention, when you get under the cover of the gazebo it is significantly cooler and there is a breeze right out by the water. The views from all angles were wonderful of the ocean and it was nice that there is a sound system in the gazebo for music & for the officiant. Jacki helped us coordinate a little rehearsal the day before & everything went smoothly the day of with every single detail of the ceremony. Our friend was the officiant & he did an amazing job. We had cocktail at Barracuda Beachside Bar-another amazing location on resort. The swings were great photo opps and they let us play a Cd of songs we made. Even the hors d'oeuvres table was so great. They had carved two little lovebirds kissing out of fruit to put on the table-once again, every detail was covered. After cocktail hour, we made our way over to Oceana that we had rented out for the night. This was one of the best decisions I made. The ambiance of the place was phenomenal. It matched my colors of blue & white & I didn't have to do any decorating. They set up the tables in a really great formation so all could see head table, speeches & dancefloor. I heard all of my guests raving about the food the rest of the week. We went with the Carribean Buffet option and I would Highly recommend this. It wasn't only the best food we had all week, but the best food I have ever had at a wedding, and I know I'm biased, but I heard this from a lot of our guests as well. We did a traditional Mexican Tres Leches wedding cake and it was melt in your mouth good. One of the best things that Jacki did for us was have the top of the cake delivered to us the next morning with mimosas and breakfast in bed. So thoughtful & it made me so happy! Our guests danced the night away, and then at the end of the night went into the pool to cool off. It made for great pictures and a fun impromptu "trash the dress" session. Jacki wasn't phased and made sure each of the guests had towels to dry off for the after party at Desires. I could go on and on. This was the absolute perfect day & they made it so special for us. It will be something we will never forget.
Photography @ Wedding: I am so glad that I didn't stress about photography or spend extra money to hire an outside photographer. I'm sure that they do wonderful too, but Adventure Photos was offered in our package and my pictures turned out wonderfully. Our photographer Joel was not afraid to get some amazing shots, even if it meant sacrificing his own body. He laid down on the rocks to get a shot of us & cut up his elbow & didn't complain once. I didn't give him any suggestions & he somehow captured so many wonderful moments that I could have never even asked for. He came to the girls room before and got some wonderful shots of us getting ready, and then took shots during and after the ceremony for a bit. Included in the package we got were 36 photos which we got put into a really nice book, on a CD & in a slideshow that he set to music. 36 was reeallly hard to choose so we ended up buying a few extras which were really reasonably priced. The best part was that we were able to take everything home with us since we didn't leave for a few days. A lot of our other married friends (who have been married over a year) said they still haven't gotten their wedding photo book back. Joel had seen my mom in the lobby & told her our book was ready & I went to pick it up before the time he had set up for me. Joel was eating dinner, and personally came to make sure it was perfect for me. I cannot believe how above and beyond this was. This is another service I could go on and on about that could not have been better. Thank you Joel for everything!!!
Restaurants & Entertainment: There was never a moment that we were bored at the resort. There was ALWAYS something to do, something to eat or something to watch. We were going to go off resort for both the bachelor & bachelorette parties, and once we got there we did not want to leave. There was plenty to keep our whole group busy for the 7 days we were there. A variety of food was offered daily and was the absolute best I have ever had in Mexico (this was my 5th trip). There wasn't anything we ate that we didn't like. Another really nice thing was that our group did not have the usual "sick days" every time we have been to a resort in Mexico with a group, each and every person got sick at least one day from something they ate. This was not a concern for us. A few people had upset stomachs here and there, but this was from all of the over-indulgence that our group took part in. We were constantly eating and enjoying the really yummy adult beverages by the pool or beach. We loved going to get sushi at Gohan for a snack, and most of our group raved about the Italian restaurant Portofino. My favorite was Oceana. We went there the last night & the seafood was wonderful. The mexican restaurant also had amazing fajitas & I loved the steak & potatoes I got one night. As far as lunch & breakfast goes, the buffet had everything you could ever imagine to eat. It was also nice to stop by the burger grill and get a snack. If you wanted to sit down for a nicer lunch, you could go to seaside grill for fish tacos, burgers, nachos, and many other options. Every night there was some kind of show by the beach like live entertainment, fire dancers, and movies. Our group (we had a lot of 20 & 30 somethings) loved to go to Desires for Karaoke & DJ nights. It had pool for the guys & was very entertaining each and every night. If we wouldn't have had all the wedding festivities during the first few nights, I think we would have loved the dinners & parties on the beach. The last thing I will mention is the Market. We all loved how they brought in the market on Tuesday & Friday the week we were there so that we could get fun souvenirs from our trip! We got an amazing painting of the wedding gazebo where we got married!