Cancun
Wedding and Stay - The Good, the Bad, the Ugly
This is a review of: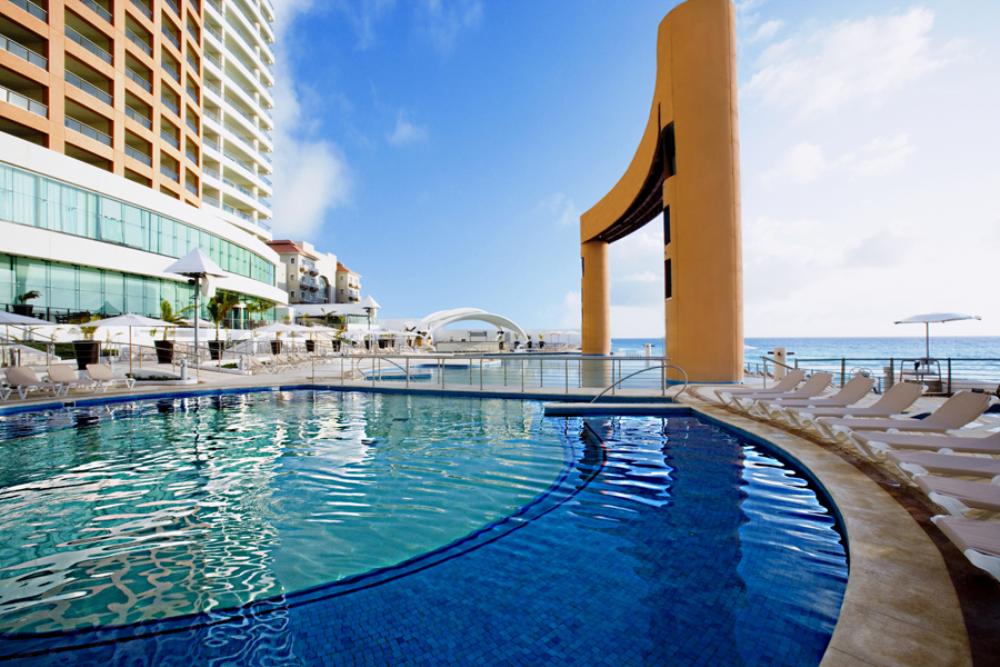 Detailed Ratings
Pros:
service from waiters, bartenders; housekeeping; our room; wedding
Cons:
CARLOS, PATRICK, sending guests away even if paid in full already, management is not truthful; resort credits are gimmick; double charging

We just got back from our wedding on July 18th, 2014. We stayed at the resort July 14th - July 22nd. After much research we decided to book our wedding at the Beach Palace Cancun, Mexico. We had about 25 rooms we book through Wendy Hicks at Vacation Express. We had about 51 guests with us for our wedding and all stayed at the Beach Palace. I will break my review down by pros and cons. We booked the Sky Deck at 6:00 P.M. ceremony and cocktail hour and reception immediately afterwards at 6:30 - 11:30 P.M. I have lots of pictures and more feedback if you want me to share with you just message me.

Pros:
1. Maria Rebeca is an AMAZING wedding coordinator and I highly recommend requesting her for your wedding. She worked above and beyond to resolve issues that the management caused.

2. Waiters, Waitresses and Bartenders: let me list all the ones we loved: Kids pool usually had the amazing Yanet, pool bar had Yadira, Esteban, Jorge, Luis, Miguel. Our honeymoon dinner on 07.20.14 had Miguel as our waiter and romantic dinner on the beach on 07.21.14 had Nestor, Jorge and one other gentleman who made the experience beyond amazing (please ask Nestor for his name). Our wedding on 07.18.14 on the sky deck and bar had the most amazing, Bernabe, Nestor, Geovanny, Jorge, Miguel ( bartender) Jorge (Banquet Capitan on charge). They never let our drinks go empty and knew the drinks our guests loved. Front desk - Diane and Isis were always beyond helpful and smiling.

3. Styling Trio!!!!!! Highly recommend for wedding hair. They are expensive but a preferred vendor so no outside vendor fee. Worth EVERY penny! They come to your room and everything! I did the $575 for the trail hair and make-up which was also worth it.

4. Resort spa - hair Meriva (spelling)? Did a great job on my rehearsal dinner hair and makeup.

5. Food and drinks were fabulous

6. Tempo for Steel Drummers was perfect and worked with our specific song requests

7. JSAV - Benjamin did a wonderful job at our wedding as our DJ. More slow songs would have been nice, but I should have specifically requested that.

8. Pure package was beautiful but not sure I would pay $300 per table again. Center pieces could have been a little better because they were basic. Loved the table linens and chair linens.

9. Housekeeping for our room and room service was best I have ever seen! They took care of every need without hesitation. Only couldn't deliver the amazing cappuccinos they make downstairs.

10. Pool and beach are good, but recommend finding a way to save your spot because if you don't get a spot by 9 AM you won't have a spot.

11. The upgrade Presidential Suite that they gave us was BREATH TAKING! I loved having that suite that day of my wedding because the gals got to spend the day with me in my room and then after the ceremony before the reception the bridal party had a moment to get ourselves together before the introductions. LOVED IT!

12. Dreamart Videographer (Dana would know which name) had great ideas and thought outside of the box to get the video. I have not seen it yet, but he thought to interview some of our guests which was a GREAT idea. They also worked with us on our time which was great.
13. I didn't want to pay $3.50 per welcome bag to be delivered so at the welcome cocktails Maria set out all the bags and we could hand it out to our guests. She did a nice display for it too :)

Cons:

1. We booked at the Beach Palace Resort in Cancun, Mexico. Since we booked through a travel agency our group was all paid in full months in advance soooo our guests should never ever be told the hotel is overbooked. One of our guests came to check in and unfortunately met, Carlos, at the front desk at the Beach Palace. He TOLD our guests they were booked and they HAD to go to another resort. I'm glad Le Blanc is the best and we should be happy they were sent to such a nice hotel, but they paid to be with us or our wedding not spend the night at another hotel. The other zinger was that the hotel was not booked that night, it was booked the following night. Carlos LIED to them and then when confronted by us and management he LIED again. After much questioned and a big scene the truth comes out that the hotel was not booked that night and even if it had been overbooked our group NEVER should have been bumped. The lies continued the next day when the president of the travel agency got involved and called the hotel, the Beach Palace LIED to them. The hotel told the travel agency that our guests saw the room and didn't like it and asked to be moved to another resort. Let's see...does that sound like something a groomsmen and his wife would say?!? No, because our guests NEVER said that. However, Wendy was able to e-mail us back even though it was towards the end of her business hours. Unfortunately, the tour operator was already closed and not able to get our guests back to our hotel that night. Unfortunately, our guests had already been moved so they missed our Welcome Cocktails and our Bachelor and Bachelorette Party for the evening. Our guests were moved back to Palace Resorts the next day, but the experience with Carlos at the front desk and Patrick from Public Relations was AWFUL and caused us to really really not enjoy our evening. Carlos even had the nerve to salute my fiancé as he was walking back into the hotel. When someone is upset a good customer service representative would not do things to provoke the groom. A groom who has many many guests and spent a lot of money on a wedding at their hotel. The next morning Norma found me and took time to speak with me and brought the general manager over, Luis, and requested that my fiancé and I meet with them so they could make things right. I got my fiancé and we met in Luis' office. They apologized profusely for the actions of Carlos and Patrick. We appreciated the apology from Norma and Luis, but never received an apology from Patrick or Carlos. They upgraded our friends and took care of them for the rest of their stay which is all we wanted. We wanted them to make it right with our guests. WHEN BOOKING YOUR WEDDING GROUP PUT IN THE WEDDING CONTRACT THAT THEY CANNOT SEND ANY OF YOUR GUESTS TO ANOTHER HOTEL!!!
2. Resort credits are kind of a gimmick. We had $1500 in resort credits, but could only use $300 at the spa and when we asked to use DreamArt Photography $250 credit towards our videography we were told we could not. Even though the resort credit information did not state that weddings were a restriction. Gift shop you can only use on tequila, cigars, some towards silver and on the designer sunglasses what were marked up $75-$100 so it wasn't worth getting it with them. We ended up getting tequila and cigars to give as gifts, but know you must pay a 16% service charge on anything you use the resort credit on so we ended up spending about $200 in services charges to use our resort credit. Cons: mind you, these are big enough that we will probably never stay at a Palace Resort again:
3. My sister was double charged our spa resort credit which made her exceed her credit and she had to go through hoops to get it removed from her account. I booked my mom's hair appointment and they charged it to my room even though I told them it was for her so I had to go through hoops to get it off my account.
4. Pedicures don't really last while you are at the beach or pool so I wouldn't recommend getting it unless you need it for the wedding. That is normal though.
5. A lot of management cannot help you with issues. You have to wait for the exact person who booked an appointment or whatever to be able to correct any errors. It would be nice to have a manager on duty who could correct issues on the spot.
6. Upon arrival we have to look over our wedding options and contracts. We did not know we needed to bring our credit cards again. They already had copies of the credit cards and licenses and they wanted to copy them again. I do not feel comfortable giving my credit card over and over again. Also, we had already paid in full for everything prior to arriving. A friend wanted to add their hair to our Styling Trio contract. We said that was fine, but the hotel gave us a new contract for Styling Trio and wanted us to sign a new one for $800 something. We stated, they needed to show the credit paid already which was about $600 something and only show what was actually due which was $160. They could not do this so I refused to sign the new contract. When departing today, I was able to signs new contract for $160 and they were paid by the guest who used their services.
7. We had a contract with Ocean Photo for our videography services and the month of our wedding stating they were not considered an inside vendor anymore and we would have to switch to Dream Art Photo or pay the $700 outside vendor fee. We had already signed a contract and established a relationship with them so we were nervous to switch. Dana was helpful with sending us sample videos so we would comfortable with them. We will keep you posted as to how the video turns out.
8. We paid a lot towards additional lighting on the sky bar - the dance floor was not flush against the pool so one of our guests hit his foot on the corner of the dance floor and sliced his foot open. It took about 30 minutes to get his foot to stop bleeding and bandaged up.
9. Transportation wanted to pick up some of my guests 4 hours before their flight and they never showed up for my groom and I. They called a new van to pick us up and they said we were on the list, but no driver was ever assigned. We did make it to the airport on time.
I hope this review helped any guest or wedding guests for the future. My best piece of advice for anyone is to make sure EVERYTHING is in writing. I had a notebook with every e-mail correspondence between myself and the hotel and that helped greatly when reservations for appointments had been lost. Such as our romantic dinner and my mom's appointment. They were able to fix and get those appointments and times honored.