Riveria Maya Corridor
Excellence is Excellence!
This is a review of: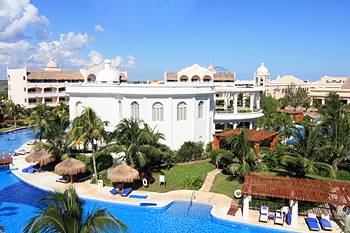 Detailed Ratings
Excellence Riviera Cancun Review
This is a very long and detailed review! These reviews helped me out a lot so I wanted to return the favor for all the future ERC brides!
My fiancé and I arrived to ERC on Sunday, June 8th. Our guests arrived Wednesday, June 11th and our wedding was on Thursday, June 12th! We had a total of 34 people and we stayed 11 days in the two story rooftop oceanfront terrace. ERC is only 20 minutes from the airport so it's a nice quick drive to the resort. Upon arrival you are greeted with champagne, cold towel and a lovely view of the lobby.
I carried my wedding dress in its garment bag and put it in the first class area even though we were not first class. Everyone was very nice about helping me find a spot and kept congratulating us, it was fun!
Room:
We stayed 3 nights in a standard Jr. suite room and then 7 nights in the 2 story rooftop oceanfront terrace. We did it this way to help with costs and we normally don't care too much about the room because we are always out by the pool/beach or with family/friends. For our honeymoon though, we decided to splurge. Was the room awesome?! YES! If we were to do it again would we splurge and get the 2 story room? No. We didn't spend as much time outside as we thought. Our families all had the swim-up suite and we would book that room next time we visit an Excellence resort.
The rooms are all very nice! Lots of space for your belongings. I will state that I would DEFINITELY use the locked safe. We personally did not have any problems but 2 different people had stuff stolen from their room. One a cell phone and the other $500. Both happened the night of our wedding and both from building 6. My fiancé even left his Michael Kors watch out and our maid put a note to it telling him to use the safe. We also left out our Ray-Ban sunglasses and they were left alone. This was honestly the only bad thing that put a small damper on the trip. My fiancé spoke to the general manager who was very nice and prompt but ultimately he said there was nothing he could do :(
Meet/Greet & Welcome Dinner:
I brought Welcome Bags (or OOT bags) for all of our guests. I wanted to personally deliver them to the rooms and have them laid out on the bed when they arrived to their room but Jessica said this was not possible because they assign room numbers once your guests get to the resort. So I then decided to just hand them out at the Meet & Greet at Café Kafe – no big deal. The welcome bags were canvas and I painted "Hola Amigo" on the front. Inside the bags there was: personalized koozies, soduku/crossword puzzles, toothbrush, toothpaste, floss, mini louffas, Excedrin, Imodium, gum, Gatorade powder packets, butt wipes lol, and handwritten thank you note.
[sharedmedia=gallery:images:75817]
Our meet and greet was at 5:30 and then our families and their guests (20 of us) went to the Welcome Dinner at Agave at 6:30. It was nice to have everyone together at a long table but it took foreverrrr to get all of the food out! (Literally, approximately 3 hours) Food was great, we chose the menu and had fajitas. We let our friends choose wherever they wanted to eat for the night. Our meeting place for the whole week after dinner was either at Martini Bar or at Café Kafe. Both great places. Our meeting place for during the day was the swim-up bar or sand volleyball court :)
Restaurants:
The food was fabulous! Our favorite restaurants were Basmati (get the Chicken Tikka Masala), and Spice for Hibachi was fantastic! So much fun and our hibachi chef had amazing skills! For the Habachi, you have to get there around 5:00 to put your name in. This is the only place you have to do this at. If you want to eat a regular Asian dinner in the restaurant, you don't need to get there early. All the restaurants open at 5:30 and Habachi starts at 6:00. There are tables of 10 so I'm assuming you could do a larger group there with no troubles. Our other favorites were Chez Isabelle (Filet Mignon) and the Barcelona buffet is very good for breakfast and lunch! The Grill is also a good place for lunch.
I love that there is no buffet for dinner, and that you don't have to make reservations 3 days ahead of time. You can go when you want and if there is a wait they give you a buzzer to carry around and alert you when your table is ready. Lobster House for dinner did seem to have very lengthy wait times. If you have 6 people in your reservation it seems to take a lot longer to get seated and to receive your food than it did for a table for 2 or 4 people.
Room service was also great. Just a warning, the room service guy will wheel his cart into the room and set up the food so just make sure you both are dressed…or covered ;) The chicken quesadillas are excellent, as well as the fajitas. It is 24/7 room service but just expect for it to take 45 minutes. No big deal, just plan ahead.
Hair & Make-up:
There were 5 of us who had hair and makeup done. I had requested Elias because I heard good reviews on him. I didn't catch the other lady's name. I think they both did a great job! They definitely do makeup on the heavy side though! Looks great in pictures.
For my hair, I took my iPad in and showed Elias a few pictures of what I wanted. He executed the style perfectly!! Being a bride, you always want a trial run with hair and makeup but do not worry, he will create a work of art! I will say that for my makeup it looked great but in a few pictures that night that were taken with an iPhone flash, it appeared my face looked very white. The makeup looks way better in natural light or with no flash. I don't know if any other brides in that past have had that issue. I was also pretty tan and my nose was a little red from the sun so maybe he had to put some extra layer of foundation on. But overall very happy! I will post a picture below of my makeup in natural light.
Photography:
After reading many mixed reviews on the in-house photographers, Beach Wedding Studios, I had originally decided to go with them and hope for the best because it wasn't in our budget to spend an extra $2-3k to bring someone else in. I had thought that BWS services in the package were for all day! It's not! The gold package only includes photos for the ceremony ONLY. I figured it out and it's around $450 for just that. Ridiculous. To upgrade it was over $3,000 for all day coverage. That is when I decided to hire out. I had recently seen work from a bride in November who hired Victor Herrera Photography and loved their work. I checked into their packages and they were much more reasonable, even with the $500 vendor fee that would be tacked on. We had decided on a package and then won 50% off! They requested to be paid through PayPal, which we were a little weary of at first, but it turns out that this is way safer and easier than having money wired. It turned out great, Uriel and his assistant Hiram were so easy to work with! Hiring outside of the resort was one of the best decisions we made for our wedding! Here is their preview pictures they gave us today, we can't wait to see the rest!
http://victorherrerablog.com/?p=5614
We decided to use BWS for the cocktail hour while my new hubby and I were taking pictures. Our cocktail hour was at Las Olas, and the pictures were just okay. Nothing special. They ended up giving us the CD of 42 pictures even though in your package we only got 24. It's nice to have them, but I wish Jessica would have just allowed us to credit it towards something else.
Ceremony:
I brought my own coral chair sash ribbons. I bought 40 of them at www.linentablecloth.com for under $30 and the color perfectly matched my bridesmaid dresses!! We used the white chair covers only because that's what was included in the gold package. I thought it turned out gorgeous! I had also brought raffia fans with coral and lace ribbons but I don't think they were needed because of the ocean breeze. There was a burlap aisle runner lined with starfish and seashells. I didn't choose rose petals for the aisle but they were there anyways, an added bonus! I had a centerpiece (BC-15) on the ceremony table in my colors of coral, orange and white flowers. There were also 2 hanging vases (BC-37) on each side of the aisle that were transferred to the reception table later.
We had our close friend as our wedding officiate. He wore a wireless speaker so that our guests and the videographer could hear him. We had everyone seated at 4:45 and I had made a playlist around 15 minutes long of music to listen to while people waited for me to walk down the aisle at 5:00. Jessica wanted our songs for the ceremony so I just gave her our iPad since I already had the songs on it. That all went flawlessly. We said our own vows and you could still hear us even though we did not have microphones.
In the gold package you get a 15-20 minute video of the wedding ceremony. We watched it for the first time the day we got back home and it was great!! I teared up and it was a really good video! I'm so glad we have that to watch over and over in the years to come. It's also great to show your friends and family that could not attend.
After the ceremony, we had a big group picture with all 34 of us and then our guests went right to Las Olas where they had hors d'oeurvres, cocktails and the mariachi band. My husband and I did not get to attend this at all because we were taking pictures.
Reception:
At the very beginning of our engagement we told Jessica that we wanted to have our reception in Barcelona because it is the only offered space with A/C. Once we got to Mexico I was showing my husband around the resort showing him where everything was going to be taking place. We walked into Barcelona and immediately realized this wasn't the venue for us. Not saying it isn't great for receptions or other brides, but to us it had no personality and honestly it wasn't even that cold. Jessica showed us The Foyer and Lobster House. I had read reviews saying that the Foyer was super hot but we loved it! It's beautiful and it had great air flow at the long reception table. The dance floor on the other hand was HOT. No air flow reached in the corner where the dance floor and DJ were at but the dance floor was always full! Guy's shirts were coming off, I was holding my dress up but it was such a blast!! We wouldn't change a thing! We even had a full moon to light the ocean for us!
The reception started with all of our friends, family and bridal party inside waiting as we were introduced as Mr. & Mrs.! We all sat down and started to eat dinner. We chose the pecan crusted mahi mahi with seafood stuff chicken. As we were eating Jessica started the speeches. Everyone passed the microphone around (provided by the DJ). After dinner we cut our Tres Leches cake. I brought my own ribbon and cake topper and they made them both look great.
We hired DJ Mannia for our reception from 6:30-10:30. My husband and I created a song list for them to go off of. We sectioned it into dinner songs, dance songs, along with our first dance, father/daughter, mother/son and last song of the night. They were FANTASTIC! At first, they only played the songs from our list but began to open it open for some requests from our guests. Like I said earlier, the dance floor was always FULL! If you are on the fence about hiring them you should just go for it, it was so nice not having to mess with which song to play next.
I brought all of the decorations for the reception table and then some. This included a table runner, turquoise vases, tall mason jars filled with sand and candles, maracas from www.amols.com, menus I made, sombreros (super fun), and guest book from shutterfly. I rented $5 vases from the resort to put our 3 bouquets in. It looked so good! I didn't instruct them where to put anything, they know what to do and where to put it and they do a great job at it!
[sharedmedia=gallery:images:75816]
Overall, we couldn't have asked for a better wedding!
[sharedmedia=gallery:images:75815]
[sharedmedia=gallery:images:75814]
[sharedmedia=gallery:images:75813]
[sharedmedia=gallery:images:75812]
[sharedmedia=gallery:images:75811]
[sharedmedia=gallery:images:75810]
[sharedmedia=gallery:images:75809]
[sharedmedia=gallery:images:75808]
[sharedmedia=gallery:images:75807]
[sharedmedia=gallery:images:75806]