Cancun
Amazing Wedding, We chose the right resort.
This is a review of: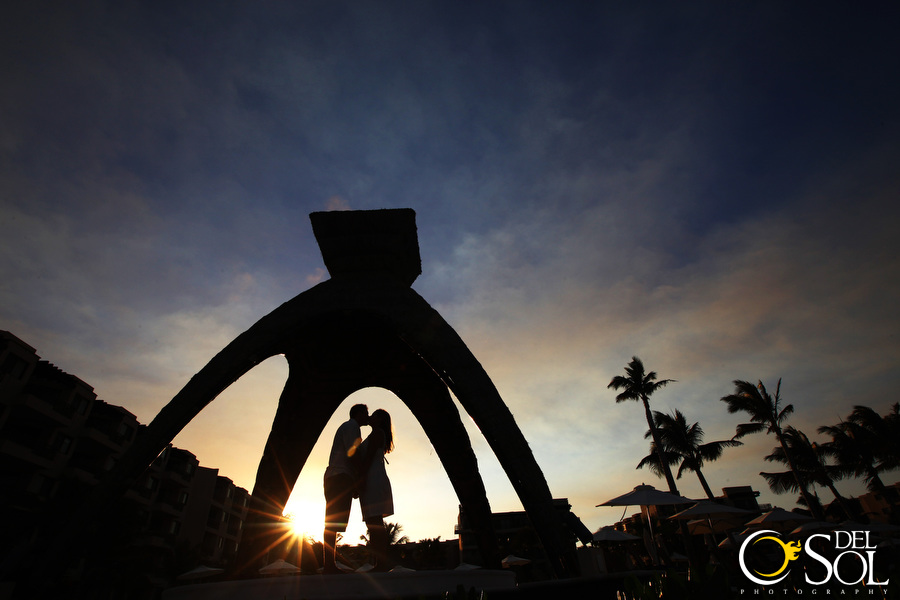 Detailed Ratings
Pros:
Wedding coordinator, food, organization, spa, cake, service, etc
Review of Dreams Riviera Cancun
So happy I chose this resort!
Wedding Date: Jan 28, 2014
When we arrived at the resort, it was interesting to say the least. We had 3 vans of private transportation and ours was the first to arrive. I got out of the van and was immediately offered a cold towel and my dress and all my wedding decorations in them put onto a cart. My fiancé (at the time) was mentioning how someone was video taping us. I did not see this but assumed it must have something to do with the fact that we were getting married there. Started to feel uncomfortable and wanted to follow the bellhop with my wedding stuffs. The bellman brings me back to the towel guy (who refused to look at me and had his hat really low) once again, and again I refuse only interested in following my dress. We go to check in and we had to wait a moment (apparently) to go to the premium check-in. I went back to stand by my belongings while waiting. The towel guy was now standing next to my luggage in his full outfit and he removes his hat. It takes a minute until I realize it is my cousin from Holland! And my other cousin was the creepy video taper. The reason I'm including this in my review is to show how far the resort will go for making your wedding week special. Apparently my wedding coordinator Claudia and the bellhops had arranged the whole surprise including the bellhop outfit! The rest of the check in process was smooth and we did get greeted with champagne.
That night we put together our welcome bags and had them ready to be sent out. But since it was 2pm we decided to do this in the morning. I thought having name tags on them would have been enough. I had to write down what rooms everyone was in and how many bags / room. Future brides should do this in advance and save yourself some time. It costed $3 / room for deliveries and some rooms had 2 bags. They were delivered about 3 hours after I dropped them off, worked great!
I had a wedding planner via my travel agency so I do not have any comments on communication with the resort as I never had to do that. I worked on all the planning with my wedding planner from home. She sent in all the information to Claudia and I finally got to meet with her the day before the wedding for the first time and this freaked me out. Can she really pull everything off in less than 24 hours? The answer is yes! So I head to the wedding planning office (45 minutes late for my meeting as my excursion ran late) hoping everything would be alright. It was very smooth process. She had all the information and we just reviewed it. Everything seemed good. I met with the minister and I did start to panic a little as they did not have the right color of sand for the sand ceremony. They had confirmed they had it so I didn't bring my own but it was dark blue, not the light turquoise blue that matched everything else. I was upset but it wasn't the end of the world. Since she was in on the cousin surprise, she had already adjusted my seating charts etc to allow for the 2 of them.
That night we did the rehearsal walk thru. Claudia clearly instructed what the plan was and made suggestions of who should go when and sit wear. I am not a bride that had it all planned out. Procession was never on my mind. Bridesmaids and groomsmen right? Well there was a bit more to it. J She was great. Once we completed the walk thru she recommended that we head to El Patio as they should be able to accommodate all of us. I did not book a restaurant as I couldn't fathom paying for it when the food was included. We did get in and filled 3 tables all next to each other so this was great. I swear that the waiter we had that night was brand new. It took forever for service and they did not understand that almonds are nuts. My husband has a tree nut allergy. We mentioned this to the waiter but he still brought out salad with almonds on it and even went as far to say that its not a nut its almonds. I recommend anyone going with allergies to write it out on a card clearly in English and Spanish so that you can communicate it clearly. For all the other restaurants and for our wedding they were very good about the allergies, even having my husband meet with the cook to determine the replacement menu options. That was the only night we did not have top notch service. We did go back to El Patio closer to the end of the week and the service was amazing. All the food was amazing at this resort.
Ok day of the wedding. My husband was given the free room for the night so we did not sleep together. I stayed in our master suite and I highly recommend booking it. Video of the same room: http://www.youtube.com/watch?v=Y-zIeE3MQ9A
It has a giant closet when you first walk in and a huge separate livingroom and kitchen from the bedroom. You can actually close these sliding doors between the living room and bedroom an you can access the patio from both rooms. From the bedroom I could overlook the gazebo so I could see what was happening and see the setup etc. So neat to watch everything you planned for finally come together. I brought down my own chair sashes, table overlays, placecard holders, chargers, and wooden "Bride/Groom") signs. It was all taken care of and I had nothing to worry about.
Spa appointment was good. Claudia brought me champagne and calmed my nerves. The lady that did my hair didn't want to use the make up that I brought which was a concern but turned our ok. My 3 bridesmaids also got their hair done there as well and they all looked amazing. I was concerned my makeup was a bit dark but it turned out ok in the end. I just don't normally wear makeup so for me it was soooo much.
We did also do the couples massage, and I did a facial both of which I absolutely loved. They were included in the wedding/honeymoon package.
We are then all in my mastersuite getting ready when Claudia comes by and tells me how the minister went out (somewhere in less than 24 hours) and bought 4 more colors of blue sand for me to choose from!! I was so happy and relieved as this was the only thing I was concerned about. She also brought up the bouquets (mine, 3 bridesmaids) which were beautiful but mine was extremely heavy! I had no idea flowers could weigh so much! J
Ok so ceremony was perfect. Everything as planned and as Claudia instructed. They will do whatever you want. We used the Gazebo at 3:30 pm which was perfect for late January. We did our champagne toast at the gazebo and took pictures. I did not use the resort photographer. I got the ultimate wedding package and the resort photographer was included so we used him to shoot our mock cocktail hour at Barracudas bar. We hired an outside vendor (Dean Sanderson weddings) and he was absolutely amazing. The sparkler work was great and he gave so much insight into what would look good in shots. We got over 400 pictures from him corrected and they are gorgeous. Hard to believe it is us in those shots!
Here is a link to some of the pictures. There are some of the reception setup, cake, etc.
https://www.facebook.com/media/set/?set=a.10153824407590338.1073741825.512685337&type=1&l=b01e9da25c
So as I mentioned, we decided not do the cocktail hour as in the wedding package. We decided to have everyone hang out at Barracudas so they were close for the wedding pictures and it is also right next to South Beach so it made for a perfect transition. The Mexican Trio played there and it was fantastic. Everyone really enjoyed the swings too J. We then took all of our pictures in the perfect sunset light.
Onto the reception. Wow was it ever amazing. We extended our reception and I totally recommend this. I don't know how you could do it in less time with everything that needs to happen and still have time to enjoy yourself. It was from 5:30 – 11pm. We started speeches during dinner and it was perfect. The decorations were exactly as I wanted them, my cake was amazing and the music was great. We had Mauricio and had no issues what-so-ever. The power did go out 3 times but it just added to the whole party. We called it super slow strobe lights, they fixed it right away and extended the reception to make up for it. We were supposed to finish at 10:30pm. The bartender and the waiters were big hits! Every 5 minutes they would come around with another round of shots. Something different every time. I totally didn't think I would be able to catch up to the guests as they were sitting at the bar waiting for this as we did pictures but I was wrong. They also put out the chair on the middle of the dance floor and poured tequila down our throats, still not sure how they got my mom to do that but hey! Sadly it ended all too soon. Mauricio played our last dance song and I knew it was over, or wait, was it? He planned one more song for us afterwards to cap the night off. It was great. My wedding ended with 5 of our guests streaking naked into the ocean. Now that's crazy! The majority of us moved to Desires after and it was a blast. Honestly nothing to worry about with this resort.
We did the breakfast in bed with the mimosas but it doesn't really seem much different that pre ordering room service. It was still nice though. The private dinner on the beach was absolutely fantastic! Tiki torches, private, amazing food, personal servers, need I say more? I cannot say the same of the Excellence which is where we had our honeymoon the following week. We wish we would of stayed at dreams. If dreams had rooms with rooftop private pools I would never need to look anywhere else ever again. :)
We loved this resort and so did our guests. This is the only time we have been to a place where many of the guests say they will actually come back. Its not too big so finding people isn't terrible. The food was great and the staff so friendly and helpful. We can't wait to go back for our 1 year anniversary.
Happy planning!