Cancun
Stunning, Stress-Free Wedding
This is a review of: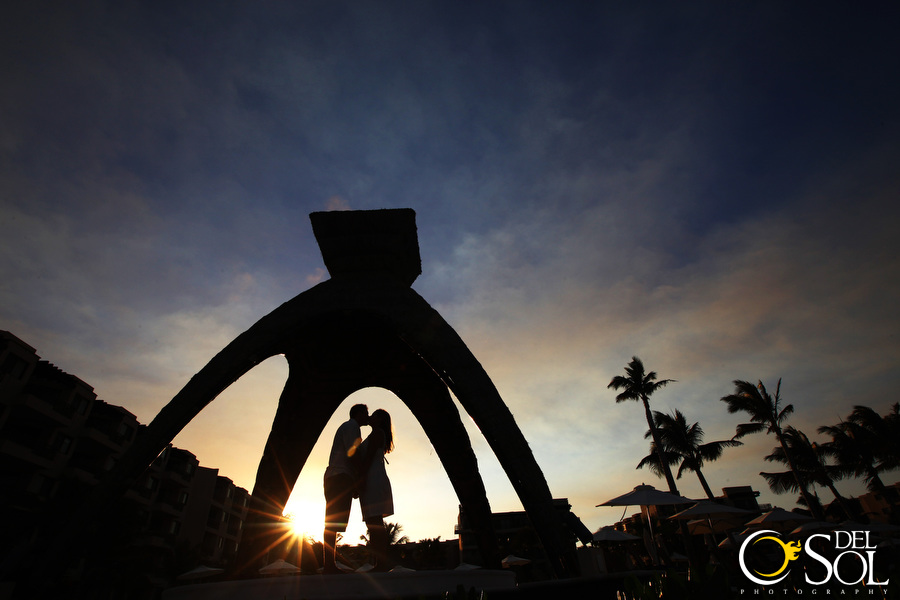 Detailed Ratings

By
JBarks
, · 2,349 Views · 9 Comments
Pros:
Wedding Coordinator, Flowers, Organization, Photography, Food.... pretty much everything!
Cons:
Expensive DJ service
When we first arrived at the resort, my fiancée and I were immediately whisked away to the preferred club lobby to check in. Right away we had drinks of our choice delivered to us and we sat down to go over our package with Natalia at the concierge, who is amazing – I was calling her my fairy godmother. Any question or request we had of her, she made happen, plus some, in most cases. Without our asking, she started looking for our room upgrade options, saying it didn't look like anything would be available until the next day, but to come see her in a few hours. She also called the wedding office, and while we were still sitting there, our wedding coordinator Ayahamint came running in. She was so excited and friendly, and gave us big hugs. It was great to put a face with the name. She asked us to come to her office in a few hours to go over all of the wedding stuff. Excellent first impressions at this point!
Since our rooms were not ready, we went down to the Seaside grill for lunch, where we had a delicious three course meal, which was dangerously accompanied with a giant shot of tequila per course, thanks to crazy Orlando who is so much fun, and loves delivering shots!
After lunch, a walk around the property, and a couple drinks at the swing bar, we headed back to the preferred club concierge to see if our room was ready. Not only was the room ready, but Natalia had spoken with her manager and somehow managed to get us our upgraded room right away! We were so excited. We had booked a preferred club room, and were upgraded to a Master Suite on the fourth floor of building two. Our room was so big, and sat at the very end of the building, so we were literally right above the beach with a completely unobstructed view. It sounds so cliché, but I actually felt like I was dreaming it was so perfect. The view was stunning with the sun coming up dead centre of our balcony view each morning. There was a bottle of champagne on ice with flutes and some fruit on our bedside table. The bed was massive and the nicest bed I've ever slept in – we're literally calling the resort this week to find out the brand of bed and buying one here. I was so sad to leave it. The shower is huge and such perfect pressure. I absolutely loved showering at this resort. The bath products are refreshed as quickly as you need them to be, and they are spa quality. I never had to use my own products – in fact, I'd recommend not bringing body wash, shampoo, sunscreen, or conditioner – one less thing to pack! The rooms were cleaned at least twice a day and to an impeccable quality. Each night they turn your bed down, and leave you local chocolates and the program for the next day which is cute and helpful.
When we went down to our meeting with Ayahamint, we saw a sign that said 'Welcome Brian and Jamie' – really cute touch. I'd toured this resort before, so knew what to expect, but the wedding office is beautiful and so professional. Same quality as anything you'd find in a North American city. The planners are all really friendly and willing to help, even if your coordinator isn't around. Like many brides, I felt unnerved at times throughout the year when I wouldn't receive responses to my emails etc. But we ended up just buying a couple phone cards and calling the resort to talk to our coordinator directly, and always got a fast response. But really, we knew communication was going to be limited before we went down, so I tried not to email if I didn't have to, and just more gathered my research from websites like this. But honestly, you don't need the communication before you go down for the most part – yes you need a few answers, but after that, just relax, they 100% have it covered more than you can even imagine once you're down there. We sat down with Aya for about an hour – she had champagne delivered to us, and we talked through the budget planner and the wedding planner packages. I had made up extremely detailed packages for her and I with every detail, cost, decoration, etc. which she took for reference, but really the budget planner and wedding planner is almost everything they go off of. So put a lot of care and time into those items, and you don't really need anything else! Aya was so calm and knowledgeable, I felt completely relaxed and at ease that she had everything covered and I could stop thinking about it and start my vacation! I left her with a suitcase of my decorations and she was good to go.
At the end of our meeting she introduced us to DJ Jorge who was doing our wedding, and we only had to chat with him for about 5 minutes because I'd sent him our list of 'must play's and he seemed to just want to give us a solid party, so we felt good about that. We popped by the photography office that night to meet Anel and just fill out her form about timing for the wedding day, which was again quick and easy. The next day, we met the officiant Linda in the wedding office and she was great. We sat with her for about ½ an hour and she had us choose from a number of different wedding programs so that it matched us as a couple. We were very happy with the selections we ended up with. She was cute enough to even ask what our wedding colours were so that she could match her shirt.
I did very little related to the wedding for the next few days, until the night before the wedding. I didn't book an official rehearsal dinner because I thought it was fairly expensive considering you're sitting with regular guests, eating off the regular menu, etc. so I spoke with the concierge in the preferred club lobby who called and set up a meeting with myself and the Manager of Bordeaux. He offered me the wine cellar but for the price of $600 worth of wine, which I wasn't interested in the night before the wedding. I asked if there was another option without additional cost, and he made a note in the Mexican restaurant book that we would need two tables for a total of 17 people, and he said they would accommodate us as long as we took a seating right at 6 pm. We arrived at 6 pm and it was perfect, two tables right next to each other to accommodate our entire party, for no extra cost.
The only little hiccups were that we'd been asked to lay out our wedding clothes the morning before the wedding for it to be steamed, but I noticed it was still not gone by dinner. I went down to the wedding department to let them know, and they made a few quick calls, and it was gone within the hour. The clothes were returned around 11 am on the day of the wedding, and they looked perfect. The other thing was that Anel the photographer called the day before the wedding saying she couldn't do our photography anymore, and that Santiago would be doing it instead. I was a little panicked because the wedding package had specifically mentioned Anel, but there was nothing I could do about it and she said he was professional so I went with it (more on that later!)
They gave my husband the option of a free room the night before the wedding so we didn't sleep together, or a room the next day to get ready for the wedding in. He chose the night before and he got a great room to himself, and I got to stretch out in the giant bed J
The morning of the wedding I ordered room service for breakfast, met up with my husband to be and headed down to the wedding department to drop off our ipod and some last decorations, and to inform Aya we'd had one guest show up as a surprise, and that we needed to add him to the seating chart and for dinner etc. She took care of this no problem. We didn't realize until later that we'd already paid our bill by this point, so she didn't even charge me what would have been the roughly $75 (cocktail hour/dinner/one extra hour of bar) for him. She assured me everything was ready to go, and said the flowers would be delivered to my room one hour before the ceremony, and that she would come get me when it was time to go.
We went down to the spa for noon to get our hair and makeup done – they were able to do me, my Mum, my aunt, and my MOH all at once which was great. I showed my stylist pictures from home and she got right to work. They brought me champagne to my chair, and I just prayed for the hair to turn out. Not only did I love my hair, she did a better job than my trial I'd had at home. She did my make up in no time flat. I showed her a picture of what I'd like and that I wanted it to look natural, and again, phenomenal job. All the other ladies I was with were just as positive about their hair, so seriously, no worries to anyone getting their hair done at the resort salon, you're in good hands!
We went back to the room and ordered some room service and neatened up for Santiago to arrive for photos. He did the boys pictures in their room first (only about 20 minutes), then came to see us around 330 pm. He knew what kinds of shots he wanted so got right to work, then took more of us girls while they got me in my dress. He got lots of different angles and light, giving us lots to choose from in the end. Aya and the flowers arrived at about 415. The flowers were awesome – not EXACTLY like my picture, but very very close and equally beautiful.
Aya had been downstairs to meet the boys and parents and told them where they needed to be to get started, then she came and got myself, my maid of honour, my dad, and step dad and led us down to the ground floor. She hid us behind a blind spot on the building so our guests couldn't see us, then we listened for our music and she motioned us through. It was soooo nerve wracking and exciting. I loved it. That was probably my favorite memory of the whole week and wedding.
The ceremony location looked beyond what I had hoped for – not only did I have the big floral corsages on the gazebo, and my chair bows tied exactly as I'd asked, but Aya had decided to line the aisle with our reception centrepieces. It looked stunning, and lush, and so rich. I highly recommend that look to any other brides with short centrepieces! The volume of the music was perfect and Jorge the Facilities Manager was all over having the songs stop, start, and fade at the right times. Once we were up at the front, Linda the officiant was great about instructing us on what to do next. One of my favorite things, and something my guests loved too, is she stood at the end of the aisle, and had us face out to her and the guests throughout the ceremony. I loved it because it gave me lots of time to take in everything that was happening and look at the décor and my guests. And our guests felt so much more included in the ceremony. As for privacy, this is totally not a private location, but they ensure hotel guests don't come near the ceremony or interfere at all. And I actually liked looking out and seeing these people watching us, smiling, waving, some crying. It was like everyone was there for us, and feeling our happiness and excitement. I thought it was really cool.
After the ceremony Santiago took some quick family shots, but was concerned we were losing light for couples shots, so we sent everyone off to cocktail hour and hurried down to the beach for pictures. I didn't get all of the pictures I had hoped for, but it was totally because our ceremony was a little too late (430 pm on Jan 28) and it was almost dark by the time we were done. But Santiago and Charlie (videographer from the wedding dept) gave us instructions for poses and pictures and we had a lot of fun, actually capturing some really neat shots at sunset.
After it got dark, we went up to the Desires terrace for cocktail hour. I was taking pictures when everyone made their way over to Desires, but was told that guests were not escorted or directed there as I was told they would be. Everyone figured it out, but it would have been nice to have some sort of guide. Everyone was eating and drinking, and the Mariachi band was in full swing. The bartender immediately came over to me with a signature cocktail (champagne with apple) that I noticed other people drinking as well, so it looks like Aya arranged for a free signature drink as well, because we didn't pay for that, but it was an awesome surprise and very yummy. The Desires terrace was a really cool spot for the cocktail hour and had great seating, but if I were to do it over, I'd probably have held it by the hot tub because they make those areas look really nice too, and logistically, its not so much back and forth walking.
After cocktail hour, everyone made their way to the reception on the pool deck. It was stunning. All of the décor I'd brought, along with all of the flowers (reused from the ceremony), and centrepieces, and lighting/lanterns came together amazing, especially with the lit up infinity pool as the backdrop. It was more than I'd imagined. We sat at the sweetheart table with the big red king chairs, and they arranged the guest tables in a semi circle around us, so everyone was almost equally close to our table which I loved. We decided not to get the light up dance floor because it looked small and I didn't want guests to feel constricted. But the wedding staff had laid down what looked like a wood dance floor in the middle of the all the tables and it worked out perfectly. The cake was just like the picture I'd provided, and Aya had added some flower accents which totally finished the look, even though I hadn't asked or paid for them. Just another little touch they took care of. We played our ipod for the first hour during dinner (the technician knew when to fade the songs for speeches etc.). We had the plated dinner, offering three menu items to guests (submitted these selections one month before the wedding). The service was excellent, and I loved the food although there was SO much of it! Everything was timed really nicely, and the servers were extra attentive to my husband and I.
When DJ Jorge came after the first hour, he turned off my dinner playlist and started playing his own stuff which we didn't like, so we had our MC ask him to put our ipod back on until the dance party began, and he did right away.
Santiago took pictures of the speeches and dinner, and let us know that he had to leave at one point, so we made sure to get in the first dance before he left.
The party was awesome with Jorge choosing excellent party songs, the lighting perfect, and everyone dancing. One of the bartenders set up a chair in the middle of the dance floor and started pouring tequila shots (which were more like 5 tequila shots!) right into people's mouths. Believe it or not, our guests were lining up for it haha. The only sad thing is that the reception could only go until 11 pm which came SO fast. I felt like everything was just warming up and he was putting on the last song. I again, didn't like the last choice of song, so he quickly faded his out and put on something we liked better which I appreciated. They are quite strict about the 11 pm shutdown though – we all started chanting 'one more song' thinking that might have the right affect, but Jorge gave us a look that said there was no way that was happening haha. While Jorge did a really good job, $300/hour for a DJ is very expensive, and had I known how skilled the equipment and audio technician is that comes with the sound system rental ($180/hour), I would have just made my own playlist on ipod (I like controlling the music) for the whole night and just had him play my music. His system could fade songs expertly and had great sound. Definitely would have saved some cash!
Since it was still early, almost all of our guests (52) headed to the disco. It was a lot of fun because so many of our group went, as well as another BD bride who'd had her ceremony an hour before mine. So we had a huge dance party with all the wedding guests, and the two girls in wedding dresses in the center. Lots of fun!
We went back to the room after the disco shut down, and our door had a honeymoon banner across it. When we went inside there were rose petals all on the floor leading to the bed and the inside Jacuzzi which had tealights set up all around it. There was a beautiful flower arrangement on the bedside table, in addition to a similar one that was brought to our room the night before the wedding – I believe these were all from the resort. There was also another bottle of champagne on ice. There was a congratulatory letter from staff on our bed, which would have been cute, except that it was for another couple. So I guess someone else got our letter lol.
I had prearranged our breakfast in bed with mimosas with concierge the day before the wedding, and our breakfast showed up on schedule the next morning. It was nice to enjoy it relaxing in bed. As we were eating breakfast, all of our wedding decorations, including all of the flowers were delivered to our room. We got up and went down to the spa for our free massages (half from wedding package, half from honeymoon package). The spa is beautiful and so peaceful. Your masseuse gets you your locker and robe and then escorts you to one of the little huts for your massage. My masseuse was a tiny little lady but she had power! I had to ask her to lighten up a little lol, but she was great, and it was a lovely massage. After the massages, we enjoyed the different steam rooms, showers and pools. If I didn't have a resort full of guests waiting for me, I could have stayed their all day. They have beautiful comfy beds and sitting areas with snacks, and teas and waters, so you could be there all day. Next time, I'm taking a book and not coming out until dinner!
That night we'd booked our 'romantic dinner on the beach' which we thought would be in the little huts draped with fabric near the seafood restaurant where other romantic dinners were being held, but ours was the next level, with candles leading a path down on to the beach where a little structure with beautiful draping had been set up with a table for two. There were rose petals and candles on the table and they'd carved a heart in the sand with our initials. The menu was set, and while it was different then what I'd normally order, was very good. The most amazing thing was the two servers had been assigned to us alone, one for each of us! They would run over to fill our glasses if we'd even taken two sips, and would sometimes stand 20 feet or so back of the table letting us eat, but being ready for anything we could possibly need. It was unbelievable service. As we finished our after dinner coffees, it started to rain a little, and next thing we knew, our servers were running down to us with umbrellas just as the downpour began. Amazing timing. A really special experience overall.
A couple days later we saw Santiago and he told us to come by the photography office to see our pictures and choose the 150 included in our package. They have a great office with big mac screens, and you can flip through all your pictures choosing the ones you like best. We were totally blown away by our pictures. There is something to be said for using an on site photographer that knows the best places for pictures and the best lighting, because they work in those conditions all the time. I've had many people say our pictures are the best they've ever seen. The sky in our beach pictures looks like a fake backdrop its so stunning. I was nearly in tears having to say no to some of the pictures, I loved them all so much. One note for brides – the wedding package specifically mentions Anel for some reason, but there are four professional photographers with Adventure Photos. While I'm sure Anel would have done a good job, we were in love with Santiago's work and think it really worked out for the best. Here is his facebook page with some pictures from our wedding (Jamie and Brian). https://www.facebook.com/pages/Santiago-Gabay-Photography/160623994092947
Or his website http://www.santigabay.com/ One thing I didn't love about the photography was we asked about getting more than the 150 pictures included in our package because we loved them all so much, and were told it would be $17 more for EACH image we wanted. I thought that was super expensive and kind of dumb because the photo editing/work had already been done – it wouldn't have been any more work for them to give us more, but I guess that's the policy at the resort.
Overall, this resort is so perfect for weddings. It's a great size so that you don't have to travel too far to track down guests and we found the central pool and lobby areas made for great gathering spaces that brought our varied group together. The food was awesome with amazing selection. The drinks were great, with the top shelf stuff always available, just make sure to specify. The disco isn't the best I've ever been to, but if you get a crowd in there, it's as great party because the DJ does an awesome job, as well as the bartenders. The service at this resort is beyond anything I've ever experienced – everyone is so positive and always goes the extra mile. I don't know that the preferred club would be worth the money if it was just a regular vacation, but for the wedding, we found them a huge help with the little extras and definitely worth the cash. Our room was beautiful, but our guests with regular rooms were equally nice, just a smaller version. Most rooms have some sort of ocean view. I was worried about this hotel being over run with kids but that was never a problem. The beach has beautiful fine sand, and we never had a problem getting a chair at the beach, pool, or in the lobby. I could go into every detail, but really it comes down to, I have no complaints and my expectations were exceeded in every way. We plan to return for our first anniversary next January. In my regular life, I am very much a Type A person who stresses over every details, but I went into this wedding with a relaxed attitude, and just wanting to have fun, and when I arrived and so how well taken care of everything was, I literally dropped any stress I was carrying and just went with the flow. That is the key to having the best day – don't get caught up in little details (although those were amazing too), just enjoy your friends, family, husband, and the beautiful surroundings.