Cancun
My AMAZING Now Sapphire Wedding 11.1.13
This is a review of: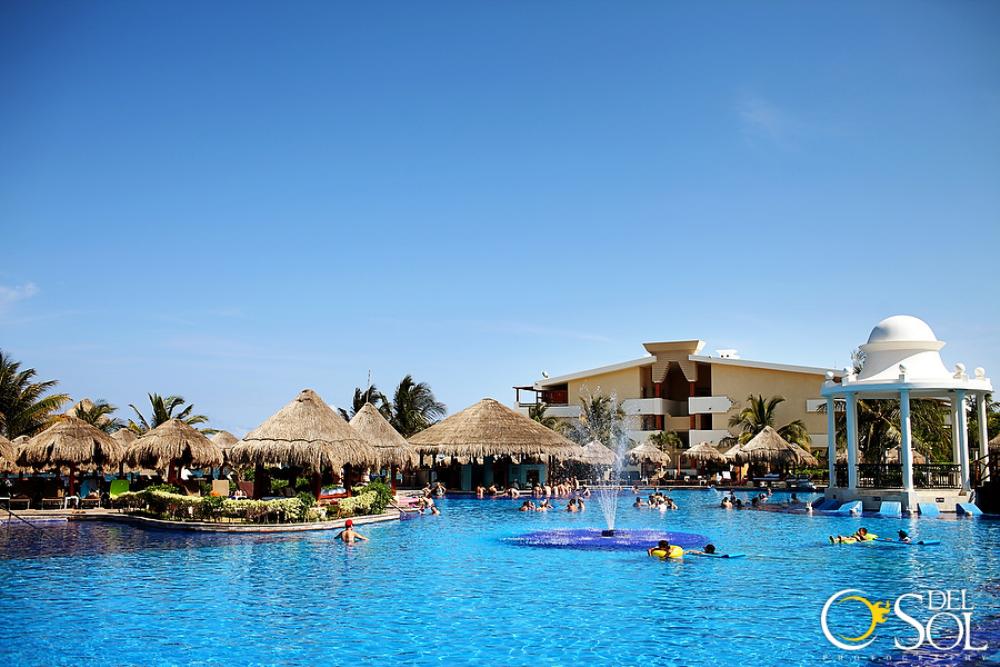 Detailed Ratings
Pros:
Beautiful, clean resort; awesome staff; Welcome party & wedding was perfect!
Cons:
Some restaurants were not air-conditioned; road into resort was a bit dangerous. Nothing that would stop us from coming back!!
Next week will be one month since our wedding at the Now Sapphire and everyone is still talking about what a great time it was! I would not regret for one minute booking my wedding with this resort. I will list a short description of our wedding and then get into the details. Sorry in advance for this being lengthy but I truly appreciated reading all of the helpful reviews and comments on the Now Sapphire thread so hope to return to favor!
Date of Wedding : November 1, 2013 (this was a Friday)
Package: Divine package
Guest count: 46 people including bride and groom
Coordinator pre-wedding: Anel
Coordinator on site: Ramon
Welcome Party/BBQ: Private beach setup
Wedding Ceremony: Beach Terrace
Cocktail Hour: Beach Terrace
Wedding Reception: Tequila Terrace
DJ: Outside vendor
Photographer: Outside vendor
Hair/Makeup: Resort salon
Resort: I have been to many all inclusive resorts and this one was by far my favorite hands down. It is absolutely beautiful - pictures I saw beforehand do not do it justice. Once you see it in person it is truly breathtaking. The pool is amazing, we spent every day there with our guests participating in the day-time entertainment they had and taking advantage of the swim up bar. There is really no chance for your guests to be bored here during the day. The main pool has music, dancing, volleyball, water aerobics, Zumba, contests, etc for those looking to party during the day. The preferred pool is truly a quiet, peaceful getaway for those who want to reserve a cabana and relax and read a book. It had the best of both worlds. To be honest we did not spend much time on the beach because of the jellyfish and seagrass we encountered. It may have been just the time of year but many of our guests did not mind it at all and no one really complained. Also just wanted to mention if you have kids attending there are lots of kids activities during the day as well - we only 2 kids under 13 yr old but they had a blast.
At night, the resort does get fairly quiet. We would meet up in the open air lobby area at night where there are a bunch of couches and a nice lobby bar since they would have a live band most nights. About half of our group was between the ages of 24-35 so some of us would go to the nightclub at night which is open from about 10pm - 1am or so. It was ok, nothing great but they did have a pool table and provided an alternative for people who wanted to stay up later and hang out.
The resort is located pretty close to the airport but our ride was 15 minutes of straight highway driving followed by a 15 minute "drive" on the local dirt road from the highway to the resort. This was a pretty adventurous ride. Apparently it had rained for about a week straight prior to our arrival so this road was completely flooded and littered with huge potholes which our little shuttle van had to try to avoid. It took way longer than it usually does I'm sure and had us a bit nervous but as soon as we made it safely and got into this resort- we forgot all about it! I would definitely keep an eye on the rainy reason that everyone kept talking about - it did rain a few days out of the 5 we were there (including the day before and after our wedding).
Rooms: Rooms at this resort were so nice - I only saw the preferred rooms which most of our guests booked but the hot tub on each balcony was such a nice thing to have - everyone loved it! We actually were able to get upgraded to one of the large suites at the resort when it became available our 2nd day there. We are SO glad we did. It was unbelievable! I was told there are only 4 of these on the resort but it was a perfect place for our "getting ready" photos on wedding day and the huge outdoor balcony, living room, guest bath, kitchenette, etc. was unreal. We felt like royalty!
Food/Restaurants: The BEST all-inclusive food I have ever had. Everyone I talked to enjoyed it just as much as we did. Though we only had time for the buffet, Mediterranean restaurant and French restaurant, we had other guests who loved the Asian restaurant too which had Hibachi and they raved about that as well! The buffet is actually smaller than I expected but they have a very good selection of food that was fresh and yummy. Definitely a safe bet.
Some of the restaurants have a strict dress policy and require pants for men. We did see them turn people away who were not dressed properly so this is something I'm glad I mentioned to my guests beforehand. We went with a group of people each time to the restaurants and did not have to wait very long for tables. However, the restaurants are fairly small so if you have a group over 6 you should be prepared that we had people wait a half hour or so for dinner. I think they do take reservations but most people did not bother making them. The restaurants are also warmer than I expected. Some looked like they had air conditioning but you could just not feel it at all. Definitely did not need a sweater at dinner and the buffet unfortunately was not air-conditioned either.
Staff: The staff at this resort is outstanding and made our experience 10x better. The day time staff, bartenders, room service, waiters, entertainment team at the pool, etc - everyone was SO much fun and so friendly that you could not help but have a great time. They work so hard to make sure you are having fun at all times and will literally do ANYTHING to accommodate you. We did not encounter one unfriendly person at the resort.
Coordination: We all know or you will soon find out the pre-wedding communication via email with the resort is very slow. I never got the feeling that I was being forgotten though and each time I did receive a response from Anel- it was thorough, she answered my questions, and she accommodated all of my requests. Once you make it to the resort, try to set up a time right away that you will meet with Ramon. I think he does all of the on-site meetings. He is so unbelievably on top of everything that I think we were almost surprised. He knows exactly what he is doing, did not miss a beat, asked me questions I did not even think about, gave me ideas and suggestions, and set up all of our wedding decor exactly as I described to him. Ramon was extremely thorough during our meeting and took us to see the actual wedding sites and sites that could be used in case of rain. Our welcome party/ beach BBQ was setup so beautifully and he added all of these extra touches, centerpieces, decor etc to that and also the cocktail hour at our wedding. He really goes above and beyond.
Spa/Salon Services: A lot of our guests took advantage of the spa services and loved it. On wedding day, we all opted to have hair and makeup done at the salon (me, bridesmaids, my mom and mother-in-law). Definitely helpful that we all brought pictures - everyone loved their hair, but makeup was just ok - I ended up redoing my eye makeup because I did not like it at all but I am also very picky with my eyes. I guess I should have just done it on my own then! But overall it was nice to have this option there at the resort. The women at the salon did not speak English very well but were very friendly and could understand us for the most part - we all tried our best to use the little Spanish we know and that is always appreciated.
DJ/Photography: I used DJ Dorremixx and Luckie Photography (Ivan Luckie) as my outside vendors and they were great. Will post reviews separately.
Wedding Day: Where do I start?? This day was an absolute dream come true. Somehow the weather held out and we had a gorgeous sunset ceremony on the beach terrace (starting at 4pm). I'm so glad we opted for this location - though the "aisle" included walking over a long bridge that goes over the pool and this is visibly to most of the resort pool - I did not notice anyone watching at all and it did not bother me one bit to have onlookers. I had one mission and that was to make it all the way over that bridge and down the aisle to my new hubby without falling! He said the view from where he was next to the water watching me and everyone walk down the aisle was stunning. I have already uploaded some pictures of everything to my profile so will not get into details of decor and setup here. We chose to use the ipod /speaker setup for ceremony and they had someone working it for us and everything went smoothly.
The cocktail hour (4:30-5:30pm) immediately followed on the beach terrace and was perfect. We could greet and mingle with our guests in between taking some pictures. The space and setup was perfect for the amount of people we had but definitely could accommodate a much larger group as well. We were able to get an "exception" and have the soloist perform at our cocktail hour instead of at the ceremony. He was an amazing guitarist who played songs everyone knows and people loved it! I think my Travel Agent actually assisted in getting Anel & Ramon to allow this exception since apparently the soloist included in the Divine package can only be used for the ceremony but this was not made clear to us earlier when discussed. Our guests once again raved about the food at cocktail hour and we are glad we added in extra hors d'oeuvres (the package only included 4). The wait staff was readily available for drink orders and there was plenty of food to go around.
Our reception (5:30-9:30pm) setup was just as we had discussed as well for the Tequila Terrace and this was a great, quiet spot which was private and convenient since the restrooms were located right inside. We had 2 long family style tables and then a dance floor and DJ setup from an outside vendor. Our group loves to dance and I'm so glad we added an extra hour to the reception. For dinner we had a salad, soup, 2 choices for entrees, an additional vegetarian option, a dessert, and wedding cake. Everything was excellent and my favorite part was the cake! I never even have cake at other people's weddings but the Tres Leches cake was to die for. We had a private bar setup with our favorite bartenders and they joined in on the fun later on in the night and had us doing the limbo and made us shots, danced with us etc. We loved having them involved and loved that they seemed to be enjoying themselves too! It was definitely a night to remember, not only for us but for everyone who attended!
I think I went on long enough and I'm sure I forgot some details but please feel free to contact me with specific questions!! :)