San Jose Del Cabo
Just got married at the Melia Cabo Real 11/12/10
This is a review of: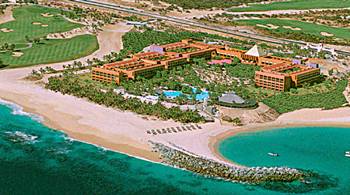 Detailed Ratings
Pros:
customer service was amazing!
Cons:
wish we stayed longer
A+++++
I can't believe it's my turn to do my wedding review! The MCR was awesome! Grounds were always kept clean, Food was delicious, crowd was a mix of couples (young and old) and families.
When I started to inquire about the MCR, the original coordinator was Cecilia and she was always on top of things but about half way into my wedding planning, she had to resign due to a family illness.
Vanessa took over and she did respond but it took her awhile to respond (this is why I only gave communication a 4/5). A couple weeks before our wedding the communication became quicker and when we got to the resort the communication was A++++++++! Her and her assistants were so personable, friendly and were on top of their game!
Anyone thinking of getting married at the MCR and a little hesitant due to the communication...do not worry they WILL take care of it!
I wanted to have a beach wedding, but when we got there the garden over looking the beach was so much prettier and I didn't want our older guests having to walk all the way to the beach (the sand is very coarse until you get closer to the water). Changing that was no problem!
I also initially chose to have our wedding at the ocean terrace but then when we got there we decided to have our wedding in the garden terrace (so much prettier and was in the centre of the resort). Again to change this was no problem!
We chose the tropical dinner buffet (we had 77 guests not including our vendors) and it was delicious! We did a food tasting as well before the big day which was great.
I didn't know what my bouquet (the one included in the tropical fairytale wedding) would look like until I got there. I was okay with this since my actual bouquet was a floramatique calla lily bouquet. I used the bouquet that came with the package as my give away bouquet (all i asked for was a tropical color bouquet and i got a bouquet of roses with yellow, red and orange in it) it was sooo pretty!
The day of our wedding they decorated our room with the towel swans with flowers on the bed and then when we got back from our reception that evening, There was champagne and chocolate covered strawberries waiting for us along with the first tier of our wedding cake! (we choose vanilla and chocolate for the wedding cake mmmm yummy!)
None of my guests had any complaints and really enjoyed themselves there.
I miss the staff especially the wedding coordinator Vanessa and the assistants Nubia and Cynthia. Oh and Fernando and Daniel the activities guys!
Will post pics once we recieve them! Loved MCR :)