Cancun
FABULOUS!! Wedding of our dreams!
This is a review of: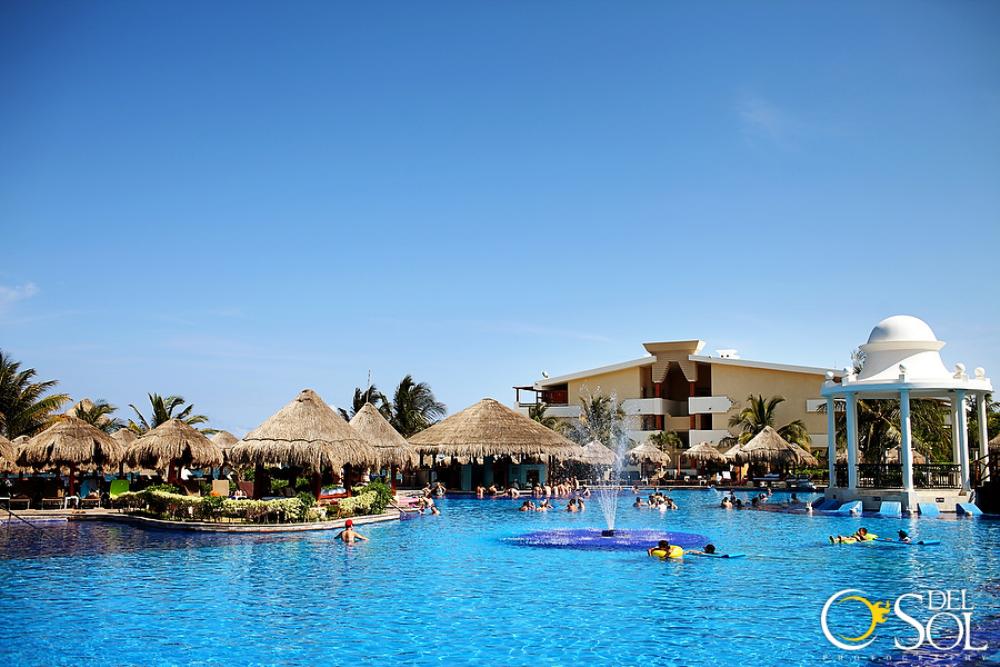 Detailed Ratings
By
mollyes
, · 1,989 Views · 2 Comments
Pros:
Wedding coordinators, perfect for families, tons of fun events, excellent food
Cons:
Need more waitstaff during regular meals (wedding was excellent)
We were just married on July 20, 2013 at NOW Sapphire. We were thrilled with the results. Below are some of our thoughts and a few pics. Please feel free to ask any specific questions. If context helps, we had 120 people. We had our wedding on the Tequila Terrace at 5 PM, Cocktail hour at the Beach Terrace from 6-7 and the reception from 7-11 (paid for an extra hour). Afterwards, we all changed and went to the lobby bar. We have a huge dance crowd, so staying through 11 with the DJ was good for our guests. We also did a beach BBQ the night before for our rehearsal dinner.
1) Location. We loved that the NOW Sapphire was such a close ride from the airport. It made it easy for our guests.
2) Food. Excellent. Everyone was so surprised by how good the food was. We had a beach BBQ for the rehearsal dinner and it came with 4 different types of meat, various vegetables, a whole array of salads and a beautiful dessert display. For the wedding, we choose the salad with pecans and blue cheese, mushroom & garlic soup and 3 entree selections (beef bourdelaise, salmon with squash blossom sauce, and gluten free/vegetarian lasagna). Everyone raved about the food.
3) Flowers. I used the resort's florist. It was expensive, and from reading other posts on here, you can find cheaper florists. However, I didn't have time or the energy to coordinate with many off-site vendors. The flowers were gorgeous. I sent pictures of what I wanted for my bouquet and alter and they did a fantastic job.
4) Day of Coordination. Perfect. We were pretty chill and just laid out at the pool and hung out with family/friends until it came time to get ready (separately). Anel was totally on top of having the flowers delivered on time and making sure the transportation for me to get to the ceremony came on time.
5). Music. Great!!! We had the resort organize the DJ and we provided a song list. He stuck pretty close to it with one big exception that made the party so much better... he didn't play a single slow song. I had put some slow songs on the list but they really read the crowd and could tell that folks just want to keep dancing like crazy. Everyone loved the DJ and asked for the playlist. So many people said how happy they were that they didn't slow things down at any point. The resort had a lots of surprises during the dance party that really upped the fun factor.
6) Spa. Phenomenal. It was so pretty and they did a fantastic job with my hair and make-up. I had Marilu - she was very sweet and I was very happy.
7) Pre-Wedding Communication. I know this is a stressful time for brides and I, like many brides on here, was worried because the email response time was very slow. However, it is true what everyone else here says - once you get there you realize that they are 100% on top of everything you've sent them. Also, once you are there, they are totally focused on you. There were 3 other weddings while we were there and Anel was in her office until 11 pm and 1 am every day working very hard. I hope to reassure you, because I know you want a response, just don't worry. We even made changes to the flowers and open bar once we got there that changed the bill and they were fine with that.
8) Photography. I had seen a post on here about the quality of the photography. That scared me, so I went with the photographer that woman used (Amorcito Corazon Studios (http://amorcitocorazonstudio.com) - Anel and Jacob). They were wonderful. So cool and fully integrated into the wedding. I actually woke up with the flu on my wedding day (huge bummer) and when I started to feel awful during the group shots, they stopped them and assured me they would get enough throughout the wedding that I would be happy with without subjecting me to standing in the heat anymore. I highly recommend them... and they were cheaper than the resort photographers!! here's a link to our slideshow: http://schroeder.amorcitocorazonstudio.com/