This is a review of: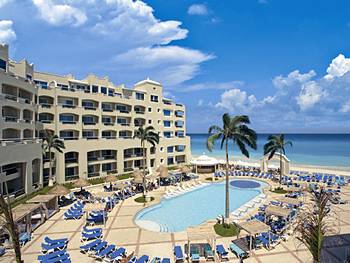 Detailed Ratings
Pros:
music, on site coordinator, chapel
Cons:
sick from food, flowers fell apart, issues with rooms, etc.
We got married on memorial day weekend in 2013 and our wedding was an absolute nightmare. I have been struggling with whether to write this review and I really don't want to come across over dramatic, and I am going to try to keep this very fair. A lot of our trip was great, but our wedding memories will always be overshadowed by our group falling ill, which I do believe the resort should have taken some responsiblilty for. So, I'll try to get the worst parts out of the way early in this review and then focus on the rest:
Wedding Day- F
The night before we had a lovely rehearsal party on the beach with heavy apps, open bar and some live musicians. The party was so much fun, and everyone had a wonderful time. Fast forward to 2am I started feeling terribly ill. I had taken precaution with the food the whole trip, and was staying away from any fruits or veggies that aren't peeled, which I have heard can be the worst culprit. I was up sick all night, but hubby was fine so we thought it was food poisioning. A handful of other people from our group had also gotten sick, so we figured everyone else had dodged it, I choked down some saltines and tried to make the best of the day by looking on the bright side - at least I lost a couple more pounds for the dress! Well, as the day went forward, my poor husband started feeling ill as well, along with many other guests. My maid of honor was so sick she couldn't attend the wedding (along with my brother in law's girlfriend and several other guests). My husband was so ill that we missed the entire reception (literally did not step foot onto the terrace), and we only were able to take 10 minutes of couples photos together.
The resort insisted that it was not food poisioning or their fault, because people had fallen ill at different times. The resort sent the doctor to see several guests. I was with my husband when he came to see him (while our more fortunate guests were enjoying the reception). He insisted that it was a virus, but did let slip that he had ONLY seen people from our party, and not a single other person at the resort that weekend. I find it unlikely that one of our guests brought this illness with them, it didn't affect a single person they came into contact with at the resort, then went into full outbreak right after our rehearsal dinner. We did some research when we got home, and salmonella can have an incubation period of up to 72 hours. That is right in line with the last of our guests getting sick. Almost everyone got sick within that time frame. If not salmonella, we also believe it could have been norovirus (commonly referred to as cruise ship virus) which is spread by someone handling your food improperly. Regardless the resort took zero responsibility. Another bride that I found out about on these boards had salmonella the week right before our weddng, and she was offered a second trip as a sort of refund for the event. We were offered nothing. In fact, we received zero follow up from the resort after the wedding.
The mess made our wedding day a complete disaster. We spent so much money on the reception that we didn't get to enjoy, we have only a handful of pictures together and not a single one with our whole families, and we have to look back with those memories on our wedding day. Gran Caribe didn't send so much as a follow up email.
Communication prior to wedding - F
I'm trying to think of a nice way to put this, but my wedding coordinator prior to arrivng in Cancun was one of the most useless customer service reps I've ever worked with in my entire life. I'm sure that sounds dramatic, but Claudy was seriously terrible. It took usually minimum two weeks to respond to very simple questions that she should probably just be able to send me literature that would have answered it for me. Then, she would leave questions on my list unanswered. There were extra charges snuck into my final bill that I had to point out. Charges were misconstrued. I was charged a "champagne fee",but the open bar had champagne included so I said I didn't need the toasting champagne passed out separately (people could order it if they wanted to). I was told this wasn't really a charge for champagne, to think about it as a charge to set up all the chairs and tables. Call it a set up fee... come on.
Negotiating any breaks was impossible. We brought 68 people including oursevles and didn't receive so much as a thank you. No price breaks, no extra room upgrades, just tried to charge us more at every chance they could sneak it into our bill.
Claudy also took several weeks to get with my in laws and help them plan the rehearsal party. It was frustrating to keep having to ask her to reach out to them so many times.
On site wedding coordinator - A
Elizabeth was one of the few people at the resort that went out of her way. You could tell she felt terrible about the circumstances, and was really sweet to us. She saw to it that our reception centerpieces and other things brought from home looked great (at least from what I can see in the pictures). I basically had to tell her everything that I had already confirmedwith Claudy but I seriously doubt that was Elizabeth's fault. she made sure the day ran as smoothly as possible, told us when to walk, etc. When we were in our room during the reception, hubby was way too sick to eat but I was ready to try something bland and she had chicken soup sent up to me. She also had cake sent to us before we checked out the next morning.
Check in/Guest Services/General Resort - C+
It actually became a running joke how many people in our group had to switch rooms. Many had to switch more than once. Our room was fine luckily, so no complaints really there. The front desk was not willing to listen to concerns. Witnessed one lady speaking english to another couple, I got up there and asked if we were getting our room upgrade (that came with our wedding package), and she all of a sudden didn't speak English anymore. We had acess to the extra concierge on level 6 which was a good bonus. That made things a little easier to check in, but at check out made no difference because we couldn't pay cash, so we had to go wait in line downstairs anyway to pay for our extra services.
Other than that, the food was generally acceptable (good at the reservation places), the drinks were flowing and we had a good time. It was a little frustrating to hear so many of our guests having issues with their rooms, but we were there to celebrate and we had a lot of fun with our 66 guests in the days leading up to the wedding. The pool was on the small side, but there were more than enough beach chairs and you couldn't stop running into people from our group at the lobby bar. We met up there every night after dinner and watch the shows, hung out, etc. The lobby bar has lots of seating and I highly recommend arranging an informal get together there the first night of everyone's arrival. We had a 'welcome party' but really it was just everyone meeting there (no charge, no reserved rooms, etc) and it was great to break the ice with all of our guests on the first night. Everyone had a chance to meet each other and get the celebration going :)
Spa - B
We had a few experiences at the spa, almost all of which were great. My hair came out wonderful and I have some difficult hair to deal with and came with minimum direction. I had a 'trial' before the rehearsal. I liked it but it wasn't exactly what I was going for. The next day she made the changes I asked for and I couldn't have been happier with my hair. My mom got hers done as well and it came out very nice and resisted the humidity :)
My husband and I had massages out on this little gazebo overlooking the beach. I was a little curious how that would go since it was near the pool and of course a crowded pool is loud. The massages were excellent, and either we were so relaxed we blocked it out, or the pool noise somehow didn't carry that direction. Everyone who got massages had wonderful things to say.
I also had a mani/pedi as part of my wedding package. While they looked fine, they were downright painful. I've never had a pedicure that hurt so much... I'm really not sure what was going on with my cuticles, but it did not feel good!
Flowers - C
I ordered bouquets for my bridesmaids to double as the centerpieces at the reception. Within just a few minutes of the girls holding their bouquets for photos, they were falling apart. Flowers were falling out everywhere. Especially when we got into the wind outside, we were chasing lillies all over the place. They looked pretty but weren't holding up, and I thought were pretty small for $80 bouquets.
My bouquet was lovely and held together fine. Unfortunatly it wasn't what I ordered. I chose the bouquet that was all stargasers. I specifically picked the one without any orange (my colors were blues I just wanted a little pink), and mine had a bunch of orange spiky flowers mixed in. It was pretty, but for $100 I want what I ordered. I didn't bother to point it out because at that point it was pretty much the least of my worries.
Cake - Taste A/Decoration B
Elizabeth sent us some cake the next morning since we were unable to eat any at our reception. We also had a small cake served at our rehearsal dinner. It was delicious! We had lemon for mine, chocolate and kahlua for hubby, and white for the rehearsal. All three were great.
The only problem was that again it didn't match what I ordered. The groom's cake and rehearsal cake were fine, but I ordered an extremely simple white cake with a tiny decoration around the bottom and the cake they served had little yellow flowers all over it. It still looked fine, but it just wasn't what I paid for. Two out of three isn't bad I guess....
Dinner on the Beach - A
One of the highlights of our trip was the dinner for two on the beach, which we did two nights before the wedding. This is something we never would have spent money on ourselves, but it came in our package. We joked about it being cheesy, and we almost cancelled but it was actually amazing. The food was clearly from the Royal side. We had some fabulous duck for dinner, were served by our own private waiter, had cheesy love songs playing in the background, champagne, etc. Part of the point of a destination wedding is to spend as much time as possible with your guests, and we were thrilled to do so. That said, a dinner to ourselves was a wonderful break to regroup and spend time together before the big day.
Photography/Videography - D
Funever photos is a joke. Don't waste your time. Book another photographer. We had Sascha Gluck who was amazing. The 25 included funever photos were the worst I saw of the day. I didn't even keep the CD. The guest photos from cell phones were about 100x better. I should have just told them not to show up, as I'm sure my other photographers just had to dodge them all ceremony.
Last minute, I decided to splurge for the ceremony video for $500. I'm torn on what to say here. On one hand, if our ceremony hadn't had the unexpected element of my husband having to excuse himself because he was so ill, maybe I would be okay with the extremely ameatur video we got. $500 is a lot for crappy work, but it was still a better option than paying a lot more to bring in someone better. I figured the video wouldn't be great, but unfortunately, it was also completely distasteful to our situation. Rather than editing around what was going on (a very easy transition would have done fine), they emphasized the situation. The camera zooms in on hubby looking extremley ill/grimacing. It shows him leaving, etc. I might edit the video myself so that it's something that isn't embarassing and depressing to share with our family who couldn't attend. There is no way they could have made the ceremony look worse if they tried. They took what was simply an unfortunate situation, and the way the video plays, it looks like we are completely unhappy to be there by emphasizing the worst parts and even using tension building music. To add insult to injury, the camera man was very disrespectful. After the ceremony, there was a point where I stepped away from greeting people to compose myself. He kept trying to follow me. I'm sure there were plenty of guests he could have filmed at that point in time. I had to finally tell him to please give me a minute to get myself together. He also tried to follow my husband stepping away from the crowd while he was sick.
Chapel - A
The chapel was what made us choose the resort in the first place. It is even more beautiful in person, and Father Guerra was fantastic to work with, although hard to get in contact with in advance of the wedding.
Music - A
We LOVED the mariachi mass. They also performed at our rehearsal dinner and it was a big hit. The spanish guitarist during our cocktail hour, to be honest I didn't even notice because the day was such a blur. The DJ had wonderful reviews from our friends. They said they loved the play list we chose - but we left that all to the DJs descretion, so way to go Dorremix!
All in all, the fact that Gran Caribe took zero responsiblity and almost no interest in the fact that our day was ruined, did not quite make up for the fact that our 4 days leading up to the trip were so much fun. We have a wonderful group of family and friends that made the most out of the situation, and fit a lot of great memories into the days before the wedding. However, I adamantly feel that the resort had at least some responsiblity in the way our day played out.
Let's just say we look forward to having one heck of an anniversary party down the road to make up for our wedding day, and we won't be looking to Gran Caribe to host.