Photographer Reviews
Simply the Best Photographers in the Rivera Maya Area!
This is a review of: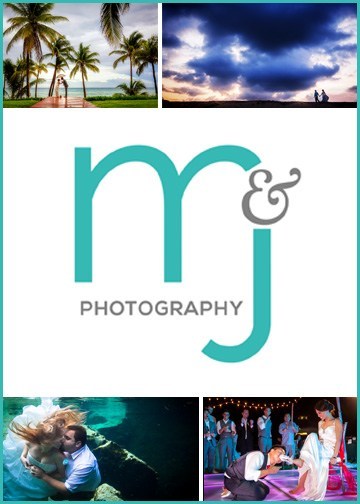 Detailed Ratings

Pros:
Extremely responsive, Highly professional, Timely, and a great value!
Simply the best!
My husband and I could not have been happier with our choice to have Jennifer and Michael capture our wedding day. Photography has always been a passion of mine! Believe me, we did a ton of research, and interviewed several other photographers. However, M&J were the only ones who actually asked us what we wanted, what our vision was, and genuinely seemed to care care about us as people. Their pricing was reasonable for the wedding industry, and they worked with us to customize some options that we wanted. We had a few Skype sessions prior to coming down for our wedding which enabled us to feel at ease about hiring someone based only on reviews and word of mouth. From the very beginning, my husband and I could tell we were on the same wavelength as Jennifer and Michael!
From the moment we met Jennifer and Michael in person, there was an excitement to this incredible duo. Jennifer spent most of the time with the girls getting ready, while Michael was able to spend the time with the guys. (This was amazing to see what they were doing once we got our pictures!) The fact they are husband and wife brought another great dynamic which I feel some photographers 'miss'. Jennifer's creative way of capturing my gown, and different details of the day will continue to be a part of my memories forever! Michael's photo journalist way's of documenting our day also will be a part of our lives forever.
The actual ceremony, and reception was also something that we are now able to look back at our photos and say "wow!" I would say the best part of M&J photo is how Michael and Jennifer work together to get the very most out of every moment with you. They allowed for us to have private, romantic shots, as well as capturing an amazing family/friends shot of 60+ people! They did is perfectly!
We had our wedding at Azul Sensatori, which charges an outside vendor fee. Because of this fee, we had Michael and Jennifer stay on location for two nights which also allowed for a 'day after session'. We choose a 'beach' location, which they drove us into the town of Puerto Morelos and allowed for some really creative and thoughtful shots!
Their communication was nothing shy of AMAZING. If we had any questions, or concerns they were always available, or responded to emails immediately. It felt like they were are a part of our wedding day, and blended right in with the group. I can honestly say that if we are ever back in the area we will contact them even if it's just to say hi! We could not be happier with M&J photography and highly recommend them to anyone for any occasion! They are extremely professional, and shared with us just days following the wedding some 'sneak peaks.' Their efficiency with time was something that was over the top impressive! You hear people waiting months, sometimes half a year to get the photos back- this was not the case with M&J…less than two months and we have our flash drive, and some photos already printed! All of these photos are memories that will last forever! I think you'll agree that they are just as amazing as we think! Thank you, thank you, thank you!